Another Friday, another enjoyable and educational Show & Tell. Tom did a great job of our first ever Show & Tell blog post, I cannot guarantee the same level of quality this time round.
That's definitely a reflection on my note-taking ability, and certainly not of the presentations - which were all excellent. So, without further ado...
Go.bath URL Shortening - Tom T and Special Guest
We have had Rob in on work placement for the last week, and he has been working with Tom on a week-long sprint to resurrect our custom URL shortening service. This service was not built by our team, and used a specific library that developed security issues meaning we had to mothball the application. However, with the additional resource provided by a keen and very competent Rob - we have been able to rebuild the service from scratch using Padrino and bake-in some additional goodness in the form of a change log and history for each custom URL created.
Next steps for this project are to look at geo-location and mobile browser information of visitors to these shortened URLs - though we may need another intern or placement student! (Interested?, contact our Web Support)
Getting Served (Why dynamic websites suck) - Phil
Whistle-stop tour of our current infrastructure for serving webpages from the King of the Nerds, highlighting how potentially fragile, certainly expensive, and definitely sub-optimimal it all is. The good news is that Phil also outlined his plans for making this much, much better. The even better news for the non-technical people in the room is he did all this using small words and extremely big graphics.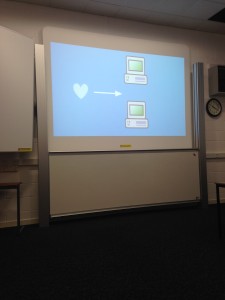 Universal Analytics - Chris
Next up was Chris, who boldly set forth to explain everything about the new Universal Analytics offering from Google in 5 minutes. He did extremely well.
The main benefit was presented as having new user ID's that persist beyond a single session, meaning we can see when a user switched to a different device to complete a task, or when they come back to a page after a break. This is particularly informing during the application process. Universal analytics can also differentiate between multiple links to the same destination on one page, so it is possible now to gauge which link is preferred by visitors. Another benefit is the ability to create custom metrics do tailor the data we collect to be completely relevant.
Drawbacks? Well, mainly that once you move across to Universal Analytics you cannot revert to the old Google Analytics. Chris shared his plan for ensuring a smooth transition though, so we're in safe hands. It's also worth mentioning that you don't lose your historical GA data when shifting over - so there's literally nothing to lose if done right.
Responsive Testing in the Browser - Tom T
A second presentation from Tom today covered the improved developer tools available in the latest builds of both Chrome and Firefox. Whilst various iterations of these tools have been around for a while - and have been invaluable in the testing and bug-fixing stages of our web page deployment - they now provide very handy emulation for handheld and mobile devices, meaning we can in most cases replace an expansive device lab with a single box.
Try them out now by looking under Tools > Web Developer in Firefox, or View > Developer in Chrome.
Entrepreneurship
Last up, Joey showcased a new section of our website from the School of Management that promotes entrepreneurship. With two new professors on staff, and a post-graduate course starting soon - there was a need to collate all relevant information in one place, including testimonials from alumni and videos from industry experts. With tight deadlines Joey had to make snap design decisions on what to include and how it was to be laid out. See the results for yourselves.