Kicking off in late February and consisting of 5 non-contiguous week-long sprints spread out to accommodate two rounds of user testing, as well as balancing demands for my time on other key projects - the new landing page for our Alumni went live on the last Monday in June.
A dragon roared, a shuttle launched, there was polite applause at the standup.
The intervening four months saw refinements in our approach to design, as well as technical developments in how we deliver our pages, all of which needed to be continuously folded into the project work for Alumni to ensure it stayed fresh and current. This was only possible due to close collaboration with Dan, our UX Designer, and the fact we now have all of our stylesheets stored in an SVN repository as uncompiled SCSS files.
The page itself is a much leaner, more task-focused version of its predecessor, and also a first appearance of a new look and feel for our landing pages (which can also be evidenced in the new Research landing page).
We used structured content and graphical templates to enable the Alumni marketing team to easily continue to keep the page up to date. The fact that the design is responsive and optimised for mobile and tablet devices means that there should be no barriers to access this information.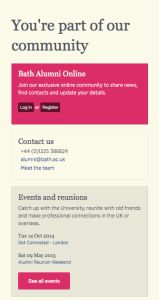 I think it looks great, and the feedback from the Alumni department (as well as others on campus) back this up. The acid test though is how the page performs. The overriding project goal was defined as reconstructing the page around key user tasks of:
donating money
donating time
attending events
becoming a member of, and logging into, Net Communities (our online Alumni community platform).
Analytics showed that the most popular page within Alumni was the Bathmail - so we needed to provide a clear route to this from the landing page.
We'd tested extensively to ensure we were on track to meet this goal, but to give us a very early indication of whether the new page was *actually* achieving any of this, we created a benchmark set of analytics on the existing page prior to launch, and compared this to the results for the new landing page after launch.
What this showed was a higher overall percentage of engagement with the page, specifically with increased clickthroughs for registration, donating, and events information. The addition of a Bathmail link was warmly received by users, and it was very satisfying to see usage of the embedded Alumni Flickr gallery replacing the previous incarnation's image carousel (which provided no onward path).
Next steps will be to monitor the performance of the page to ensure it continues to excel, to review the backlog of work that we couldn't complete in our 5 sprints to see if there's anything that can be picked up subsequently (especially around making it easier to publish and update content), and looking at how we can help improve on the rest of the Alumni pages.