Our last Show & Tell of 2014 was held in the Council Chamber, for extra fanciness. This session enjoyed a sprinkle of festive magic, with two Christmas-themed presentations and some exciting live demos.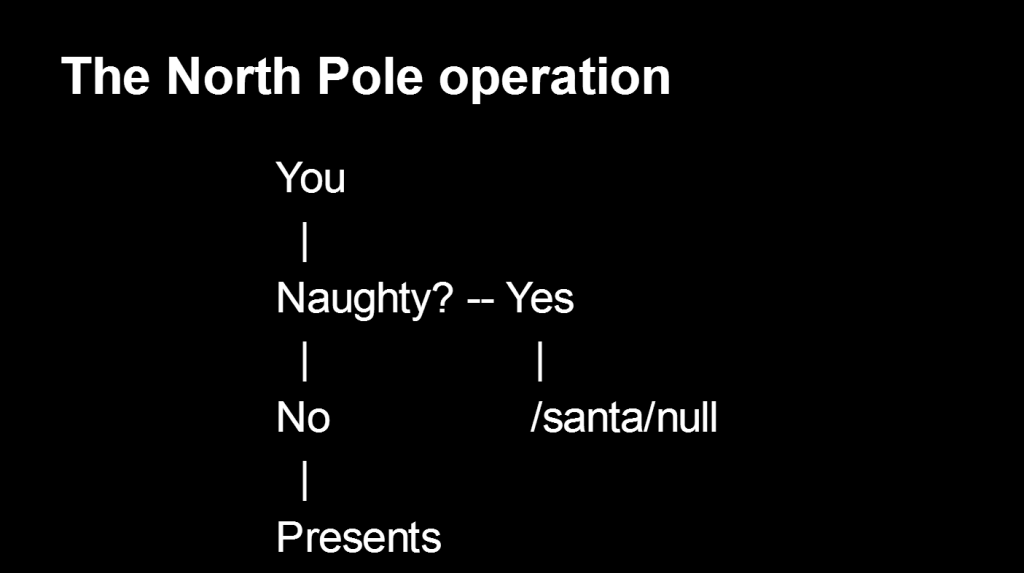 Linting - Kelvin
Following on from his last talk on Ruby idioms, Kelvin introduced us to the concept of how to lint your code and why you should do it.
Linting is not just a lake in Indonesia or picking bits of fluff out of the laundry - it's running a program across your code to flag up any errors and notify you if you've broken the code conventions. Linting politely lets you know when you've done something wrong, and teaches you the right way to do it - or, in Kelvin's words, it's "the Clippy of the dev world".
Our dev team use the marvellously-named Rubocop to lint Ruby. Kelv demoed the SublimeText plugin for Rubocop so we could see some real live linting in action.
Why good content is important - Rich
Rich is partial to a film-based Show and Tell. This week we learned why good content is important, and also a lot about the plot of Arthur Christmas.
Content is like a promise to our users - when we show someone a link, we're telling them that there will be good, useful content on the end of it. If they can't find what they're looking for, the users will lose faith in the magic of bath.ac.uk (Christmas) and the world will be a dark, sad place.
We need to be less like Steve Christmas, who has an almost industrial approach and reduces the users to metrics. Instead our role model should be Arthur Christmas, who is empathetic to the users and sees them all as individuals, not just numbers.
Gwen represents the users. I haven't seen Arthur Christmas, so I'm not entirely sure who she is, but she seems like a nice kid and we should all try to help her, right?
usabiliTEST - Charlotte
Charlotte told us about her experiences with usabiliTEST, an online card sorting tool that allows users to prioritise cards or sort them into different boxes. You can specify the boxes you want them to sort the cards into (like "Finance" and "Student Life") or you can let them define the boxes themselves.
While researching improvements for our student landing page, Charlotte and Rhian wanted to understand how students think - what do they want, and what terms do they use to find it? They used usabiliTEST to ask students to prioritise the links and other information they wanted to see and group it into different categories. The tests they set up were completed by almost 100 students, providing a valuable insight into what's important to our users.
Charlotte also gave us a demo of usabiliTEST to show us how to set up a test, along with the different ways to organise the data you get from the results.
OpenStreetMap - Chris
OpenStreetMap is an open data community mapping tool. We use it on bath.ac.uk to display campus maps - it's a useful resource for marking out buildings and other campus information, and can be quicker to update than Google Maps.
Chris talked about the advantages of OpenStreetMap and how it's updated, using the BaleHaus as an example. The BaleHaus was moved from its original location when the Chancellors' Building was constructed, which meant the map had to be updated.
Updates can be made by marking them out on the map or importing GPX files with location information. Gathering this location information took a little more manual work than usual - Chris downloaded a phone app to track his movements and then walked in circles around the building a few times.
Dodgy GPS signal strength does mean this data has to be double-checked and refined on the map later, but it's a good way to provide accurate information about our campus (and get some fresh air at the same time).
Hacking Santa - Tom N
Every week Tom puts the fear into the rest of us with terrifying stories of security exploits. This week he talked about the problem-solving progress of hacking.
An example of a problem: what if you want a new bike for Christmas, but you're almost certainly on the naughty list? Time to hack Santa.
Tom walked us through identifying the possible points of vulnerability in Santa's operation (surveillance data, elfin workforce) and then how you might be able to exploit those vulnerabilities (altering the data, bribing elves). We are all now getting coal in our stockings.
Show & Tell is back in 2015
2015: the setting for Back to the Future 2, and also our next Show & Tell. We're always happy to have guests, so we hope to see you on Friday 16 January.