It was a big crowd for our first show and tell of the year and that wasn't just because we've had two new starters in our team!
Transport discovery and advice - Paul
Paul used a rare Friday in the office to make a starring role in the line-up. He kicked things off with a talk about his work on our transport advice. He had carried out a content audit, inventory, analysis and a benchmarking exercise (phew) in order to find out what our current provision is like
and how we can improve it. His benchmarking involved looking at 20 websites, including other universities, and companies that dealt with large volumes of visitors such as the 02 Arena. From this extensive research and discovery project, he was able to make a series of findings and recommendations.
Crucially, information should be centred, in one place and not spread out through the site. People shouldn't have to journey throughout the website, taking wrong turnings in order to find out how to get here. However, despite providing central information, a balance needs to be struck. Information should be concise. We'll provide a postcode, GPS information for sat navs and then signpost users to useful information on public transport rather than replicating information ourselves. Instead of creating our own content on bus timetables and cycle routes for example, we should link to the pages curated by those in charge of those services. We also won't hide the important information in lots of extra content, that may or may not be relevant.
This means we can be sure the information is accurate and up-to-date and our visitors know what they are doing and that they can visit us, without worrying about every single detail.
Go Live - Tom N
Tom N treated us to a display of how we launched our homepage alpha. Yes that's right. In case you haven't heard, months of hard work boiled down to a few tense moments as we 'hit the button'. Our alpha homepage is live! However one does not simply hit the button as Tom pointed out. LOTS of preparation was needed and lots of hard work happened, so that it could be that simple when the moment came. Thanks to all of this hard work, going live involved the changing of a few characters in the code that had been slaved over for months. If for any reason we need to go back, we can. All we need to do is revert those characters again. Hopefully though, we won't need to do that and we can enjoy watching our alpha venture out into the world to be received by others.
Customer Relationship Management: maximising the impact - Graham (a warmly welcomed guest speaker)
Graham took us on a metaphorical journey to help us understand how to maximise the effectiveness of our communications. There are some key, key parts to this. Timed to perfection - Any messages need to be timely and accurate.
Focused on the target audience - This means you need to know them. How old are they? What is their year of entry? Our messages need to be focused on our audience, why does this message matter to them?
Functional and relevant messaging - If your messages aren't functional or relevant then it could damage your relationship with your audience.
Reliable - This is about trust. If we send out a number saying it can help, and it turns out to be the wrong team, or the wrong number altogether, the person who tried that number will have a negative opinion on that message and of us.
Coherent - Any and all messages should be confusion-free. Your audience must be able to understand what you are saying.
Informative and expected - You can't assume. You must ask and be prepared for them to change all the time.
This journey was part one of two, so we're looking forward to the next leg.
Pattern Library - Liam
Websites are made out of chunks, but how do we organise them? This was the topic of Liam's presentation.
Examples of these chunks are:
the search bar
accordions
drop-down menus
These are 'patterns', items that can appear on multiple pages. In order to get an overview of all these chunks, Liam created a pattern library. This library contains these chunks and the code that makes them work. This library also draws from the style guide and includes how dates should be formatted. In the future this library will be built on and typography will be included. Already it is an excellent resource that will aid page building and help make design decisions.
How and why we make our design decisions? - Dan
Dan followed on from Liam with a talk about design decisions and how the process is changing with the increasing advent of technology and the 'internet of things'.
The old way - designers made a page, outwards in. They knew the size of the page - the size of an average desktop / laptop screen. The page was rigid, it had elements on it in a fixed location on the page.
However this was when computers were the only way people viewed webpages. But what happens when pages are viewed on mobiles, tablets, watches or even fridges? Fixed pages will not provide a good experience.
The new way -  We should design inwards out. Small discreet elements of functionality which can then be placed anywhere on the page, depending on screen size. Line heights can also change depending on the device used to view the page.
Cool name? There are many many different design methodologies capturing this area:
Atomic design
BEM
SMA CSS
Dan and Liam are using a mix of these ideas and theories and will be coming up with their own name soon!
That was it for this Show and Tell, we're looking forward to the next one already!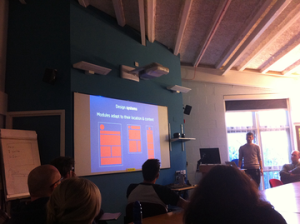 Page designing or Tetris? - Photo kindly supplied by Kelv