All our developers were at Bath Ruby, so it was a decidedly content-heavy series of talks this week with the exception of Dan who went all Saul Bass on us whilst describing how media ohh, spoilers.
Social media audit – Miao
First up, Miao talked us through the International social media audit that she recently completed - the aim of which was to identify the most appropriate channels to use. There were two stages to the work, using Google Analytics to find the channels that provide the most traffic to our website, and auditing the top 5 channels. There were definitely some global trends in terms of which tools were most used, and it was interesting to note that a couple of countries are locked into channels that are unique to them.
Miao also discussed how cultural differences had an impact on elements such as design, usage and language perception - as well as how mobile devices played a vital role in people's interactions with these channels.
Miao concluded by sharing 2 next steps based on her discovery work that we plan to put in place to improve our service to the International market. Questions from the floor created discussion around acquisition traffic, exploring platforms that were dominant in certain countries, and relationships with our International student bloggers.
Beta update – Ross
As you may know, we've recently completed a trial of a new approach to our design and content delivery. We called this the Alpha stage. Ross presented us with comparisons on how the old (i.e. the current) site and the new Alpha approach, focusing on the differences in structure, organisation and governance. All of this discovery underpins the next stage, the Beta, and Ross guided us through the major distinctions of this proposed phase:
introducing a horizontal 'thematic' route
revamping content to be active in tone with clear calls to action
putting effort into curating as well as creating
moving to a modern, flexible adaptive design
developing a resilient tech stack
crafting a bespoke solution for publishing.
Business discovery findings – Hanna
How do universities communicate with business? In general not very well or clearly it seems. Hanna presented her findings after auditing the content we provide that is targeted at external businesses. She looked at how our business landing page compares to other top-level sections of the site, and to see how engaged users are with the links provided there. Although the overall views are a lot lower than other areas of the site, Hanna stated that as we are unsure of the scope this could be a normal (or even excellent) amount of traffic. You should share your stats with us so we can see.
Using a list of common terms universities use to communicate with external businesses, Hanna identified more content targeted at businesses elsewhere on our website. The conclusion was that we should look to update our content to get rid of any duplication, restructure the business section and revisit the business landing page in particular to make it clearer and more task driven. Finally Hanna expressed a desire to get out from behind her desk and actually talk to the users of this content - find out who they are and what they want - as analytics can only give you one side of the story.
Agile content – Rich
Ahh, Richard.
Richard took us on a journey through the concept of agile content using scenes from The Wizard of Oz. In 2014 he attended the congility conference (aside; did you know Lanyrd was created by 2 University of Bath graduates? We rock.) and was so impressed with Marli Mesibov's talk that he gave us a condensed version. Spliced with scenes from The Wizard of Oz, did I mention that?
Marli stated in her manifesto that content online was created in a waterfall fashion, a hangover from the days of print when each item was signed off and then couldn't be changed. Rich began by declaring that creating content for a digital arena allows for more, and we need to move on from this old model. He spoke about the need to start building intuitive user experiences by continuing to place user stories at the heart of everything we do, because they define a requirement for a piece of content. Richard went on to point out that the way we operate as cross functional sprint teams reflects how Marli recommends that the content team is only a part of the content creation process - developers and designers should be fully involved as well.
Richard ended by highlighting how we are gaining the trust of our wider publishing community through the process of creating guidelines, style guides and strategies - and by creating a delivery process that everyone can contribute to and use, essentially making living guides.
Questions from floor covered how we've introduced paired writing as an approach to help with some perceived issues with the speed of content creation, as well as identifying departments in the university that had already adopted our approach and how it was going for them.
Richard left us with the message that taking an agile approach allows you to focus on fixing one thing, rather than being swamped by everything that needs doing.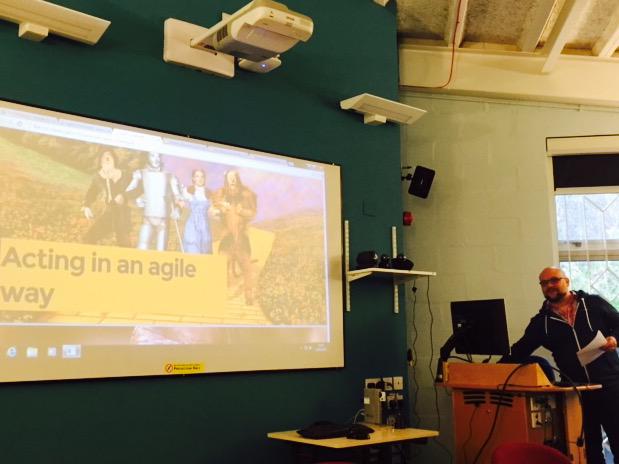 Anatomy of a responsive website – Dan
Headlining this particular Show and Tell was Dan, who explored the anatomy of responsive design. We plan to use this approach extensively in the new design templates for Beta and beyond, and Dan explained how it allowed you to tailor the presentation (and the delivery) of content to specific devices by targeting their screen resolutions (we also consider print as another valid delivery platform and are giving serious consideration to how content is presented when printed out). Serendipitously (or maybe it was all planned?) Dan's talk elaborated on points made by both Miao and Ross - that of the importance of having adaptive content that is optimised for mobile devices. To achieve this, you need a minimum of three things: the viewport meta tag in your HTML, media queries in your stylesheets, and a fluid grid for your layout.
Dan went through each of these requirements individually, explaining how to implement them and making it all sound very easy and fun (which it kinda is).
You can see the entire presentation here – Anatomy of a responsive website – it's beautifully crafted as we've come to expect from Dan and I really recommend you view it.