Very early into the Beta, we started to face a big question: how do we track the progress of the Beta programme?
We use Trello and Pivotal within the team, but we didn't just want to track what we were up to - the Beta involves dozens of people, working on hundreds of sections and almost a million assets. We needed to be able to see the progress of individual sections, whole organisations, and the entire programme overall.
We went with one of our favourite solutions: stick things on the wall.
In praise of the wall
Our office walls do more than hold up the occasional Zelda poster. We use them to as sprint boards, team schedules, annual leave calendars and reminders of our delivery principles.
The biggest benefit of sticking something on the wall is that it's very visible. You can quickly glance at it while you're working, or discuss a project without crowding around one person's desk - which is great when we have office visitors.
So we stuck our tracker on the wall, and named it the Totally Awesome Content Trackatron.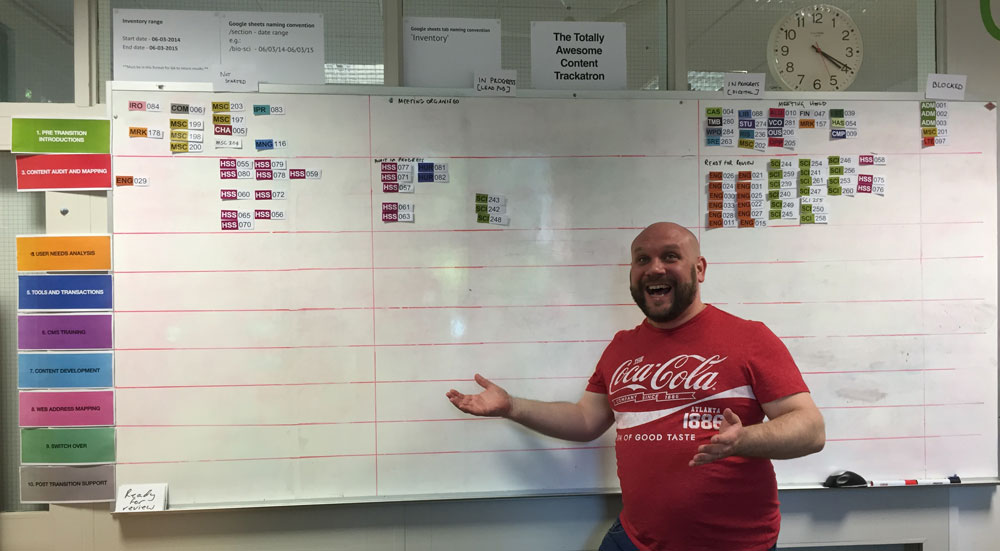 The Trackatron is divided into the different stages of the programme, from 'Pre-Transition Introductions' to 'Post-Transition Support'. Those stages are broken down even further to show the possible status of work - 'not started', 'in progress with the lead publisher', 'in progress with the Digital team', or 'stalled'.
Each section of bath.ac.uk has a card, and as those sections progress through the stages, their card moves across the board - from left to right, and then from top to bottom. We can check the progress of individual sections by looking at individual cards, but we can also get an overview of the entire Beta programme. The cards are colour-coded by organisation, so we can also see how our publishers are getting on and where they might need support.
There are also some sections that aren't moving to the new bath.ac.uk - either because they're out of scope for now, or because they're being archived or deleted. We take those cards off the Trackatron and put them somewhere else - another wall, inevitably.
Keeping the wall up-to-date
Right now we have over 300 different identified sections of the website. A significant proportion of these can be archived, but that's still a lot of sections to keep track of.
We explored several ideas before we found the solution. Updating individual index cards for each section was messy and too time-consuming. We started setting up individual Trello boards, but found that they quickly became outdated as our process evolved, and presented a possible learning barrier for publishers who hadn't used Trello before.
Instead we decided to go with something we were already using: Google Sheets.
Almost every identified section of bath.ac.uk has its own inventory in Google Sheets, which our lead publishers use to audit and evaluate their content. Our 'Master Organisation List' spreadsheet had a list of every inventory and who was responsible for it. Rather than having multiple overviews, we decided to just have one.
Getting fancy with Google Sheets
ImportRange is a Google Sheets function that lets you import data from one spreadsheet to another. You can import a single cell, entire rows or columns, or use it as part of a larger formula to put the data to work.
We were already using ImportRange so publishers could choose from a list of possible content types and actions when auditing their content.
We created a separate tab on each inventory called 'Status' where publishers could specify what stage they were at, and then imported all those status cells into the Master Organisation List.
When publishers update their status on their inventories, ImportRange pulls those changes through to the Master Organisation List. And when we want to update the Trackatron, we check the Master Organisation List for all the information we need.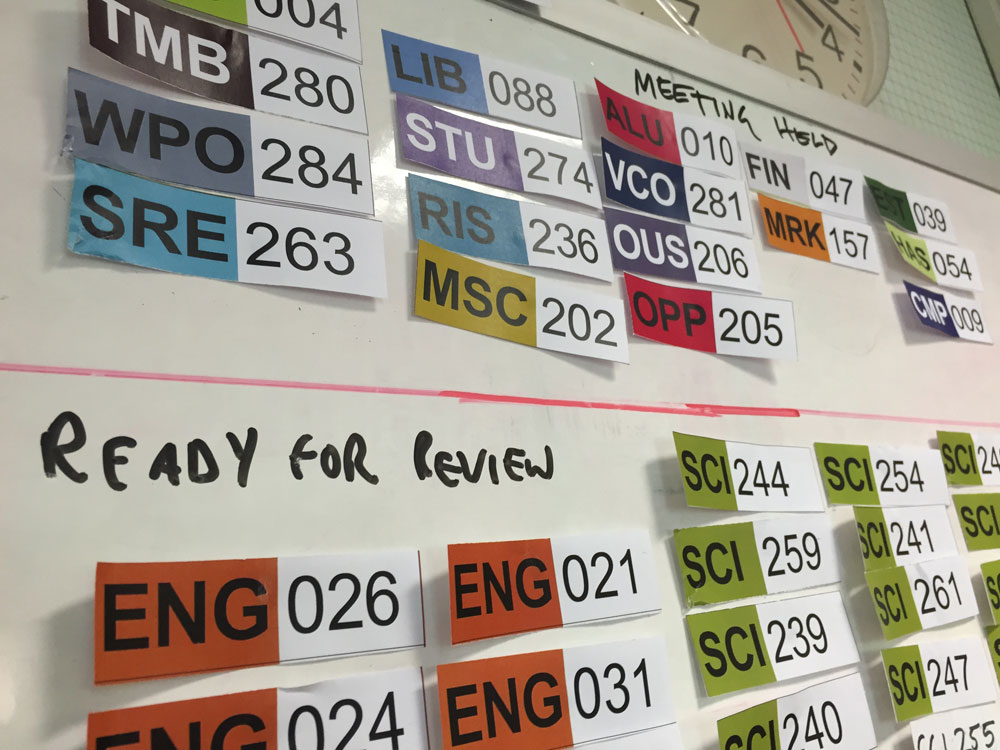 The good: data, data everywhere!
Once we looked into the possibilities, we realised we could do a lot more than just import the status of each inventory - we could get the overall file count, how many times each content type was used and how often each action was being taken.
Collecting this data automatically gives us a really useful overview of exactly how much of bath.ac.uk is being migrated to the new CMS, and which content types are going to be the most popular. This doesn't just satisfy our curiosity - it also helps us decide which features to prioritise.
The bad: Google Sheets does not like this
ImportRange is cool and all, but it probably was not intended to connect 300 spreadsheets and millions of cells. When you then import those millions of cells and count different aspects of them over and over, the browser can get than a little sluggish.
Our set-up would probably benefit from us learning more about the Google Visualization API Query Language, followed by some serious refactoring.
But given the time at hand (not a lot) and the resources available (my now less-minimal knowledge of Excel), this is the solution that works for us.
Getting on with the Trackatron
Since we put it into action, the Trackatron has been a great visual aid for the team. Seeing cards move across the board is satisfying, as is taking them off the Trackatron and moving them to the 'archive' and 'delete' wall instead. And when you're up to your eyebrows in spreadsheets and emails, being able to easily visualise your progress away from both of those things is extremely useful.
If you're one of our publishers and you have any questions about the Trackatron, or the Beta in general, get in touch with your single point of contact in the Digital Team.