Last week I had the privilege of visiting FutureLearn in the British Library for their first partner hack day. Although they have run hack days in the past, this is the first time partners have been invited to take part. So, bright and early on Wednesday 24 June, around forty people descended on the FutureLearn offices to spend the day discussing ideas to take learning into the future.
We were mixed into teams of 8 people. Each team was half FutureLearn staff, half partners and the organisers worked hard to make sure each team had at least one designer, developer and writer in it. The FutureLearn folk were lovely and made us very welcome, which created a great environment for sharing and expanding on ideas. Certainly Finola, our group leader, ended up with many pages of notes which I hope will prove useful to her!
After discussing which ideas were relevant to the theme of the day we then chose which ones to pursue. We were looking for ideas which would be step improvements on the existing platform so we sadly discarded all those which started with "Picture a world where..." and came up with a status page for the course administrators and an internal bookmarking feature. Both solve existing problems.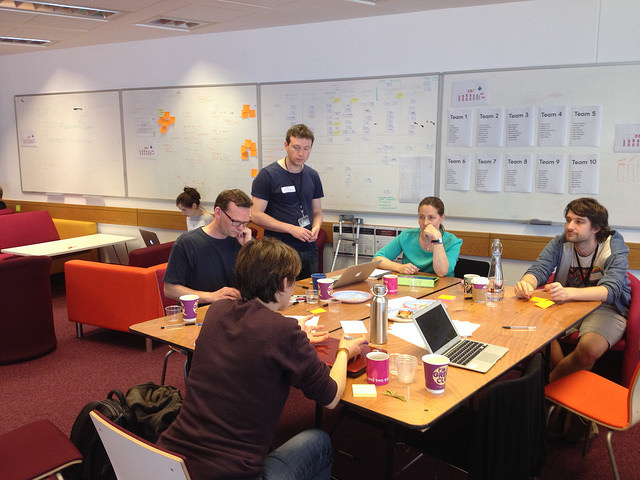 As the number of courses in FutureLearn increase, the amount of administration per course is going to grow. When a course is running it is relatively easy to stay on top of the activity in one course, but when there are five or ten or more that quickly becomes impossible. FutureLearn are obviously keen for partners to invest more heavily in their work and provide more courses but those partners are unlikely at this stage to hire entire rooms of staff to stay on top of the administration. Our status page is designed to be a single place which provide answers to the questions administrators ask at the beginning of the day - which courses need my attention, and where? - without the need to trawl through all the courses and find those problems by hand. Obvious time savings, better experience for the administrators and everyone is happy.
The bookmarking feature would allow a learner to create a personal list of items (be it course elements or comments in the discussion threads) they want to revisit at a later date. At the moment this is not possible and so many users are leaving interesting sections of the course marked as incomplete so they stand out from the completed pages. This is clearly cumbersome for the users and also throws off the FutureLearn statistics as there is no difference between a course step which nobody understands and everyone skips and a course step that is so interesting everyone wants to remember to revisit it.
With our ideas in place, cue lots of whiteboard work as the details are fleshed out and then it's time to build some mock-ups. While our designer was drawing up the status page, fed by a constant stream of evolving ideas, the rest of us had a go at mocking up a page to view bookmarked items and working the bookmarking buttons into the existing pages.
Finally, after much discussion and building all teams had something to present and were given three minutes to explain and sell their ideas to the rest of the room. There were some excellent ideas presented (most teams managed to keep within the time limit...) and then it was time for the voting.
And we won!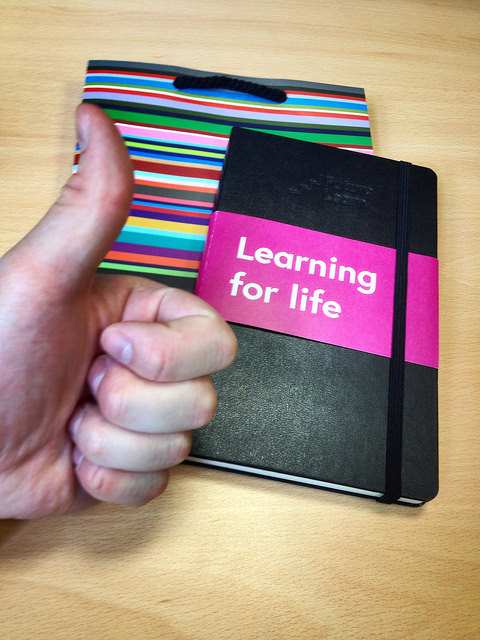 Overall it was a great day. Aside from the plethora of ideas generated (beyond those developed for presentation) I think FutureLearn also gained valuable insight into the experiences of the course administrators and forged closer relations with a group of people who they depend on to make the platform function. For us partners, it was good to see that our ideas and concerns are being heard by FutureLearn and it was really interesting to see how they go about developing their platform. It certainly makes me think about something similar here at the University of Bath.