Harvard University has established the best practices for content, multimedia and social. I'm visiting Harvard to learn how the team develops and delivers a comprehensive strategy for digital communications and engagement.
I kicked off my one-week long trip to Harvard by having meetings with Perry Hewitt, the Chief Digital Officer, and Benjamin Sharbaugh, Associate Director of Digital Strategy.
Our meetings were at Harvard's Smith Campus Center (formerly Holyoke Center), located next to the Harvard Square Station on MBTA Red Line and directly opposite the Wadsworth Gate to Harvard Yard.
The Office of Digital Strategy, as part of the Harvard Public Affairs and communications, is on the 10th Floor. From the balcony, you can get a panoramic view of the stunning campus.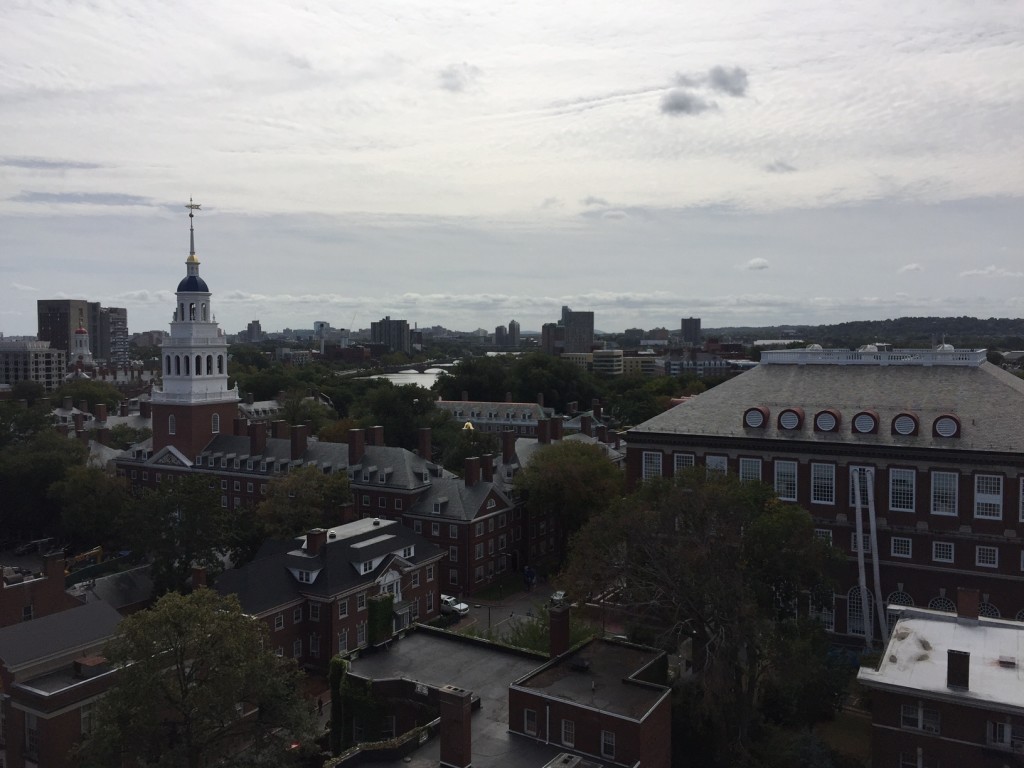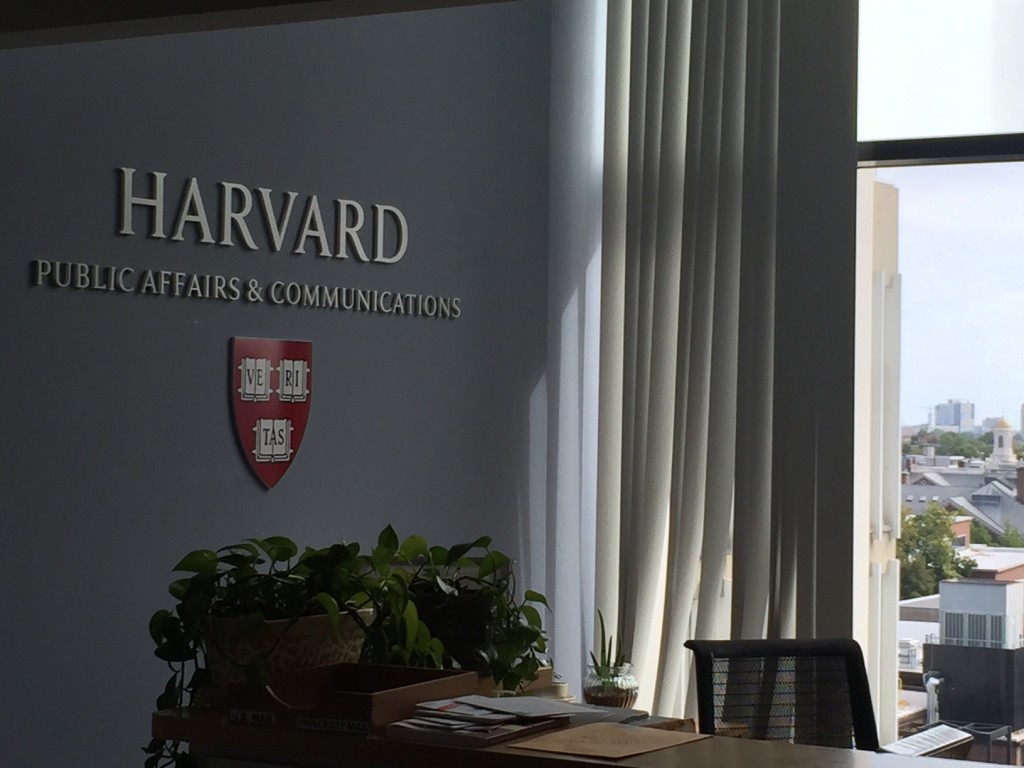 If I had to only pick one thing I've learned from my first day at Harvard, that would be collaboration. It's all about creating a community and atmosphere for collaboration.
The team
First of all, how is the Harvard Digital team formed? Perry's definition of a high performing digital team published on Harvard Business Review gives a comprehensive overview of what the team does:
Digital teams are responsible for developing, testing, and implementing a strategy to reach and engage target audiences through digital channels like web, mobile, and social. While other groups may draft the messaging, a digital team works hand-in-hand with marketing and product leaders to curate and create digital-first content strategy. Most often reporting through the CEO or CMO, digital teams may also be responsible for implementing cross-channel analytics, surfacing relevant emerging trends, and providing comprehensive guidelines. As institutions have weathered the seismic communications shift from managed brand broadcast to real-time community interaction, digital teams have stepped in to manage listening platforms and identify opportunities for engagement. Finally a successful digital team will build a strong partnership with IT, who owns critical technology infrastructure and associated services.
Harvard identity guidelines and decentralised publishing
"At Harvard, we are big believers of guidelines and put a lot of effort into developing them," Perry said.
"We are in charge of branding by producing guidelines for website, storytelling,  social media, images, colour, fonts, etc. We make them easy to follow and don't provide any classroom training. We don't police the schools in terms of how the guidelines have been followed when creating content.  The schools have their own autonomy and authority to decide what they want to do digitally and how to do it. So as the central team, we have very little control of it. We are so decentralised, and sometimes I wanted it to be more centralised. The grass is always greener on the other side," Ben laughed.
Harvard's show, but not tell
Harvard's central digital team started collaborating with schools 5 years ago. "We create a community to share and encourage digital understanding, as well as celebrating good work," Perry said.
Harvard digital has its own 'Show & Tell'. The Digital Roundup is a monthly newsletter produced by the Office of Digital Strategy to share the latest digital news among Harvard staff to exchange ideas, share interesting article, tips, statistics and learn from industry experts about how to make digital work easier and more interesting.
This is also followed by a monthly meet-up - The Digital Roundup Live presents digital content, projects, and knowledge from around Harvard University.
Academy is another free event to encourage sharing the best practice of digital work from around Harvard. Each Academy has a theme; the next one in October is Multimedia Academy. The tickets ran out within hours of the date being released.
We don't create content, we aggregate it
It's not about ownership. It's about how to aggregate the voices.
Social media has been a big driver to harvard.edu. This is all about the balance between influence and control. "We don't give one definite version of Harvard. We create sharable content, aggregate content from all over the university and syndicate it out through our multiple digital platforms. It's about user experience from all the channels we output."
Social tools help content to be captured, categorised and shared to make a great impact and a 'Harvard experience'.
Change management
So how do you get people to get on the bus for change? This is the question I most want to ask Perry and Ben. "This is really hard!" both told me.
Perry's tip for managing the change is: being an early adaptor is the key. "Work transparent, make people understand their role of the change and bring them at much earlier conversations. This is because people want to be part of a winning effort, to be in the right direction.
"We make so much effort into back-end development to make it easy, interesting to use and to make work look good from the front end. For example, harvard.edu," Perry explained.
Next week, I'll be meeting the Harvard Business School's content team and learn how they manage their own site and collaborate with the Digital Strategy team. There will be more to share shortly.