There is a whole other social media world out there beyond Facebook and Twitter that the University of Bath can be part of. Sina Weibo is the first non-English social media site on which the University has established an official account. We are looking to source a wide range of content from faculties, departments and services across the campus.
Weibo, meaning microblog in Chinese, is one of the most popular social media channels in China, with over 30% of its internet users actively using this platform.
Like Twitter, Weibo has a 140-character limit. Over the years, Weibo has gradually become a mix of Twitter and Facebook for features. Users can upload images and videos, insert hashtags, emoticons, music and videos in posts, as well as retweet and comment on others' posts.
Weibo has a reward system that encourages users to spend more time on the site. Users can receive virtual medals and gain popularity for actively engaging with users.
Launching University of Bath's Weibo account
We launched the University's official Weibo account on 3 June 2015. Our aim is to support the University's reputation for world-class teaching and research excellence amongst Chinese-speaking audiences.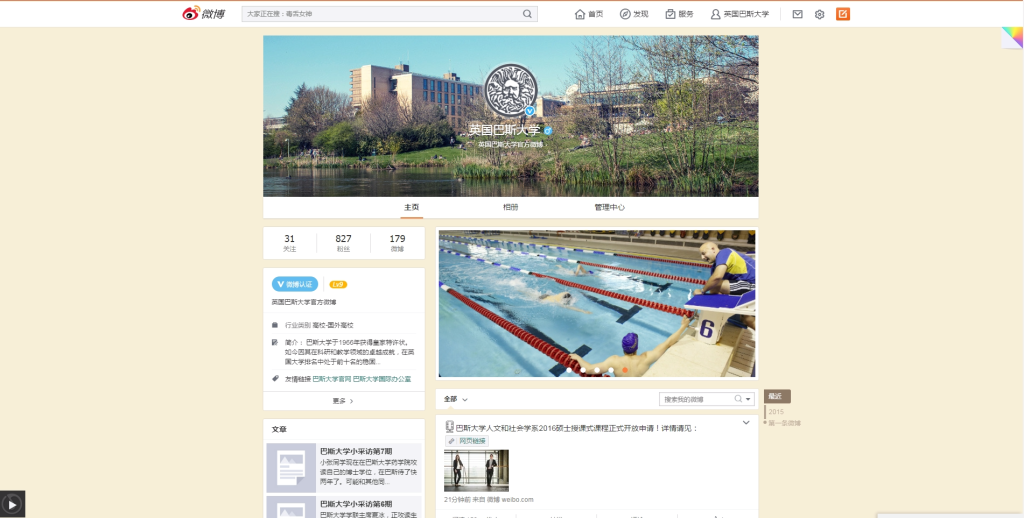 Following the launch, we have carried out the following steps:
Verification - we have had our account verified, so there is now a blue 'V' sign appearing next to our Weibo logo. This means all the users will be able to tell that our account is genuine and official.
Design - we have 'decorated' our timeline page following our brand guidelines, including the choice of logo, background color and images.
Publishing on average 2 posts per day, we have over 800 followers to date, the majority of whom are Chinese prospective students.  As Digital Editor for Internationalisation, my responsibility is to oversee the account on a day-to-day basis and develop a content strategy tailored to different periods of the academic cycle.
Engaging with Chinese users
Weibo offers us a unique channel to interact with our Chinese prospective students..
Over the busy Student Induction period, I worked closely with the International Student Advice Team in Student Services and had assistance from a Chinese postgraduate student to post daily messages with the goal of helping Chinese new students prepare for their travel to the UK and transition to a new life at Bath.
With Induction related messages, we have created hashtags, such as 'University of Bath tips' to group relevant posts and make it easy for users to search and save to read later. We've also conducted a series of interviews with current students and published 'long weibo' posts as case studies. These posts have proved popular and generated a lot of appreciative comments.
We will develop more diverse ways to engage with our followers ahead of the next Induction periods. For instance, we can organise online events, such as live Q&As to answer student enquiries.
What's next?
Projecting the University overseas is one of the core priorities of our International Strategy and projects like the one we have begun on Weibo are squarely aimed at supporting that strategic goal.
We are very excited by the potential of Weibo for raising Bath's profile in China and with Chinese audience internationally. Feeback has so far been positive. It is important to continue improving our engagement with prospective students while also raising our visibility with a wider range of Chinese audiences, including current students and alumni.
To achieve this, we need to collaborate with faculties, departments and services across campus to draw in a richer range of content. Over the coming weeks I will be in touch with a number of teams, but you can also contact me via web-support@bath.ac.uk.