As you might have noticed from our latest sprint notes, we're getting pretty close to shipping some of our first full sections of the beta site.
We've had a handful of individual pages live for months now, all for new content. But soon it'll be the first time we replace an existing section with new content from our new CMS.
Before we ship anything, there are a few things we have to do to get these sections – and the beta site as a whole – ready to meet the world.
Our review process
All content in transition goes through a five-stage process:
Substantive edit and review
Copy edit
Fact-checking
Final proofread
Sign-off and go live
We use Trello to manage this process. Every section has a board, every stage has a column, and every piece of content has a card. As the content goes through the stages, it moves across the board, and eventually into the final column: 'Complete'!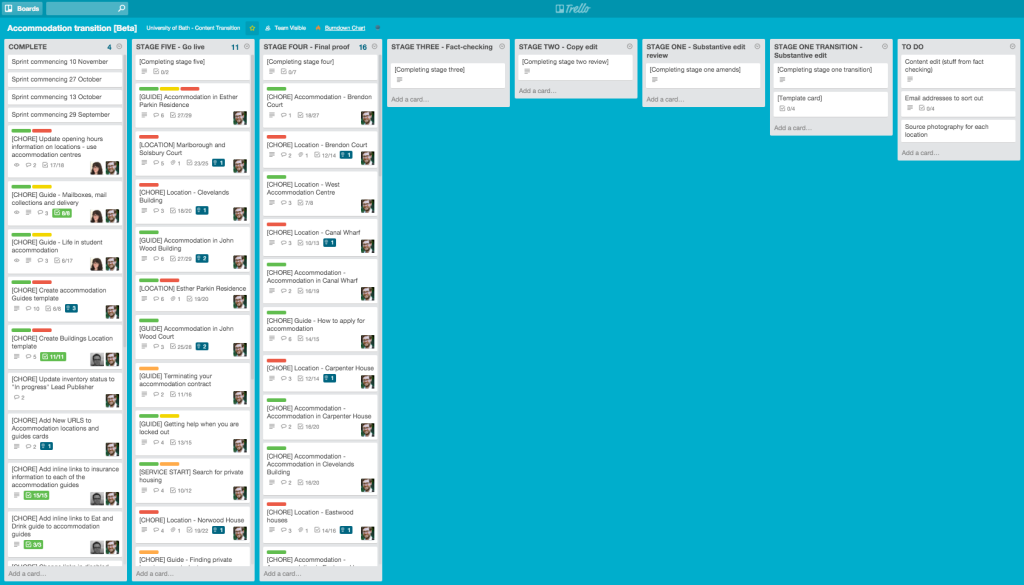 Substantive edit
Our lead publishers start the process here. Each item of content starts with a user story. Hopefully there's already a page that meets this need (after some editing), but sometimes we're starting from scratch.
Their task is to create a piece of content in the CMS that:
meets the user need
follows a logical pattern with no gaps
clearly explains any processes the user needs to follow
doesn't duplicate or contradict other content
Once they've finished this first pass, they move it into an extra 'Review' column, where someone from our content team looks at it and feeds back.
Copy edit
A second member of the content team makes any changes suggested during the last review. We also make sure sentences are clear and concise, and the tone is consistent.
Fact-checking
At this point, we hand the content back to the lead publishers. They work with subject matter experts in their department to confirm that all the content is factually accurate.
Final proofread
For consistency's sake, this task currently falls to one person: John.
He makes sure that:
the content has been through all the earlier stages, with no remaining actions
spelling, grammar and syntax are correct
all the links work
everything meets our style guide
ownership is assigned to the right department or team
Go live
By this point, every item of content should:
meet a clear user need
be clear and easy to read
be accurate and up-to-date
follow the rules of English language and our style guide
It's ready for the section's head of service to review and (hopefully) accept.
Once the section is signed off, we publish it to www.bath.ac.uk and redirect users from all pages in the old section to their new equivalents. Out with the old, in with the new!
"The great unpublish"
As well as getting some sections ready to go live, we also have to make sure that others... don't. Not yet, anyway.
We work in an Agile way, releasing features to our users as we build them. When we first welcomed publishers onto the CMS, one of the features we hadn't yet finished was preview. The only way to see what your content would look like on the page was to actually publish that page. So we did this, several hundred times.
This was fine when beta.bath.ac.uk was just being used to develop new content, but as we approach the point of releasing some of that content, we've got a problem.
Search engine indexing
We don't want search engines indexing incomplete pages. This looks shabby, of course, but the real risk is misleading our users. Presenting searchers with two versions of the same page, one old and one new (and not yet fact-checked), means there's no single source of truth. And we want to reduce duplication on our site, not add to it.
We've also designed and written the new pages with better SEO in mind, so they should be appearing higher in search results than our old content. Currently we've blocked search engines from indexing the beta pages, but that'll change as soon as we ship a section.
Everything is connected
We want people to be able to easily navigate across all the content on the new site, rather than be confined to individual sections. Features like filtered list pages make it easier for users to traverse the site and find the content they want.
That's great when all the content in the live site has been thoroughly proofread, fact-checked and signed off. Not so great when it hasn't.
Return to good habits
Finally, as we prepare for the CMS to support the live website, it's time to break our bad habits. We should only be publishing stuff when it's really, truly ready to go live. Now that we've got a preview function, there's no other reason to publish anything.
It's time to clean up this town!
So we switched the CMS off for about an hour on Friday 19 February and scrubbed our server of incomplete published pages. Aside from a select few, they're all back in draft where they belong.