We recently returned to a content sprint that was started a year ago. Digging up the old Trello board made us feel a bit nostalgic and quite pleased with ourselves - we'd come a long way since then.
When we began the content transition project we didn't really have a clear idea how to organise the process. Our first attempt at a transition Trello board reflects that.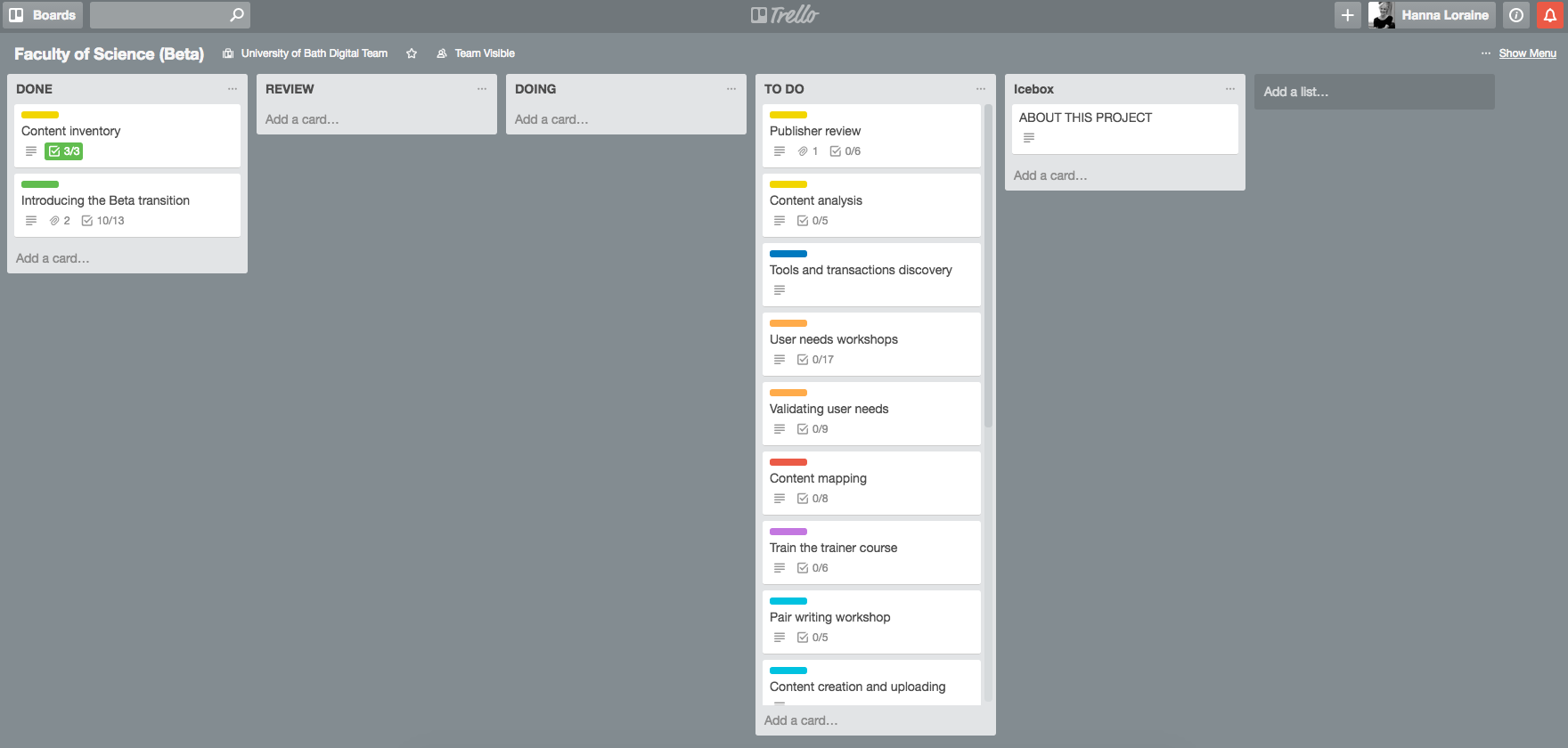 The idea was to build it around the top level stages in the process. Each card represented a stage in the process such as content analysis or completing a specific set of training.
Comparing that board to what we have now made us chuckle.
So what's happened in between those two versions of the board?
We realised we need to build the boards around actual content
In the next iteration, we had cards for each new content type and copied into a checklist everything identified as that content type from the inventory spreadsheets.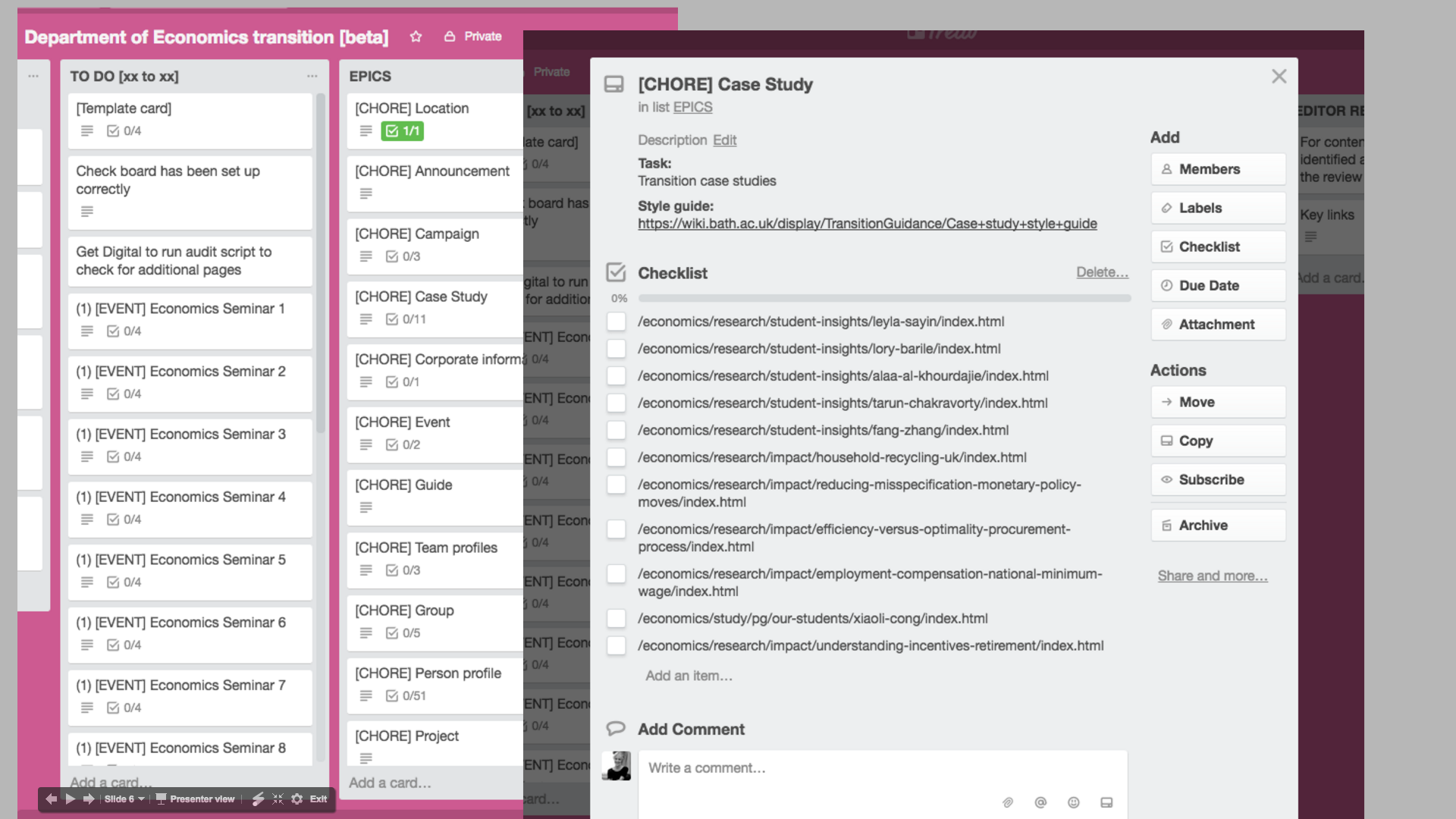 We would make an individual card for each item on the checklist and tick it off the list when that had been done to track progress.
For a reason none of us can remember, we put those cards in a column called "Epics". Obviously, they are not epic user stories and this caused confusion - in amongst ourselves as well as with the publishers we were working with.
We quickly realised it was very difficult to avoid duplication or prioritise content.
We realised we need some actual epics to organise content in a meaningful way
The next iteration was already a big improvement. We organised the content into cards so that each covered, more or less, an epic user story.
We then pasted the relevant content from the inventories into the checklist again but this time used the full URL so it was easy to check the content without having to copy and paste and type in the domain manually.
Why on earth we weren't doing this from the start, none of us can tell you. Sometimes even the most obvious things escape you when you're immersed in a process.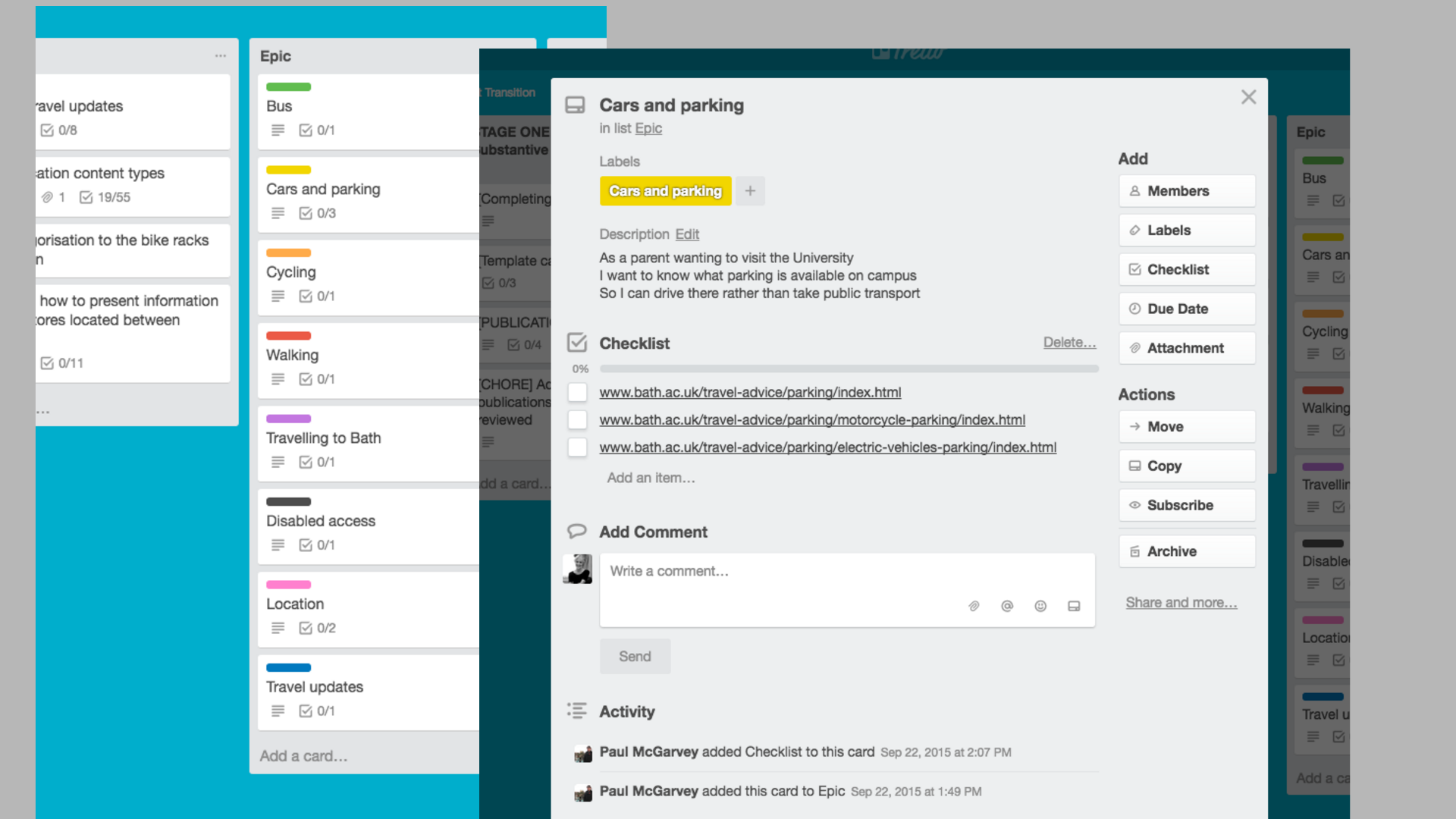 We realised we needed to take a step back from transitioning individual pieces of content
Although we were trying to structure to-be-migrated content around user stories, we quickly ran into problems again.
Working through heaps of content as a team at a fast pace meant we ended up working on user stories that were very similar. As a result, we created duplicate content without realising it.
It was time to take a step back. We went back to the principles and started from user needs. This time, we were careful to keep existing content out of sight at the user story planning sessions. This helped us stay focused on what the content should be rather than what it had been.
Having individual old pages on a checklist must have, subconsciously, made us think we need to transition each page as an individual page. So we stopped that, and started including them on the card as a reference instead.
We also improved our housekeeping discipline around individual cards. Each card now needs to have:
a user story
links to all the relevant existing content
links to draft in the new Content Publisher (backend) and preview
someone identified as the content subject expert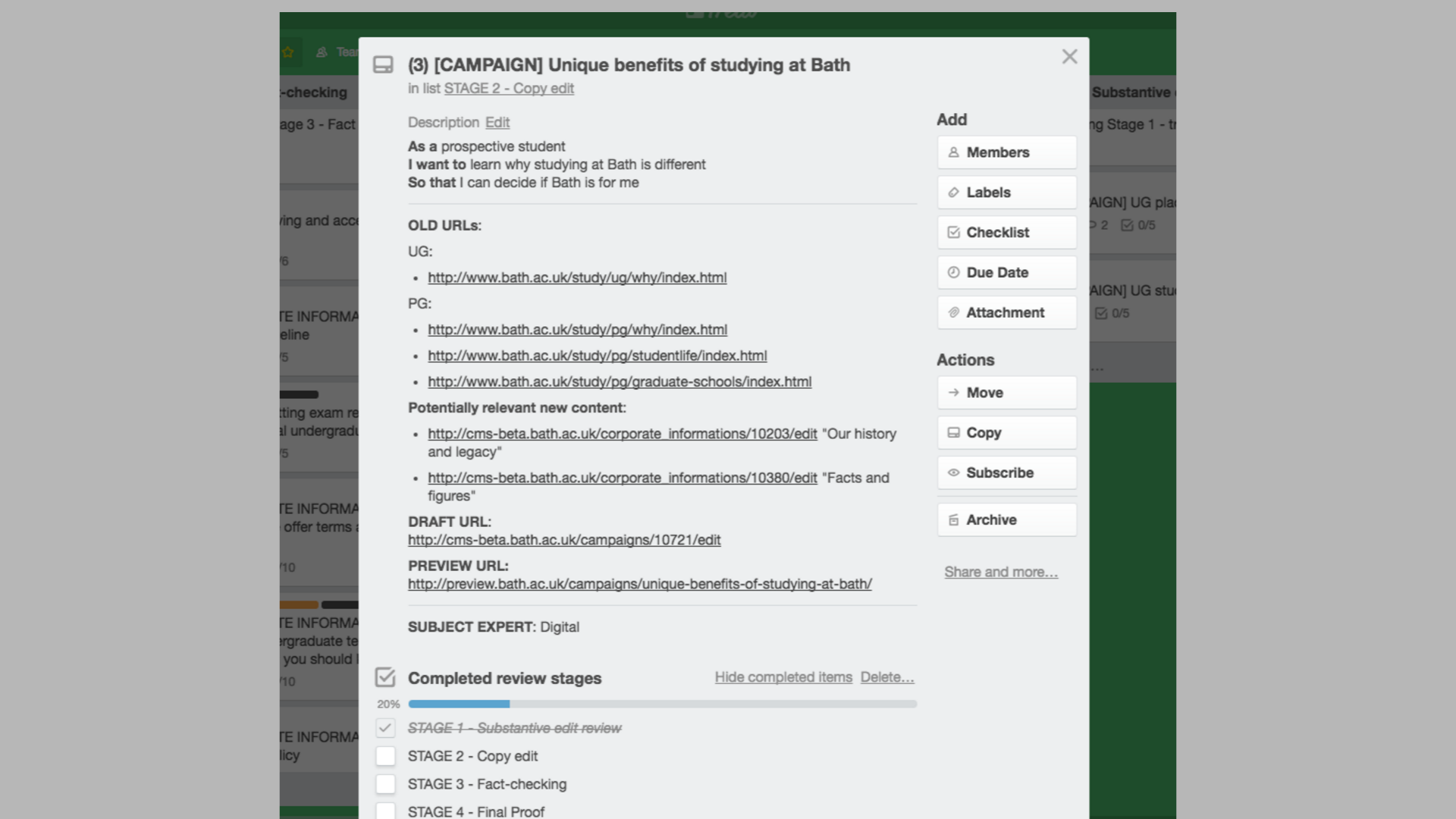 We have also tweaked the stages each card goes through. "Doing, review, done" has morphed into "Substantive edit, 1st review, more edits, fact-checking, final proof and ready for live".
The process takes a long time but we have made peace with it for now. If we've learned anything in the process of transitioning content so far, it's that you can't rush good content.
There's still room for improvement - there always is - but for now, this is working for us.