Do you ever have a piece of work that never quite makes it to the top of the to-do list? Something that needs doing but is not really crucial enough to be prioritised that highly. It lingers in the background, knocking on the door of your subconscious every time you think of the project.
We had something like that. A story in our backlog which so very nearly made it into sprints, but never actually did. This happened so many times over 5 months that it became known as the 'cursed' story.
Then one day it acquired a different nickname. The original product owner was so fed up of it not being done that he wrote this comment on it.

And the 'champagne story' was born.
But the comment didn't seem to help because nearly a year passed before it finally made it into a sprint. The story itself seemed to become more daunting the longer it was unstarted. It was essentially about republishing related content when an item gets published. Important but not groundbreaking stuff.
In the end the story got reduced in scope and then finally made it into the backlog for a sprint. It just so happened that I was the person who picked up the story and actually got the feature done. After all the delays and near misses, the feature itself was quite straightforward to implement.
So you are probably thinking that there was much rejoicing at this being done and I went home happily clutching a newly acquired bottle of champagne? Well, not quite. You see, the product owner had since moved on from our team, so there was a question over whether the champagne would arrive. The team put out a few gentle reminders.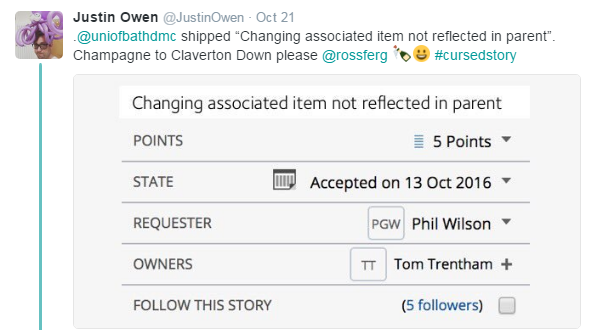 The message was out there and we waited. At the same time this was happening, it was my turn to bake for our GBBO sweepsbake. And that is when I had an idea.
What if I baked a cake in the shape of a champagne bottle to celebrate the story being done? And what if I delivered it anonymously to the office? I wondered what would happen.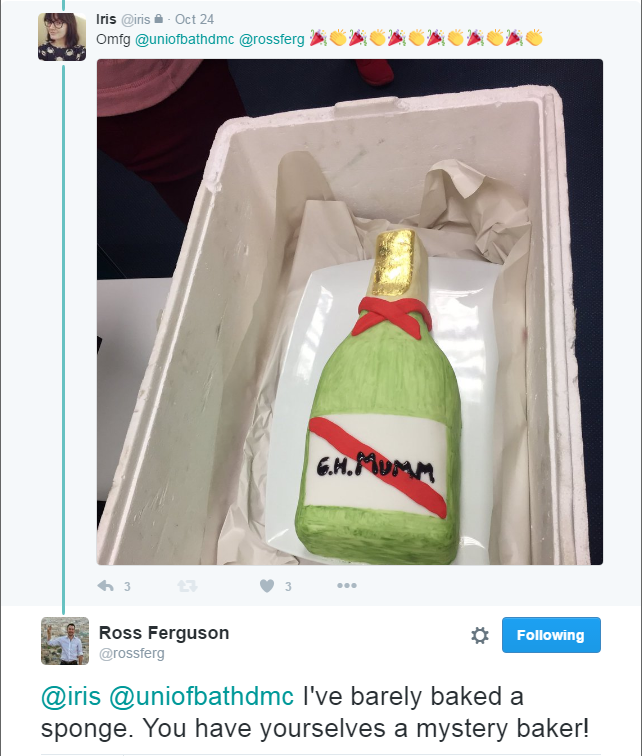 It was a fun day. I sat back and watched as people in the office were trying to work out who had made this cake. There were some top detective skills put into practice but somehow I managed to get away with it until the following day when I owned up to being the secret baker.
All in all, I enjoyed finishing the story and baking an interesting cake for the team. I learnt a lot about my colleagues and how much fun they are to work with.
Keep shipping! (and baking)