This week, we went live with the new Research Collection. It's not an insignificant milestone - it's the first top level section we've launched in our content transition project.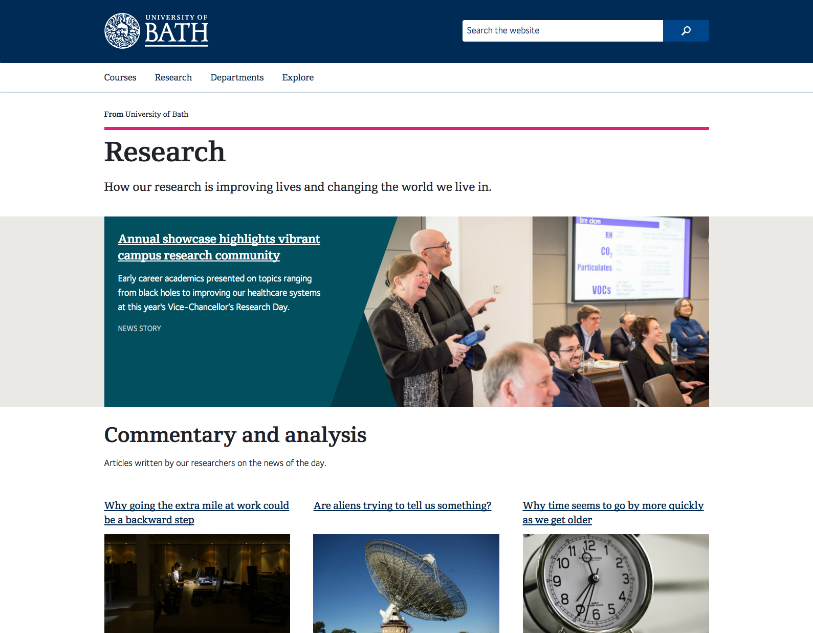 The new Collection introduces many improvements.
Showcasing a wider range of content
In the new Collection, we've introduced different strata for different types of content. This makes it possible to feature, in a consistent way, different items like videos, podcasts or articles from our researchers outside bath.ac.uk platforms. We can now add range and depth to our research content which previously relied heavily on news items and case studies.
Better workflow
As an Editor, I'm slightly in love with our Content Publisher. Creating and featuring content is so much easier than it was in our old system. There are still a couple of things we need to sort out with the workflow before the process is uber smooth, but the editing experience is already hugely improved.
Simpler tasks
In our research section, we publish both editorial (feature articles and news items) and transactional (downloading documents and information) content. As part of the transition, we spent a lot of time making the transactional content simpler and clearer.
In the new system, the content benefits from better labeling under specific content types, plain English and simpler language in general. A good example of a batch of content we were able to improve like this is the research integrity and ethics content.
Next steps
So that's all live now and I'm looking forward to getting some user data to find out how the new section is performing. But before that, I'm going to have a big, well-deserved, glass of wine with colleagues tonight to celebrate.