This is the first in a 'Day in the Life' series for the different roles in the Digital team. If you've ever wondered what our team gets up to on an average day, or what it's like to work in a particular digital discipline, read on.
Here's a typical day as a developer, based on what I did on a recent Monday.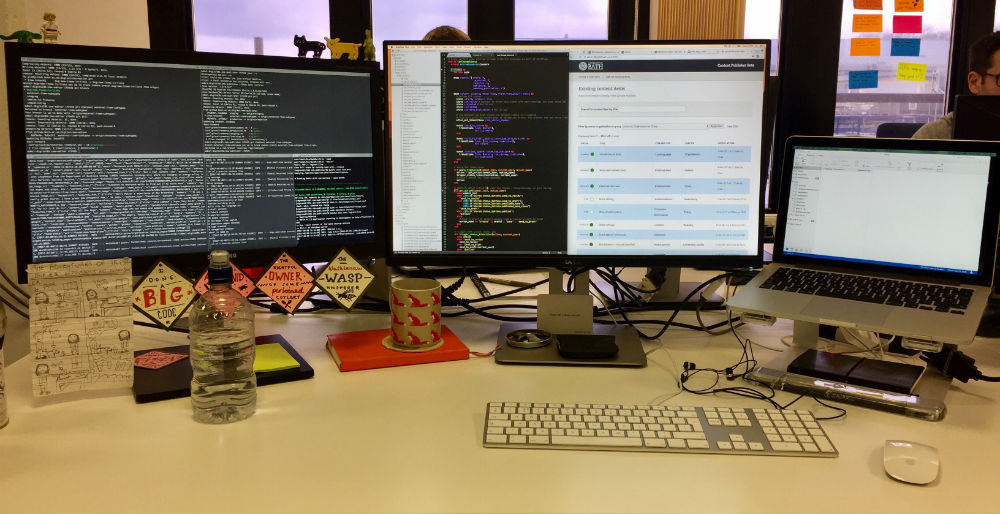 I get in around 9am and immediately make a coffee before cracking on with some work. Our team plans our work in two-week segments called 'sprints', and this is the last day of one. I start reviewing the code for some recently finished work so we can try to get everything ready to be signed off at the end of the day.
At 9.45, our daily standup happens. Everyone in the Digital team stands in a circle and says:
the most important thing they did yesterday
the most important thing they'll do today
any blockers that might prevent them from doing that work
Standup only lasts about 10 minutes, but it means that everyone in the team knows what they're meant to be doing and what everyone else is working on.
After standup, I finish looking at the reviews. Everything looks good, so the stories are now ready for the Development Manager to look at and accept (or reject – but let's hope not).
Next I get together with a few other team members and do our fortnightly infrastructure review. We set aside an hour to make sure our documentation is up to date and identify any potential problems or upgrade work we need to do.
After a break for lunch, my afternoon is nice and clear. I spend the afternoon working on a new feature for the Content Publisher. 'Unpublishing' allows our editors to temporarily remove a page from the live site without deleting it entirely, so they can continue to make changes and republish it later if required. Having hours at a time to really get my head into a problem is one of my favourite parts of this job, and working on something our users will find helpful is always satisfying.
The day finishes with a retrospective about the completed sprint. Everyone in the build team shares what they thought went well during the sprint, as well as any issues they encountered. I really like our fortnightly retrospectives – they're a good way to wrap up a sprint, celebrate our successes and discuss ideas for making the next one even better.
So, that's what it's like to be a developer in the Digital team.