For the benefit of new colleagues who may, justifiably, have wondered why I was hired to work in a fast-moving digital environment, I'll start this blog with an explanation.
Bear with me, gentle reader, while I engage in a bit of uncustomary trumpet-blowing in, rather appropriately, my first post. (I don't have a bugle on me, needless to say, but in my experience one should always stash a trumpet in one's bag lest there's an emergency requirement in a passing brass band.)
There are actually things I'm quite good at and have even been paid to do over the years. No, really there are, and to hell with British self-deprecation. It's overrated. Look, here's a list of professional accomplishments I can parp about:
1.     Acting and singing on stage and screen. I was in four episodes of Doctor Who, I'll have you know, with Bonnie and Sylvester, and have performed in some of Wales' finest retirement homes.
2.     Belly dancing in jangly costumes in restaurants (before I had two children, obvs).
3.     Performing as a singing Bluecoat in Bognor Regis, where a series of octogenarian campers taught me to foxtrot. One suggested I did a high kick. You should have heard him scream.
4.     Copywriting and designing conceptual ads and marketing literature for London agencies, and entertaining clients over long, boozy lunches in posh restaurants. Brilliant. Oh, and running my own tiny ad agency in Bath (who wants to swing a cat, anyway?).
5.     Proofing and editing books with fascinating titles such as 'Project Management for Small Businesses' and 'A guide to the Semicolon; with additional section on Colons'.
6.     Interviewing, photographing, feature-writing and flat-planning for a glossy mag that had a pic of me grinning inanely on the editor's page.
7.     Writing a controversial, racy and fact-based novel under a pseudonym I'm not going to tell you. Ever.
8.     Penning an 800-line poem in iambic pentameter - beat that for optimism about the publishing industry's notorious reluctance to embrace 'new' ideas. Still, Shakespeare cleaned up the market for lyrical verse in the 16th century and beyond; why shouldn't I have a crack at breaking the internet via a string of rhyming couplets?
Unfortunately, it turns out that none of this experience is required in my new role as a Content Producer. (There was no point at all in bringing my sequinned bra and finger cymbals in on the first day, let alone learning Cleopatra's most moving soliloquy. I'd even worked out a way of combining the two, dammit.)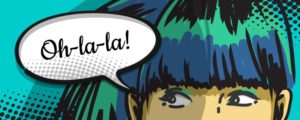 The first act
Though I can spout tirelessly about persuasive writing and the importance of a properly placed apostrophe (or absence thereof), my lack of technical nous is embarrassingly apparent from the start. Similarly, my unfamiliarity with collaborative online tools to manage content – content, mind, not copy – clearly takes some team members by surprise. 'Why did she audition?', I can hear them thinking, followed by 'How did she get cast?'
To be honest, I ask myself. But then again, I've somehow totted up 20+ years' copywriting, editing, designing and branding experience for SMEs and blue chips alike and, along the way, have learned a management technique or two. I've worked on student recruitment campaigns and award-winning websites for Mars, Tesco, BT and Nando's and, if I say so myself, am a dab hand at liaising with difficult people. In fact, I'm famed for being able to convince the most recalcitrant clients to opt for the best creative solution (though I'm quite sure there are no difficult people at this university). See, diplomacy too.
Still, the techie environment comes as a bit of a shock. While I'd never claimed to have software or systems architecture skills – hitherto I've just emailed my copy to a back-end bod and watched in awe as it magically appeared on-screen – I discover that everyone around me knows what they're doing on several different platforms. This, it transpires, has nothing to do with stations.
It's both a good and bad thing. I very much like working with clever, witty, educated and talented people but find myself unrehearsed and often baffled. Mind the gap.
Mysterious app names such as Trello and Slack are bandied around the workplace alongside references to Ruby on the Rails (she sounds nice), GitHub (a rehab centre for old, bad-tempered blokes?) and project management methodologies like Agile (covered in a business book I worked on - phew).
Fact is, I have loads to learn if I'm not to be cast as a perennial understudy. It's a fabulous chance to develop, show my mettle and grasp the nettle. (I put on the kettle.) I'm sure the journey will be fun. Sort of.
Google's search engine empire, I discover, has expanded into a synchronised storage hub in a Cloud with a capital C, and is terrifyingly comprehensive. I abhor big G's quest for world domination through collating everyone's personal data but am secretly rather impressed. What, I don't have to hit 'save' every few paragraphs in Google Drive? We can all access and update each other's work? My desktop won't be cluttered with personal files because it's all stored centrally? It must have taken them, well… ages.
Initially, however, co-new-starter Gabriel and I are told not to work on the stuff everyone else is doing but, instead, to concentrate on an online orientation course while we settle in. Thanks to this, I'm reminded of the benefits of diversity and perils of prejudice (though I think I was pretty well up on these before) and can readily alert everyone in my team about my holiday dates via the shared calendar. I also find out which type of fire extinguisher to use if a Mac, the office furniture or my head bursts into flames.
The second act
Two weeks in I've been bombarded with new tools and terminologies and feel like I'm watching one of those convoluted indie movies that starts at the end of the story and works its way backwards. As a bamboozled audience member who finds herself playing a key role, I pick up and assess tenuous clues one by one and try to make sense of the plot. The Guardian's cryptic crossword is a walk in the park by comparison (average completion time of 8 hours and 23 minutes, since you ask).
I do have one card up my sleeve. Courtesy of two teenage daughters who are currently exploring myriad university websites and littering the kitchen table with prospectuses, I'm probably more au fait with our competitors' activities than anyone else here. Hoorah!
One of my girls has made it clear that an en suite bathroom, duck pond and dance studio are mandatory requirements while the other, with customary pre-GCSE arrogance, won't countenance anywhere that isn't in the top 10 in every category of every rating. Hmmm. More interestingly, I note that they're both easily lured from their set criteria by funky artwork and, to my delight, good writing. That helps a lot. I feel duty bound to explain that people like me have carefully phrased the powerful prose to draw them in. They roll their eyes.
I'm learning exponentially faster by being thrown into tasks I thought I couldn't do – yet I can – and as someone who loves organisation, I'm already developing quite a soft spot for Trello and (good heavens!) spreadsheets. I'm also coming to terms with informal messaging through Slack. It's faster than email and far more entertaining, though between you and me I haven't the faintest idea what the developers are joking about on their channel, since most of it's in code. Programming can be fun? Who knew?
Frankly, it's still a bit scary, and the sheer quantity of questions I ask proves I'm trying (in both senses, I suspect). Thanks to everyone in Digital for their patience, and especially to those who assured me that they, too, felt like they'd been hit by a train when first confronted with all the integrated systems. Watch this space for updates on my technical advances.
Silly, really. If I hadn't dissed them earlier, Google might well have headhunted me in the future. I quite fancy living in California.
The third act
Towards the end of week three the soft focus is beginning to clear and the film script's subtly changed from 'who?', 'what?', 'where?' and 'how' to 'them', that', 'there' and 'like this'. In fact, I've now contributed to (and only slightly hindered) general content maintenance and several Sprints – bite-sized chunks of fast-paced action – to aid the complex Course Publisher transition.
Bit by bit and byte by byte we're redesigning the University's website, transferring all content into a contemporary framework and updating information as we go. It's a Brobdingnagian task (that's what dictionaries are for, innit?) and though not fully up to speed, I'm accelerating and am beginning to understand what motivates my character.
Besides, this complicated part of the transition is only a part of our team's remit and, once it's over, I'll be back in my comfort zone, composing words that sell the university to students all over the world. And that's something I can do with my eyes closed, though don't worry, I won't. (Note to self: I might.)
My personal soundtrack, too, has transmogrified from a cacophony of remorselessly dissonant death metal tracks to… well, Mozart would be pushing it, so I'll plump for Radio 2.
Mind you, we're committed to writing in plain English here, so I'd better revise the last sentence to say the noise in my head used to be loud and out of tune, but now I hear Barry Manilow all day.
And strangely, I think that's a step forward.