Last week we had the pleasure of having Laurence, a year 10 student from a local Bath school, with us for a work experience placement. We really enjoyed having him here and giving him a taste of what we do. Here's what he said about his week.
---
I managed to arrange a work experience placement with the Digital Marketing and Communications team at the University of Bath. This is a brief account of what I got up to during my week.
Day 1 - my introduction to the workplace
So, it was the first day, SCARY. When I entered the office though, I felt welcomed there by lots of smiley faces.
We started the day with a stand up meeting. It happens every morning and it involves the whole office standing in a circle and saying the most important thing they did yesterday and the most important thing they would do today. The most important thing for me was learning everybody's names!
Later that day, I joined Dan and Tegan in the design hub. I worked with Tom, an A level student, who was doing work experience in the office next door. We started the afternoon by drawing our version of the University logo. My design was... well… let's just say they won't be replacing the logo too soon.
After that, we were asked to look at other university home pages. We noted down parts of the pages that we liked and parts that we didn't like so much. We were then told to compare two different pages but wrote it on a glass wall, which was strangely satisfying. Something different from school.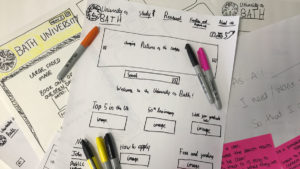 Day 2 - my first solo assignment
It felt easier coming in on day 2 because I knew what to expect. This time, I actually joined in with stand up and told everyone what I was going to be doing that day; a benchmarking exercise.
I spent the day comparing competitor university sites to the University website. This involved creating a spreadsheet and noting any differences or similarities. I came to the conclusion that they were all fairly similar. Except, of course, Bath's new website - by far the best.
I got a better understanding of what it is like to be a part of the team and how they work.
Day 3 - getting to know the team better
This was the day that I got to spend some time with the team and ask them directly about their jobs. In the morning, I spoke to Sean, who works on support. He showed me how he replied to emails from the internal customers (University staff). After this, he showed me Ruby, which is a programing language used by the developers here to build applications. I thought it was interesting because I didn't know much about it and it was interesting to see what he could do with it.
In the afternoon, I sat with the Content team and spoke to the editors and content producers to find out what they do in their jobs. I found what Rod did very interesting as he was making a video to promote research. He showed me how he added layers in. I liked it because he is very creative.
I also found out that everybody in the office has a different work background from before they worked in this digital team. This is an example of how everyone works in a variety of different ways to perform the same job. Some people were recruitment consultants, English teachers and even involved in music.
Day 4 - further adventures in benchmarking
More benchmarking! This time I compared Bath's print prospectus with prospectuses from other universities. They varied in size and quality but the information was very similar (except some universities which offer different courses and had nicer covers!).
Day 5 - the last day
So it was my last day. After the usual round of stand up, we started the morning with Show and Tell. When I heard about it, I thought people would bring stuff in to talk about but instead I got to see five five-minute presentations about work they'd been doing recently. The presentations varied from a talk about the new course page design to the best bits from a visit to a conference to how to manage passwords.
In the afternoon, I've been writing this blog post and I've spoken to Rich, the Head of Digital.
I enjoyed my week of work experience and even earned a badge!