One of the first tasks the new Digital team has been working to improve is the website's landing page design and functionality.
Landing pages act as a starting point for visitors arriving on bath.ac.uk and play an important role in the recruitment of students and promotion of our research activity to academics, other universities and industry partners.
Background
Designed in 2015 and launched in early 2016 by the original Digital team, the previous landing page was redesigned to make it easier for visitors to find our content on devices like mobile phones and improve the site's findability in search engines like Google.
The template created made it easier for people who write for the website (we call them authors) to create, manage and publish content without any knowledge of coding - marking a massive step forward from our old Content Management System and website.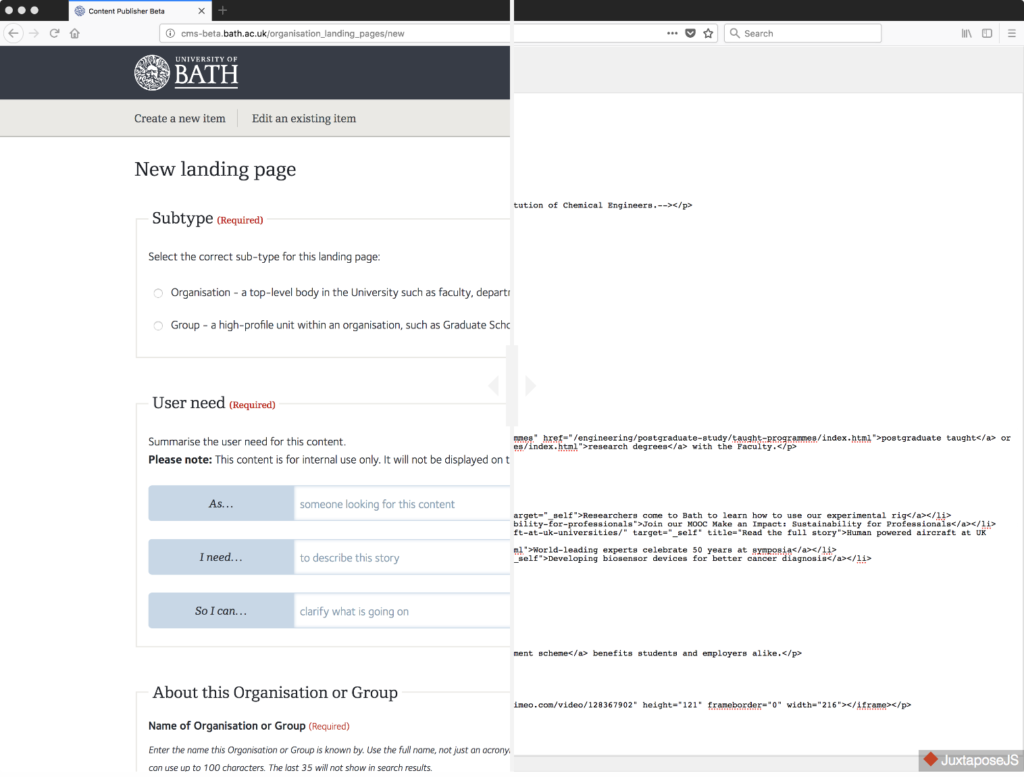 A modern look and feel
The new landing page builds from our work on Course search and continues the roll-out of a modern look and feel designed to engage our visitors further.
A great online experience is critical if the University wants to recruit high-quality students and help people to discover our research activity. The new design also needs to support staff to do things online more quickly.
The improvements we're making
Here are some of the improvements we're making to the landing pages:
Hero
The page includes an optional image called a "hero" across the top of the page, similar to Course search. Departments can use this to give a sense of identity to their landing page.  If there is no hero the title and description of the department will appear at the top of page.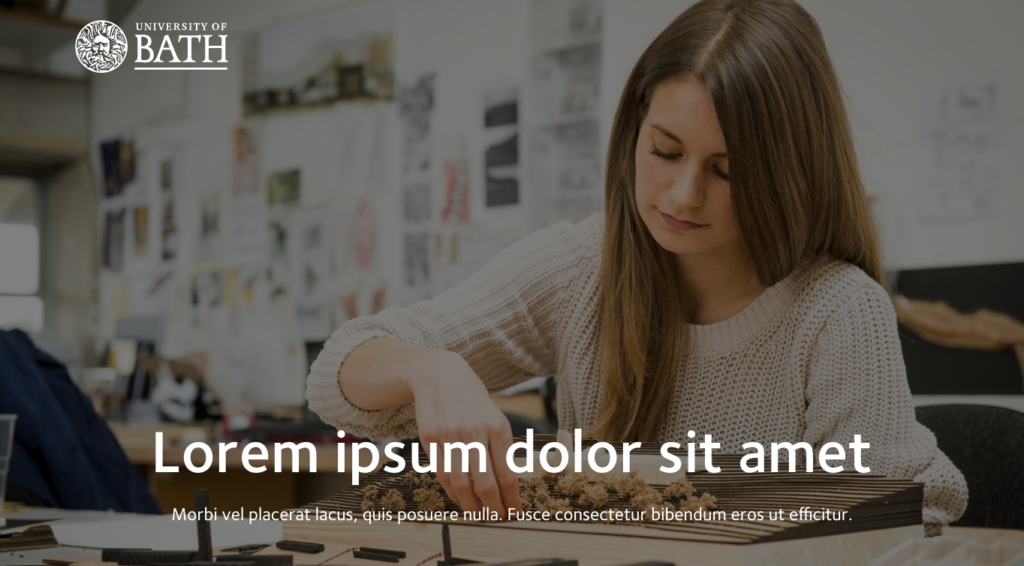 Navigation
The page includes improvements to site and section navigation which will create predictable ways get to information and complete tasks on the website. This means people will be able to find things more easily on bath.ac.uk, much like when you go to a library you know how to find the books that you need.

Design
We're introducing new design elements which will make it easier for visitors to identify different types of content, individual content items appear like cards on the page. The aim is to reduce the time it takes for people to find information on a page.
Consistency
We don't want people to relearn how pages behave when they come to the website - it's the same kind of frustration you feel when a supermarket changes the order of its aisles. The design elements will help to establish common interactions and workflows for visitors as they journey through the website.
Drag and Drop
For authors who use the Content Publisher, we are also introducing a new "drag and drop" feature. You'll be able to use this feature first on landing pages, and we'll be rolling out this feature to other templates shortly. Drag and drop will help to reduce the time it takes an author to maintain a page.

Measuring success
Another reason we've built the new website is to make it easier to gather data and get feedback from users, so we can analyse performance and respond to visitors feedback.
Collecting this information helps everyone who is responsible for digital content to understand what works and what doesn't work for our users. By doing this, we can make the website more effective by identifying actions that will make a difference - helping to focus our efforts.
One of the most rewarding parts of building the new landing page for the team has been making the changes based on data and user feedback we've gathered.
How the pages have performed
Over the past year, we've been measuring the effectiveness of landing pages. The good news is that they have performed exceptionally well.
Based on external traffic from 31 October 2016 to 1 November 2017 the average bounce rate was 23.63% and average exit rate (visitors who had previously visited another page before exiting the site) was 14.96%.
The majority of visitors, for example, prospective students who landed on the page, went on to find out about more information or completed another task - this is exactly what we want people to do.
Feedback from people who write for the website has also been positive, although we still have a lot to learn. The good thing is they are finding it easier to do their jobs - they can now create, manage and publish content using a simple and intuitive interface which helps to focus content rather than code.
Improving measurement
We're also increasing the number of metrics we record to improve our understanding of how well pages perform. For instance, we'll be able to report on how far people scroll which shows us how engaged they are with our content.
This data combined with our existing data set will help Digital, and marketing and communications colleagues across the University to make better decisions about user experience design as well as the content we create.
What happens next
We want visitors and authors to benefit from these changes as soon as possible. As a result, we'll be working closely with Bath's wider digital community over the next few weeks to roll-out the new look and feel landing page.
Our next task is to work on a template that will make it easier to market the University's facilities, services and courses. Colleagues will also be able to use this template to raise awareness about a particular campaign or issue. After that, we will look at next set of similar templates to see how we can improve them.
Grouping similar templates and rolling out the new look and feel to pages that are in those templates means we'll be able to develop them more quickly, helping to keep up the pace of change.
If you want to find out more about the improvements the whole digital community at Bath is making, take a look our Roadmap and check out our backlog of work.