Over the past decade, I've had the opportunity to use a range of Content Management Systems (CMSs). From my experience, I can't help but feel that the products were designed for developers, not content creators.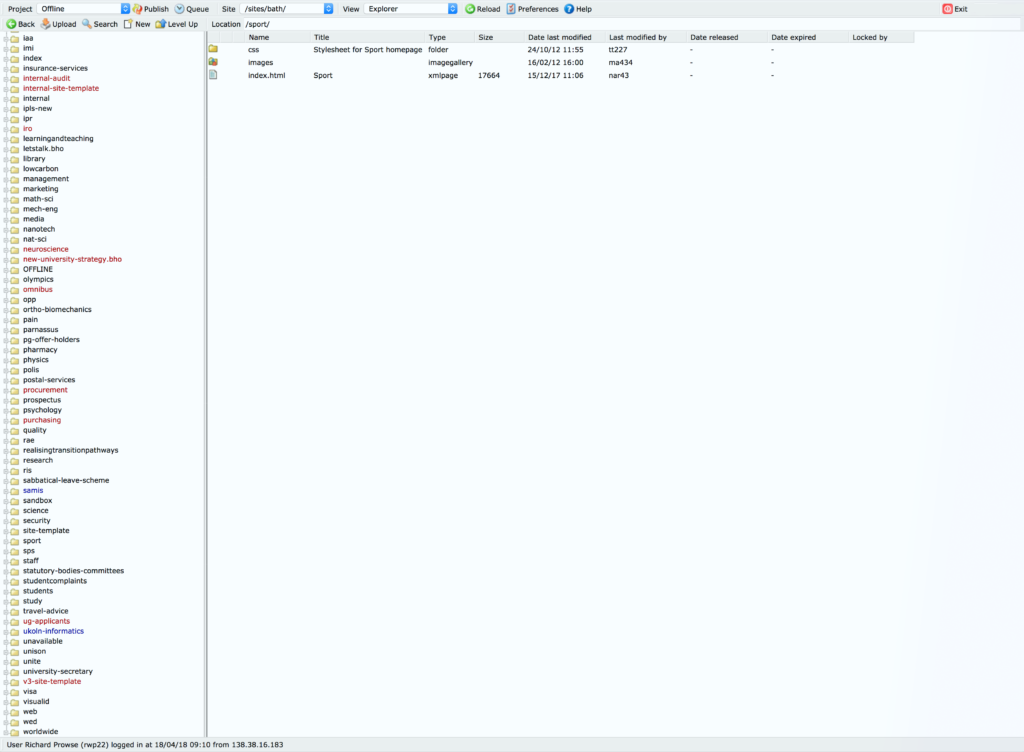 "Many content management systems look like a database got drunk and vomited all over the interface" — Karen McGrane, Content Strategy for Mobile.
The success of any website is dependent not only on the skills, knowledge and talent of content creators, it is also reliant on the tools they use. Ultimately the CMS is where an organisation's content strategy is executed.
Ofcom's (the UK's communications regulator) most recent report into Adults' media use and attitudes found that UK adults are increasingly choosing to use devices other than computers to go online¹. They also found that while the majority of people had a Facebook account², they are also turning to other social media platforms³.
As smartphone apps continue to grab more of our daily attention⁴, the challenge of successfully reaching and engaging with our audiences will continue to grow.
More content writers, video producers and designers won't fix the problem. If we are to meet the challenges of creating, publishing and managing content across an increasingly diverse set of platforms and devices, we need better operational and technical solutions.
A good CMS helps to guide… "the creation, delivery and governance of useful and usable content" — Kristina Halvorson, Brain Traffic.
Four years ago, when Bath started talking about building a publishing platform of its own, surprisingly developing a CMS wasn't on my 'to do' list.
However, after listening to content strategists like Karen McGrane and Noz Urbina talk, I was convinced. To create the user-focused website that the University needed, required a CMS that embedded the practices of content strategy through a simple to use interface and workflow, based on the principles of create once publish everywhere (COPE).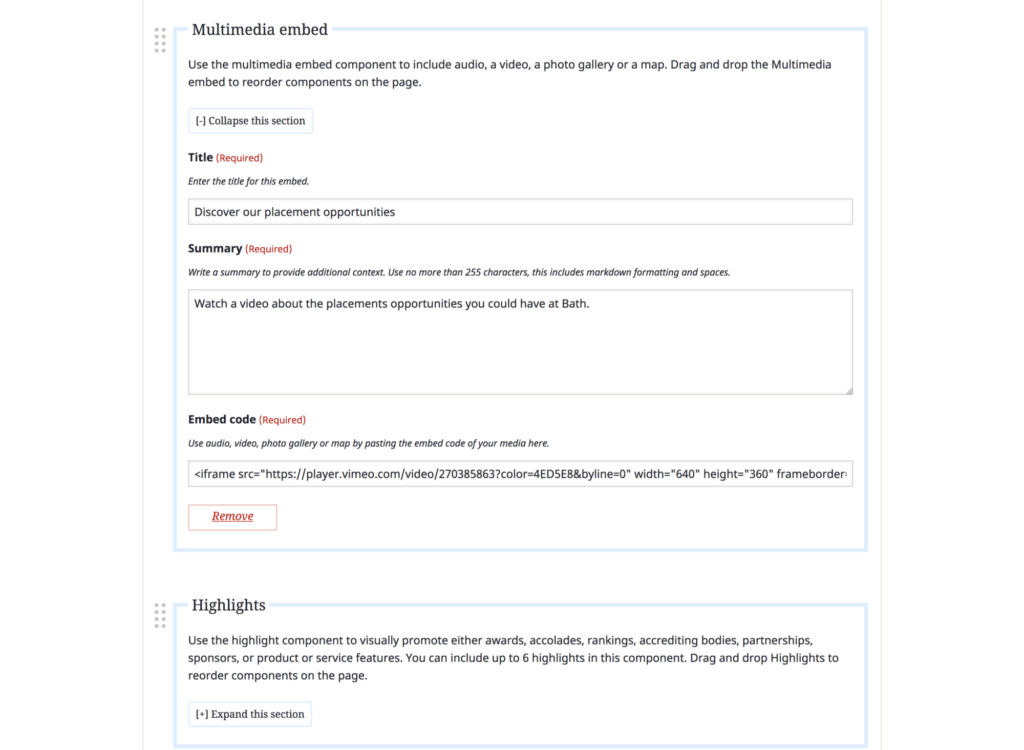 COPE is a content reuse strategy based on adaptive content. To you and me that is structured content that has been semantically marked up so that it can be reused across different platforms and services.
Ultimately "content is data… it defines, describes, discusses, and debates things and ideas… tell a computer some tiny stories about the world... and it [will be able to] figure out how that world fits together" — Designing Content Content, Mike Atherton.
It was clear that the challenge the University faced wasn't merely to build a responsive website, it actually lay in a fundamental shift in the way people would consume content.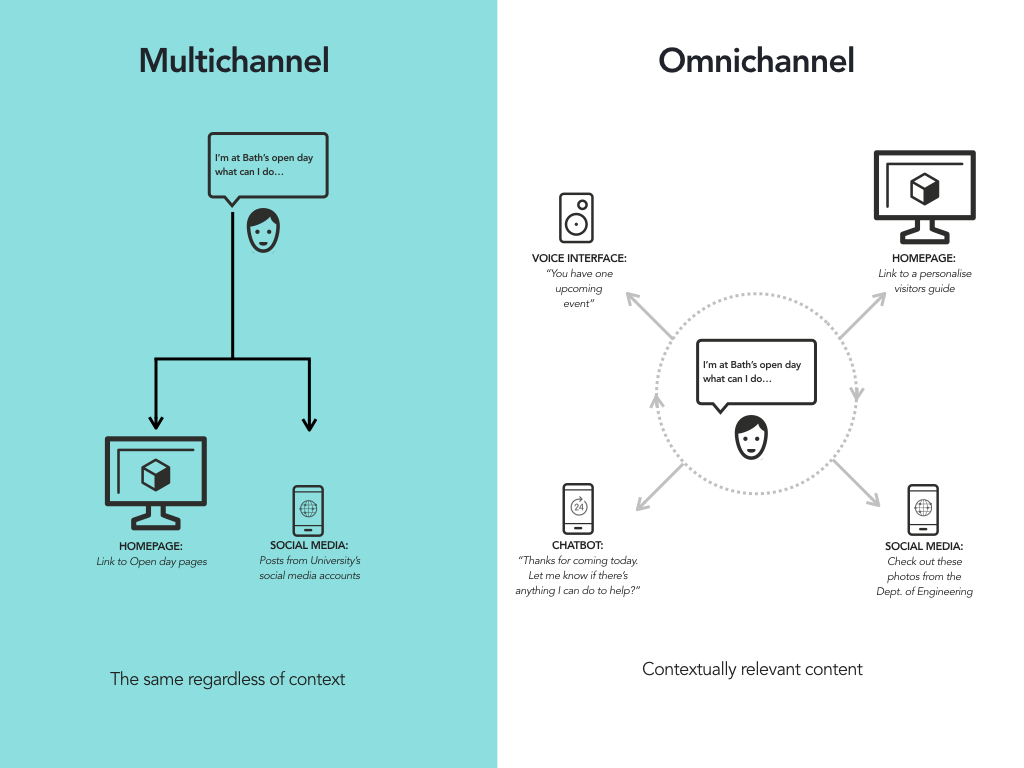 In future, experiences would be driven by contextually relevant content (Omnichannel). To do this universities would have to create contextually appropriate and seamless experiences. We knew that we'd need to take a road less travelled and build our very own publishing platform.
---
1. A quarter of adults (24%) now only go online through devices other than a computer, up from 16% in 2015. This incidence increases to 31% for 16–24s, to 37% for 25–34s. Adults' media use and attitudes, Ofcom 2017
2. Ninety-five per cent of social media site users have a profile/ account on Facebook. Adults' media use and attitudes, Ofcom 2017
3. Compared to 2015 there has been growth in use of WhatsApp (45% vs. 28%), Instagram (31% vs. 22%), YouTube (30% vs. 22%), Snapchat (23% vs. 12%), Google+ (16% vs. 11%) and Pinterest (12% vs. 7%). As such, the incidence of only having a profile or account on Facebook stands at one in three (32%), down from 43% in 2015. Adults' media use and attitudes, Ofcom 2017
4. Teenagers will check their phones on average 90 times per day, parents 33 times per day and grandparents 12 times per day. State of smart, Deloitte 2017