At Bath, we don't create static web pages. To you and me that's blobs of information. We develop products that help people to structure content for reuse (called chunking), so we can distribute the content as a service to bath.ac.uk and in future, apps.
Our content management system (CMS), called the Publisher, is a structured content editor, based on the principles of create once publish everywhere(COPE).
To make sure that we meet user needs we tie our content strategy closely to product strategy, so we know that any new features support our goal to deliver contextually appropriate and seamless experiences for users.
Our content strategy helps us to:
set out our editorial approach, including target audiences, voice and tone
define our user experience, including their needs, journeys and the formats we should use
determine structure, including how we organise and tag content
establish the processes we use to manage content and measure performance
Our product strategy helps us to:
define the direction of our product
set out what we want the product to achieve
determine the plan (roadmap) we will follow
establish features we should build and in what order (backlog).
A great example of this is the Publisher interface. The team designed and built a simple and intuitive structured editor that encourages authors as part of the content creation process to think about their target audience, their needs and the format they should use to meet them.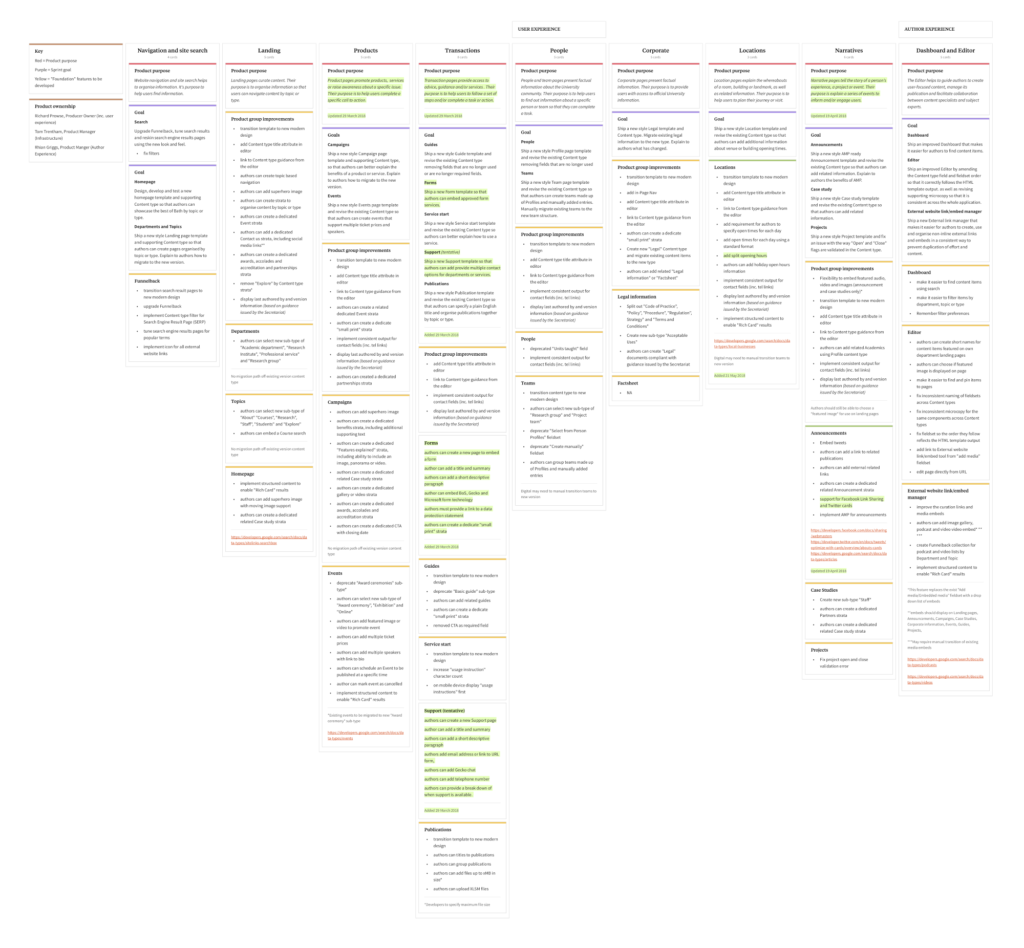 Our vision, the ideal future state for the Publisher is to create:
An omnichannel publishing platform for authors.
To put it another way, we want to create an author-centric platform that will help people to produce compelling content in one place which will work seamlessly across different platforms, devices and mediums. Our strategy or plan is based around four initiatives:
1. Delivering a foundation
Develop the core features of modern publishing platform that allow authors to create content and user journeys using a simple and intuitive user interface with no knowledge of coding.
2. Enhancing collaboration
Build trust by encouraging authors to take responsibility for content by making sure it is timely and relevant. Develop tools that allow authors and subject experts to work together to create, organise and publish content.
3. Optimising the user experience
Improve the quality of our content so that it's easier to interact with and understand, helping visitors complete tasks on the website. Develop tools that help authors to understand how well their content is performing so that they can make improvements to it.
4. Improve integration
Reduce duplication of effort and improve integration between University systems to create a seamless user experience across platforms. Develop tools that help authors to create, organise and publish digital content on bath.ac.uk and share information on other digital platforms.

These initiatives help to focus our efforts and inform the tactics we use to make the product strategy a reality — the people we bring together and the processes we use to deliver the product. BTW that's where Agile comes in.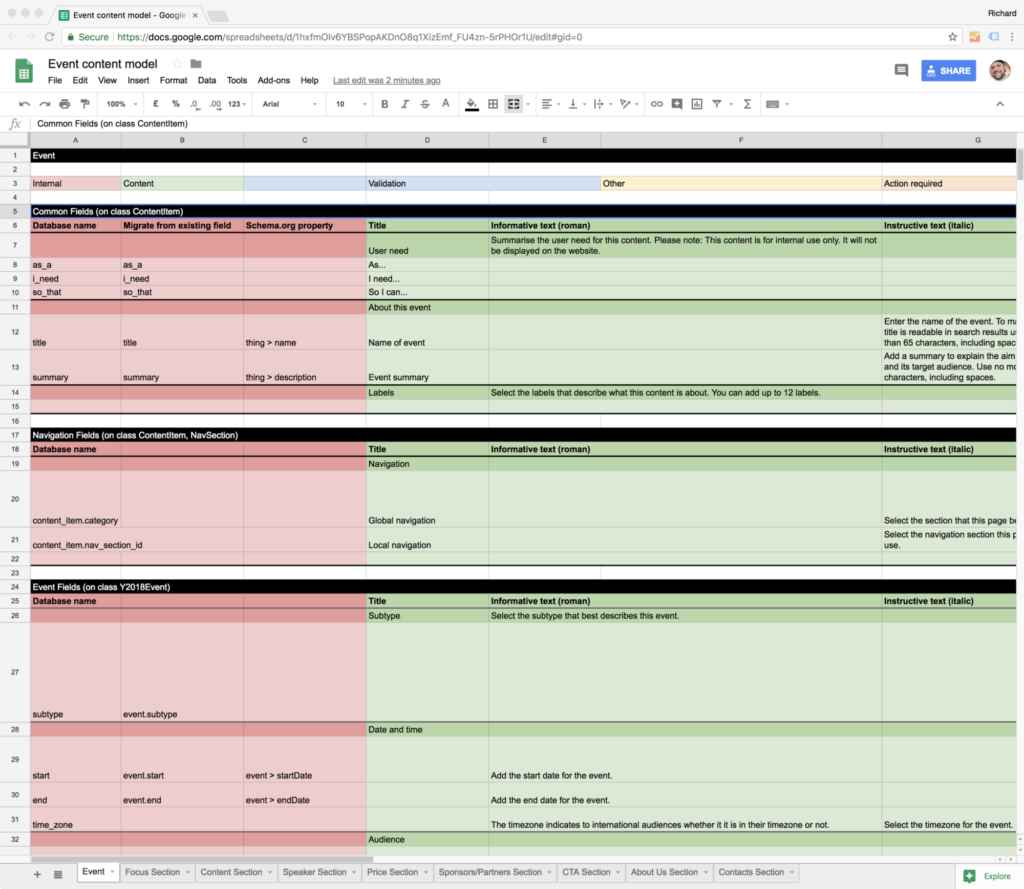 We are currently focusing on delivering the foundations for the Publisher. Part of this process is to improve our content types (templates) from the Publisher beta. Each template is built from a content model. The content model maps out the fields we include in the template and their relationships to each other.
As Cleve Gibbon says "No model is supposed to survive first contact with real content, but they need to survive future contact."
Now that our templates have come into contact with real users and use cases, we are using the data and feedback we have gathered to iterate on the original beta, helping to improve the user experience of the website.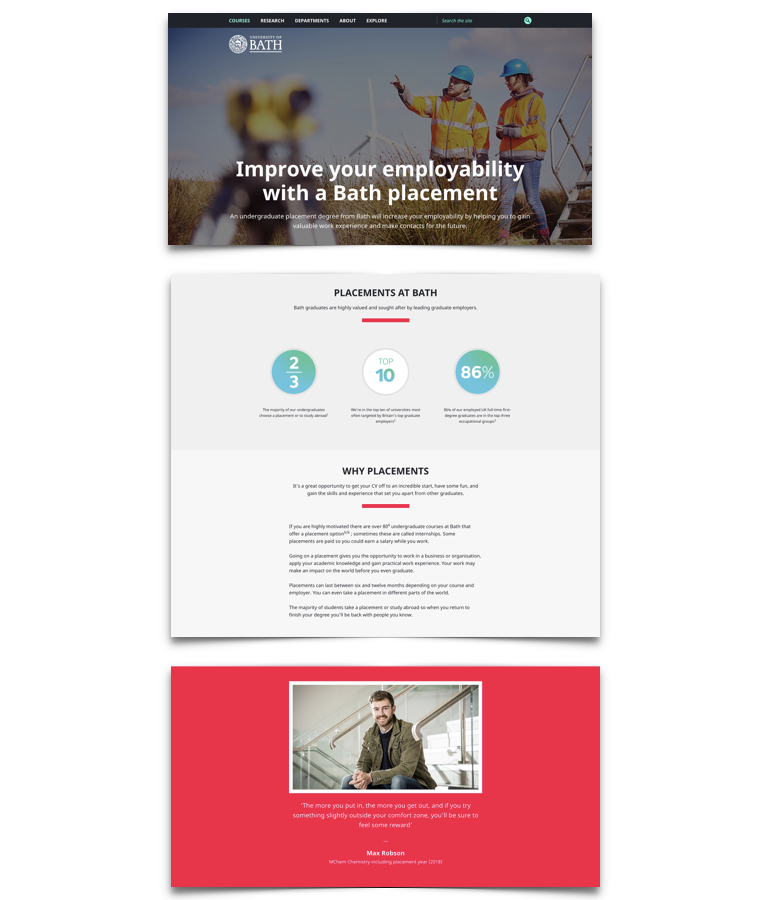 I'll be honest with you, structuring content is hard and not for the faint-hearted, however, if we are to address the content problems we all face we need to stop treating content as static blobs.