This week we have had the pleasure of having Rees, a year 10 student from a local school, with us for a work experience placement. We really enjoyed having him here and giving him a taste of what we do. Here's what he said about his week.
---
Day 1
The first day was pretty daunting. I was welcomed in by Tom and went into the office to sort out all of the formalities and paperwork.
By the time I had managed to fill everything out, it was time for the stand up meeting. We stood in a circle and said the most important thing we did yesterday and the most important thing we were going to do today.
I spent the afternoon with Dan analysing Instagram and talking about different elements of design and how things are positioned in certain ways. I then used all of this to think of and plan out a new design for the homepage of the University's website.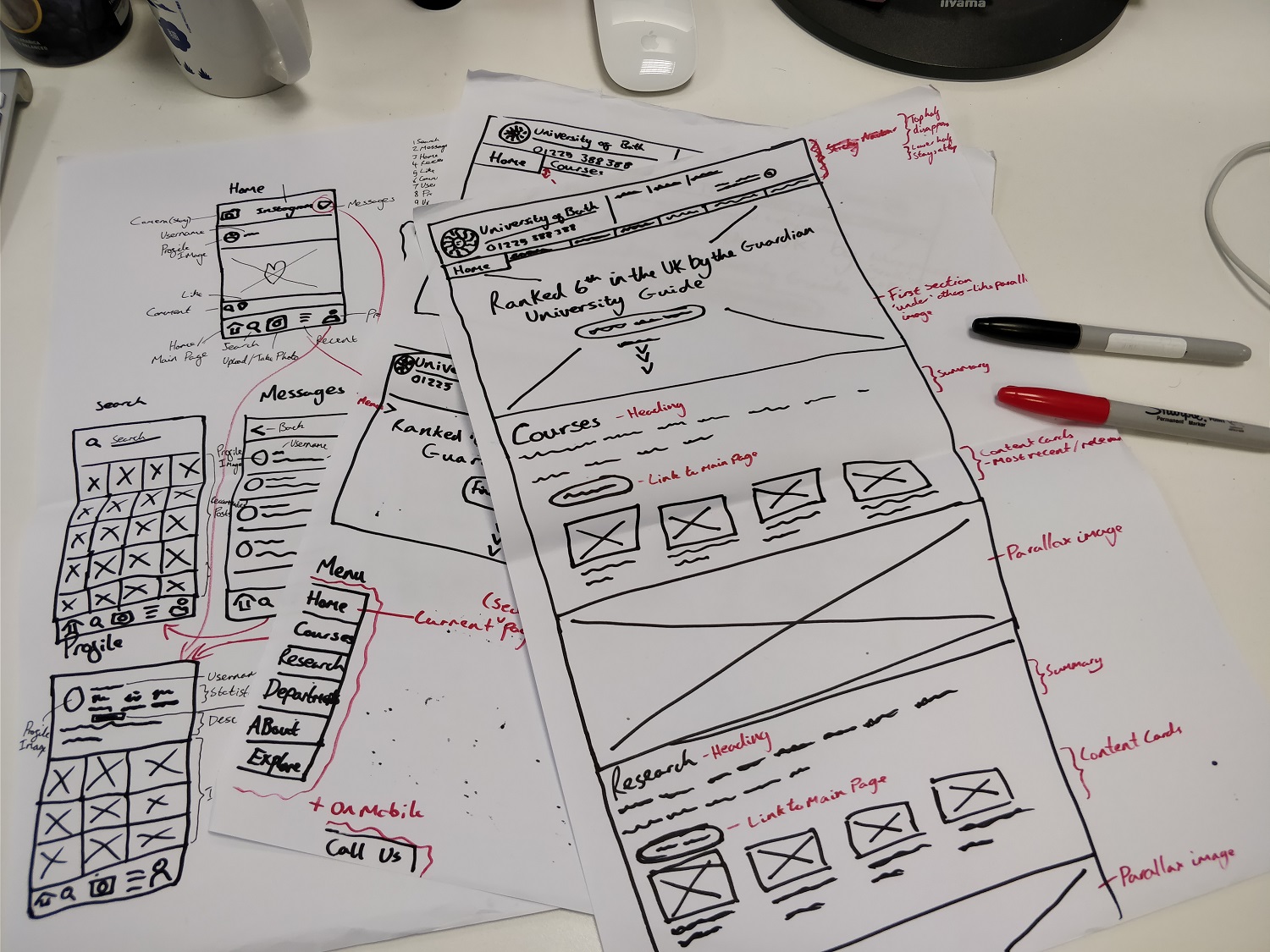 Day 2
On the second day I felt more confident and took part in stand up. We managed to get a MacBook working and, after a couple of hours of trying to get the internet working, I was ready to prototype with Invision.
I messed around with some different design ideas and began to try and link the different pages together with animations.
I got to speak to the Content Manager, Rhian and the Delivery Manager, Craig about their jobs and, although I am more interested in development/design, it gave me some useful insight into the other roles that are needed to maintain a website.
Day 3
On day 3, I finally got to see some of the development side of things – pairing with Chris and watching him implement some new features into the CMS. This really helped to show me how the developers worked as a team and how a large-scale website is managed from the back end. Later we also peer reviewed Sean's fix for a mobile navigation issue on the staff homepage.
Day 4
I spent the fourth day mostly polishing off my Invision project and also worked with Justin on his discovery for the implementation of social media sharing buttons into some of the announcement pages.

Later, we worked on implementing social media sharing buttons with GTM (Google Tag Manager) and Google Analytics so the usage could be tracked.
Day 5
In the morning, I spent some time with Justin as he finished off the last bits of the share buttons and looked at some of the possibilities for customisation with the API.
After stand up, I then paired with Sean and he showed me how the development team uses Git (version control system) to handle all the different forks and branches of the website. I then had the opportunity to try and do some of it myself. The combination of vim (command line), a weirdly remapped keyboard and my basic knowledge of Ruby, made this a lengthy task. However, eventually I managed to make a few commits and began to become more familiar with Git.
I have really enjoyed my week with the DMC team and I have gained a lot of valuable experience which I can hopefully use in the future.