About the Digital blog
The University of Bath has an in-house digital team consisting of designers, developers and writers.
The remit of the Digital Marketing & Communications team is to:
set digital policy and performance standards
develop and maintain digital products and services
support digital publishing and engagement by the University.
We are responsible for helping the University get the most out of its own website as well as associated digital channels (such as blogs or YouTube). We take a user-centred approach and we want the people who interact with the University digitally to find that experience informative, trustworthy and useful.
If you need help with the digital aspects of your work contact us via web-support@bath.ac.uk.
If you want to find out more about how we operate, please read our digital principles.
The team
Rhian Griggs - Content Manager

Rhian was previously our Digital Editor for Student Recruitment and Experience. She came to us with a background in Local Government web, focusing on good practice in the development of local authority websites using extensive evidence-based research. In her spare time she likes to make use of her foreign languages and is slowly making her way around Central and South America whenever she gets the chance to strap on a backpack.
Tom Trentham - Development Manager

He found his calling on the web some years ago but not before exercising his creative talents by working in marketing. This, combined with a strong scientific background, means Tom is a logical thinker with an eye for detail. Since joining us, Tom has enjoyed involvement in a huge variety of projects from video publishing to site search as well as helping to win a European Excellence Award. It's not all work though, he likes to chill out by jazzing it up on his saxophone.
John Fox - Content Designer

John started his career by travelling to Asia to sell books, but then someone invented the internet and he decided to use that instead. Since then he has been a digital marketer, content producer, and web editor, most recently in the name of sustainability. In his spare time he enjoys reading, walking, and silently correcting people's grammar.
Amy Chandler - Content Writer

After graduating with an MA in Creative & Critical Writing and working as a copywriter in Birmingham, Amy packed up her short stories, Taylor Swift T-shirts and coffee maker and headed down to Bath to join the Digital team. With an aptitude for syntactic analysis and language composition, Amy enjoys creating content that prioritises the reader experience. She also likes to make pancakes.
Paul  - Content Writer

Ever since his first literary success – the poem There Once Was a Spider Who Liked to Drink Cider – at the age of six, Paul has been passionate about storytelling and engaging people with words. Despite all odds, he's managed to make a living doing this, creating content for everything from newsstand magazines to the likes of Virgin Holidays, Intel and Odeon Cinemas. When not wrangling copy, Paul can be found getting beaten on Xbox by his son and planning his next trip to Berlin.  
Chris Howlett - Developer

Chris joined the development team having jumped ship to Ruby on Rails after thirteen years working in C and C++. He brings a mathematician's problem-solving skills and keen eye for detail, and is a stickler for beautiful code. He is a keen member of a local musical theatre group and would enjoy more board games, video games, cricket and climbing if only he had time (which he doesn't). You may have seen him on BBC's Only Connect, where he was team captain of the Software Engineers, semi-finalists in series 9. His team was knocked out due to a lack of knowledge about weasel species.
Justin Keevill - Developer

Justin joined the Digital team after a ten-year spell as a developer in a small business working on a range of projects, including TV and radio applications. He has a daily desire to holiday in Japan to explore the country and eat all their okonomiyaki. When not corralling code, he enjoys playing computer and board games, rocking out with his bass, and drinking tea. These often occur at the same time, with predictably disastrous consequences.
Rosie Hart - Digital Supporter & Platform Trainer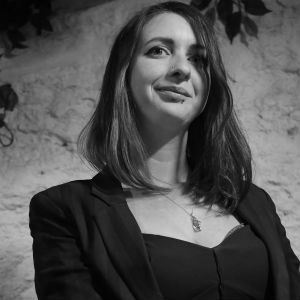 Rosie has worked in Higher Education for the last decade following completion of her studies in Art, Design and Multimedia. She has been actively interested in building and designing for the web since the dawn of broadband. As a fan of puzzles with a relatively short attention span, she enjoys straightforward logic and getting to the point. Easily recognisable by her brightly coloured hair and cat-related accessories.