Recently I gave a talk to University staff, giving a flavour of upcoming arts presentations at The Edge this Autumn. From a show of hands, I was pleased to see everyone in attendance had visited The Edge before and liked spending time in the building. I agree, it's a great space to visit and we are incredibly fortunate to have such a building here at Bath.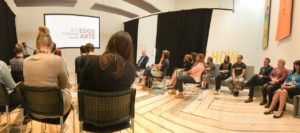 I've thoroughly enjoyed my first six months as a new member of staff. Joining for the 50th Anniversary year and being asked to contribute to celebrations has given me the opportunity to meet many colleagues already and I'm looking forward to meeting more in the coming months.  Since my arrival, the department responsible for art programming at The Edge - the ICIA – has been renamed Edge Arts, and I've been beavering away preparing the programme for the year. Below I provide a flavour of what's in store, but a little scene setting before I do.
The first thing that struck me on entering the The Edge for the first time six months ago, was that it's a tremendous opportunity – an opportunity for the University to explore its relationship with art and creativity. It's also - like the Sports Training Village, a building which visiting communities (schools, local residents, parents) can feel part of and route for them to get acquainted with this wonderful University. One's experience and interaction with a place, strongly informs one's understanding and attachment to what's going on there. I'm so keen for staff, students and every visitor to the Edge over time to have that special relationship with the building – and often for this to come through interaction with our arts programme.
The second thing that struck me about the Edge was the large gallery. It's such an impressive space. From my knowledge of University arts venues, this has got to be the most impressive space for contemporary art presentation in any University in the country – it's an amazing example of how serious we are at Bath about ensuring our communities foster that relationship with art and creativity.
I think of this gallery as being Bath's Turbine Hall, not in terms of scale – we're not quite Tate Modern yet! But as a unique space, one that's unique to campus and unique in the city of Bath. As a result my primary efforts in these first six months, have been to concentrate energy on planning what happens in our Turbine Hall – and what happens in the gallery next door and in the foyer and café bar. This is because, these spaces are the most public facing, freely accessible spaces – and thus the spaces that offer the first opportunity for The Edge to make an impression on visitors, where they can begin their journey and their relationship with creativity at Bath.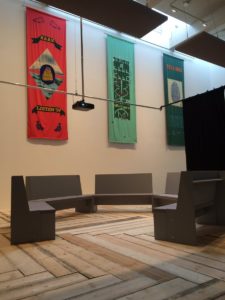 Now on to the programme. I'll start by mentioning how Edge Arts are contributing to the 50th Anniversary. Firstly we've set ourselves the rather ambitious target of commissioning 50 art objects or performances to mark the 50th Anniversary year. Dubbed '50 for 50', our current exhibition Know-How houses seven of them and eight more will be unveiled on the 25th October at the University's celebration at Bath Abbey. One of these is a spoken word piece by postgraduate student Claire Guest which typifies what we're hoping to achieve with these commissions – that each will provide insights into the spirit and stories that make our University so special and about how brilliant we are. More commissions will be revealed on May 6th and I look forward to ways we can collaborate with staff and students on delivering these commissions.
Another strand of 50th programming happening throughout the year will be our talks and panel discussion series The Next 50 Years of Knowledge. This strand will find ways of showcasing research activity and areas of new knowledge being produced at Bath, looking at how such areas of study could inform how we'll live in 2066. How will our environment – locally, nationally and globally be transformed in the future by science, engineering, humanities, business and art? This series, as with many of our special 50th events, will often feature members of University staff, postgraduates and alumni speaking about their areas of research, study and expertise.
As mentioned we'll also be actively contributing content to events like our Abbey celebration. At the Abbey an important part of our contribution is preparing a group of our student arts scholars to perform music and dance pieces for the Chancellor and all those in attendance. This is very exciting and highlights what our students here can achieve with respect to excellence in the arts. With this in mind our next Arts Gala in March 2017 provides a great opportunity to celebrate the commitment of all of our arts scholars and showcase the calibre of their work. By this time we'll have 16 scholars in the family, following the response to this year's call out for students to apply.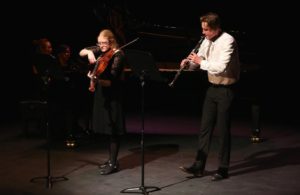 Throughout the year we'll be reflecting the 50th by theming much of the 16-17 programme on the subject of knowledge. Expanding this topic to encompass themes such as Innovation, invention, discovery, knowledge transfer and how we as humans acquire new knowledge of the world and how to get the best out of it. Current exhibition Know-How, launched at the Open Day is our first exhibition at The Edge in this vein.
Know-How creates a variety of different environments and offers events to highlight the ways we learn in society in real time, most especially how we learn practical skills – and how we come to know what we know. Across five weeks we'll be considering who our teachers are and who has taught us in life, whether at home, at work or elsewhere, what we can do with what we know.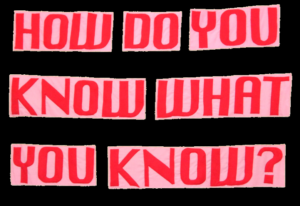 One way we're doing this is by inviting local people and the campus community to come and share their knowledge at The Edge.  Another area we're looking at during Know-How is how knowledge might inform and change our behaviour such that we are more mindful on issues related to sustainability. Know-How coincides with Global Climate Change week between the 10th and 16th October so during this time events will reflect this, and by good fortune, we were delighted that our colleagues at IPR and Economics have organised a talk How To and Not To save the Planet on October 12th which I am very much looking forward to.
It's not too late for you to suggest a talk or come and host your own event during Know How either. Have a look at what's on offer already and if you have a desire to join the party then get in touch. I should also add that you can book and use the Know How spaces yourselves for free for meetings, events, lectures and gatherings anytime between 8am and 9pm as you wish. There's an active learning space, resource room and lecture hall available.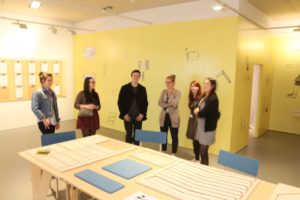 Know How expands on the idea that many of us from an early age have people that teach us how to do things. Acknowledging another anniversary – that of Thomas More's 1516 text Utopia - we are suggesting that sharing knowledge freely, is an integral feature in progressing society. I myself have become much more informed about furniture design, learning how to assemble our Know How chair and Know-How table two archetypes often utilised when engaged in learning. Designed by artist maker Will Shannon.
In parallel to concentrating on the galleries and foyer, we are concentrating a lot on producing a programme of activities that are for family audiences, particularly at the weekends and during holidays. One of the main reasons for this is so staff who have families can come along and develop their relationships with arts and creativity together with their children at The Edge. We run Saturday sessions every four weeks offering stories and arts and crafts workshops for kids called Create Club, and we also offer a half term service where you can drop your children off with us for the day called MAKE.  Coming up we also have two Family Discovery Days, one on the 15th October themed on the ecological issues and one on the 22nd October on social history and local heritage.  On the 22nd we make links with University partner museum The Holburne and their upcoming exhibition Silver – which features an engagement programme in  collaboration with Chemical Engineering colleagues. I'm also looking forward that same day to heading out into the fields surrounding the University on guided walks we've organised in partnership with the National Trust, considering the archaeological significance of the Bath skyline and more. I must also mention the presentation of the Gingerbread Man we've got coming up on October 29th for all ages, telling  the classic story with puppets.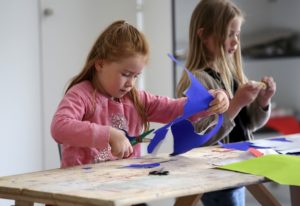 So as I said, this is really just a flavour of all the excellent things happening at The Edge this Autumn. Please take a look at The Edge website for the full range of what's coming up which also includes dance, special feature film screenings, Friday lunchtime concerts and the nationally recognised Jerwood Drawing Prize from November 4.
I hope to see you at The Edge soon. Your support is vitally important to what The Edge becomes and the success of the arts programme. For me we may not teach the arts, here at Bath, but we are a creative institution, we think creatively, we approach problems creatively, we teach and undertake research in creative and innovative ways, and some of us even do a bit of painting, or play in a band. That diversity, that relationship with creativity is what we want to make visible at The Edge such that all visitors, especially persons visiting the the first time – like I did six months ago – will understand what Bath is about, and what type of relationship they can have with art and creativity and with The Edge too.