Tuesday 25th October saw a fantastic 50th birthday celebration held by the University at Bath Abbey. I was proud and humbled to see many of our students put themselves on the line at such a significant event, performing dance, music, choral and spoken word sections in front of hundreds of onlookers. Colleagues and guests in attendance said how much they welcomed a student arts presence in the event, a reflection of the fact we are an institution imbued with creativity.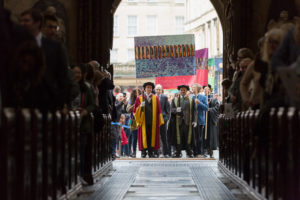 Further example of our creative pulse was evidenced by seven banners, made especially for the event and arriving via a procession of current students and staff. Each banner represented a key area of University life today: the Faculties of Science; Engineering & Design; Humanities & Social Sciences; the School of Management; Students' Union; Sport; and Professional Services. For this blog entry I thought I'd outline the background behind the creation of these.
When I was made aware of the idea to have an informal procession enter the Abbey numbering a variety of students and staff from the University (alongside a traditional formal party which would include Chancellor), I thought about how we might amplify the procession's diversity, yet signal one community. It struck me that asking the procession to carry banners might work well. I also thought it important the banners were resolutely non-political, whilst including some of our University DNA.
The production process began with exploratory interviews with senior colleagues on this, asking them similar questions such as 'what values informed their working practices?' and 'where they saw the University in fifty years time?'. Joining us at many of these interviews was Bath-based artist Sandra Porter. Sandra's task was to distill the atmosphere in these interviews into a template from which the banners would be produced.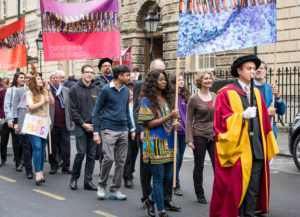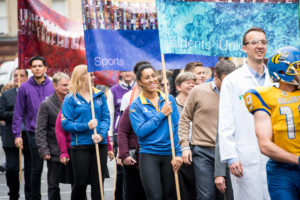 We always had the notion that the banners would be produced by students and staff themselves from the templates. What we didn't plan for, was how closely aligned the answers given in our interviews would be from the many participants. Thrillingly the importance of creativity in the working (and study based) lives of our community was cited consistently.
Thus it was that Sandra fashioned one master template that would be used by all. Incorporated in this was a collaged section of images to suggest that beholders look further. Sandra often uses collage in her work, manipulating images and colour to emotive effect as exampled on her website here.
Following the template, the tricky business of finding willing students and staff to paint and collage their own banners was undertaken. Thankfully coercion was only necessary in a minority of cases as persons who had never done such activities before gamely tried their hand. Participants collaged images that depicted aspects specific to their University areas and painted thereafter in relational colours.
It was great to see the results processed through the streets of Bath and into the Abbey on the 25th. Viewed as a collective work, onlookers encountered the procession as a collective host of colour with similar designs, generating an understanding that this procession was one community. For me, the production process in art is often an opportunity for story making and co-design. The creation of these banners and what they showcase indicates a community that I am part of, and that many many others are part of also.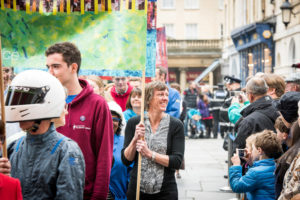 The story of Bath University, now 50 years in the making is equally of fascination. As we go further and onward to many more years of success, I picture the banners as being carried into our future, signifying the role that creativity and creative thinking plays in our achievements. My thanks to Sandra Porter, and especially the participants and colleagues that helped create these very special, University of Bath artworks.
Happy 50th Birthday University of Bath!