Author: Adam Engstrom -
---
Hi there! My name is Adam and this will be my first entry about my time on Erasmus at DTU in Copenhagen. I decided to give my stay some time before posting my first time so I had a better idea and impression of my stay so far both at and outside of university.
Best place to start is probably our Introduction Week at university. This week was sort of like a Freshers week for all international and Erasmus to get to know each other. We were split into groups and paired with a "buddy", a current student who is there to offer guidance throughout our stay. During this week we got familiar with the layout of campus, sorting out things like residence permits and seeing Copenhagen. Most of these days ended with a couple of beers if people were up for it, which I would suggest you do.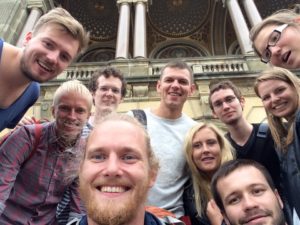 My Buddy Group
This week was a lot of fun, though never got really crazy. That we got assigned a buddy for the entire semester is really good. My buddy is a lot of fun and has organised events for us all to join in nearly every week, such as dinners and parties on campus. My buddy group has not been keen on every event, which is a shame, but can't fault my buddy for trying. The only thing about this week that was a bit of a shame was that it didn't really allow for us to get to meet the rest of the people living in our dorm, like you would at Freshers where you hang out with your housemates for a week.
In terms of housing, Elliot, the other civil engineer from Bath, and I share a room in the dorm Hyrdevangen 9. Sharing a room is not ideal but we make it work. The block in itself is quite nice although it's missing a good big social space to hang out with other students. The university is a little over 10 km North and the center of Copenhagen being at most 5km away. I normally cycle to university but there is otherwise a bus stop really close by which will take you about 40 mins to get to campus. The only issue with public transport is the price, I would say, with a return journey to campus running you about 50 dkk or £5. It would have been fun to live at one of the campus dorms but being close to the city center also has its perks.
I will now talk a little about how I find my courses. At Bath, I study civil & architectural engineering but while here, I chose courses that I thought looked interesting and a bit different from what was being taught back at the home university. I study Bridge Structures, Daylighting & Lighting Design, Building Services - Integrated Design, Energy & Sustainability and Smart, Connected and Liveable Cities. I will then participate in a 3-week course in January called Environmental Engineering in Developing Countries.
Bridge Structures is quite a good course, with bits of knowledge being added to what was previously taught in year 3. Building Services is a 100% coursework module, where in groups we have to design a new low-energy teaching block meant to be situated on campus. This also quite interesting, since we learn how to use the energy modelling program IDA. These lectures usually consists of a 2-hour group work/tutorial before having a lecture. These lectures can be a bit dull as they usually center around how to use the design software. I am really interested in lighting design so I was very excited about doing a course solely centered on it. I don't really have much to say about this course, I'm enjoying it. It's set up so we have a 1-2 hour lecture and are then given a tutorial to do, learning how to use various lighting design programs. The only "problem" is that it is taught on a Friday afternoon, meaning friends will start meeting up at the student bars before your lecture finishes.
My two other courses are quite different from what is taught in Bath. In Energy & Sustainability  we have been taught about the principles of sustainability and how various climatic systems are affected by global warming, renewable energy sources and will later be taught about life-cycle assessments. The subjects, taught in themselves, have been really interesting as the environment and a sustainable future is something I really care about. Unfortunately, the course is not taught particularly well and is a lot of work. It used to be a 10 credit course and has been made into a 5 credit course but the workload doesn't really reflect this. For this course, we have had to write a group report where envisaged a better future and determined steps to realize this vision.  Although our group got on really well, I was not overly impressed by the effort some of my teammates put into it. Nevertheless, I would suggest this course, or a similar one called Feasibility of Renewable Energy Systems, for all engineers. Either because, like me they're already interested in this topic or to just get the mindset of always striving for a sustainable design/future.
So far, my favorite course has probably been Smart, Connected and Liveable Cities. I expected this course to be about city-planning and quite technical but was suprised to find that it was something completely different. The course is more philosophical and tries to answer the question of makes a city great (or even a city). I really enjoy the broad scope of this module, where one week we talk about waste management and the other alternative transport systems. The classes are quite interactive, where we usually have to prepare and present a topic during a lecture. The assignments are also quite different from what we're used to. We have to write a book report on a novel depicting a dystopian future and will also have to write a short story about our own created dystopia.
If you haven't already noticed, the teaching methods and lecture setups are quite different. Lectures run from 8-12 and 13-17 but usually only half of this time is assigned to a lecture, with the rest assigned to tutorials where students from the past year are around to help out. I'm not a huge fan of the 8am starts as even though if I don't have a lecture in the afternoon I'm usually exhausted and struggle to get much work done afterwards. When picking modules, their teaching times are already included which means you have to pick modules which creates a schedule with no clashes. This is easier said than done. I am quite happy with my final schedule, I have Tuesdays off and lie-ins on Thursdays and Fridays. You're also expected to do much more reading on your own than is usually expected back in Bath, with teachers posting loads of material which you're expected to read before the next lecture. It is of course not obligatory but definitely makes you understand the next lecture better.
I think that's enough about university for now. So now I will write a little about my impressions outside of study.
First thing you have to do when moving here is to get a bike. It is by far the best way to get around and the best way to see the city. There is a used bike sale up at DTU during the first week, which is where I got mine. You won't find a race bike or similar at these sales but you will find reliable and sturdy bikes which you can return to the seller when moving and get at least half of what you paid for it back. Biking makes it super-easy to nip into town or go to campus.
So far, I'm really enjoying Copenhagen as a city. It has a very relaxed feel to it with loads of things to visit and see. It has probably helped that I already knew some locals before moving here who I have been meeting up with quite a lot who have shown me some of the cooler, less touristy spots. I am Swedish but have not lived there since I was three so living in a Scandinavian country is an exciting experience. In terms of language, I usually get by speaking in Swedish. Otherwise most people speak English.
Social life on campus is very different from Bath. Of course, you don't have to drink to have fun but I seriously suggest that if you go here you do enjoy it. The university culture is heavily centered around drinking beer with campus having up to ten different bars, situated inside departmental buildings, meaning you can do bar crawls during a night without having to even leave campus! It is quite strange that it is normal to have bars open right next to lecture rooms and it being acceptable for students to be passed in hallways or bringing in beers to lectures. These bars are always really cheap as well, usually about 3£ for four beers and every last friday of the month they have clearance and all beers cost 50p each. They love a drink here, with sessions usually starting at just past noon and going into the early hours of morning, so you do need to pace yourself!
There are lots of events for Erasmus students to take part in with societies like the ESN organizing loads of trips to place like Norway, Lappland and within Denmark. These trips are often during term time however and as our grades count while we're here can't afford to take a week off.
I spend a lot of my free time doing sports. The university has some clubs but comes nowhere near offering the same variety as in Bath. They don't have a floorball team so I have joined a local team who trains just around the corner from the dorm. I would definitely recommend doing some form of sport as it's a great way to meet new people and also practice Danish. I've played quite a few matches since starting which has been loads of fun. The only shame has been that these matches have been on Sundays which has meant sitting out dorm parties which are usually on Saturdays meaning I've not gotten to know our neighbors as much as I'd like to.
I think that's all I have to say for now, so far I'm enjoying my time here but hope to see even more of the city as I have not done all the touristy things yet.