As we come into the third week of the survey about finding our next Vice-Chancellor, we've had over 500 responses. Thank you; this is a really important decision for the University and will have a serious impact on our future. Perhaps a little disappointing is that only about 170 of those are from staff. Yet this is a group we might consider most affected by the future appointment of a Vice-Chancellor. Each Monday, after we have published a reminder, we get a peak of responses. This Monday, it would be great if an even higher peak was created by staff contributions to the debate.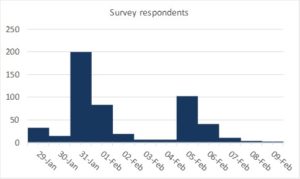 Immediately following Valentine's Day we are seeing four of the recruitment agents to choose one to support us in this campaign. (In case you were wondering, there is no connection between the first and last parts of that sentence.) I am very pleased that Mandy Wilson-Garner from the Students' Union is part of that selection panel. One of the key things we will be assessing is how well these companies understand this University in particular and have creative ideas about how to engage the right sort of Vice-Chancellor to meet our needs; Mandy will bring another perspective to this. We hope to start working with the recruitment specialist to develop our requirements for the new Vice-Chancellor later this month.
I really enjoyed the focus group at the Virgil Building on Friday. Ten people attended, but between them made the noise and contribution of twice that number. When asked what we should preserve about the University, "high ambition" was right up there, but this was coupled with a desire to build a more coherent team culture across the organisation. I once heard someone described as 'profoundly superficial' and, while you might consider me judgemental, I've been looking for an opportunity to use that delightful phrase ever since. But that won't be today. This group was the complete opposite, generating a very thoughtful and challenging discussion and exactly the sort of input I was hoping for. It gives me real confidence in people's interest in this process. Some of our focus groups in the coming week will be led by members of Council and I know that they are looking forward to hearing people's views first hand.
Richard