I used to think of Process Improvement as a mainly technical exercise, streamlining systems and working with process maps, brown paper and post-it notes. And I probably confirm that image for some when I walk along the Parade between process workshops with brown paper rolled up under my arm!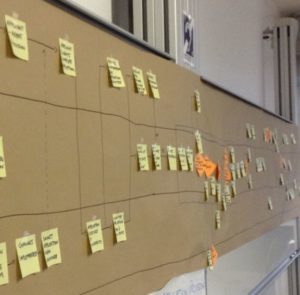 There's much more to process improvement than this.
In the process workshops, we bring together a team of people who are real experts in the process, together with their stakeholders -- the people affected by the process. A collaborative approach is important in process improvement because usually no single person understands how all the parts of a process operate, and what the stakeholders of the process need.
But the real benefit of a team approach comes from working creatively together to find solutions to the problems we encounter with our processes. A technique such as process mapping helps the group to visualise the process and identify where improvements can be made. The brown paper and post-its are important, but it's how the team apply the technique to create solutions that makes the difference.
I am struck by how good our people are at doing this -- it's a real strength of our university. In every workshop I've run, process experts and stakeholders have invested their time and shown a genuine commitment to improving processes for the benefit of the wider staff and student community.
A great example of where this kind of collaboration and commitment can lead is the Curriculum Management Information System (CMIS). In the first in-house process workshop at the University, we reviewed the process for unit and programme changes, which had been raised as an issue in staff survey feedback. Without much influencing we had volunteer co-facilitators, and brilliant staff taking part representing the academic and professional services roles across faculties, school and central services.
Through the ongoing efforts of these staff, and many others, CMIS was developed and launched in October 2017. Few universities in our sector could have achieved this, and it's fitting that the Pro-Vice-Chancellor (Learning and Teaching) Peter Lambert had paid tribute to the staff involved in making it happen.
We're also supporting staff across the university to improve processes in their own areas, through the Process Champions Network. At last week's network event, Carol Sherriff, a highly-regarded learning facilitator, ran a session on 'influencing skills for process improvement'. The ability to connect with the people involved in a process and explore problems from different perspectives is the real essence of process improvement in a complex, multi-stakeholder environment. The technical steps – from systems to post-it notes on brown paper – are part of the picture, but it's the quality and effort of the people involved that matters.