Hello! If you're a regular reader of this blog, you probably haven't met me yet. I'm Will and I've just joined the team to help deliver the ParticipatoryResearch@Bath project.
For the past few months, we've been exploring what structures, platforms and funding we need in place for participatory research to thrive at the University of Bath. As we reach the project's mid-point it felt like a good time to update you with some of our findings, where the project is headed, and how you might be able to get involved over the next stages.
Mapping the landscape of participatory research
To understand how we can better support participatory research within the University, we needed to establish a baseline for what's already happening, both internally and externally across the Higher Education institution (HEI) sector.
Bringing together a group of critical friends from across the university in both research and professional services roles we've begun to establish what sort of funding is available, what knowledge, skills and resources already exist in our community and who the people are that are enabling this work. One reflection is that there needs to be a more centralised way of connecting researchers working in this area.
Although this has given us a good picture of previous work, we recognise that these conversations were not exhaustive so our colleague Kim Townsend (kt830@bath.ac.uk) has been putting together a survey to cast the net a little wider. If you feel your research or work within the University has conducted or facilitated Participatory Research or Patient and Public Involvement (PPI) in research, please do follow this link to complete the survey.
We've also been looking externally to other organisations who are leading work in this field to establish where we can inform our practice. Connecting with peers across funding bodies, universities, and cultural organisations like museums we're building a picture of the barriers, resources and support available. Keep your eyes peeled for the report on this is pulled together by Jenny Jopson which is due to be published in July.
Establishing a picture of our community
At the heart of this work is a desire to explore and build new and meaningful relationships with different community groups across Bath and Northeast Somerset. We want to capture a picture of the landscape of participation in research currently happening and understand where future collaborations might occur, what these might look like and what the appetite and capacity for this work might be.
We've been working with artists Megan Clark-Bagnall and Jasmine Loveys to delve into the fabric of areas outside of the city including Twerton, Radstock and Trowbridge. Where does knowledge exist within them? What are they passionate about? Where might the knowledge and skills within the University be best placed to support these communities? To do this we've been building our own ecosystems, working with community members to build terrariums.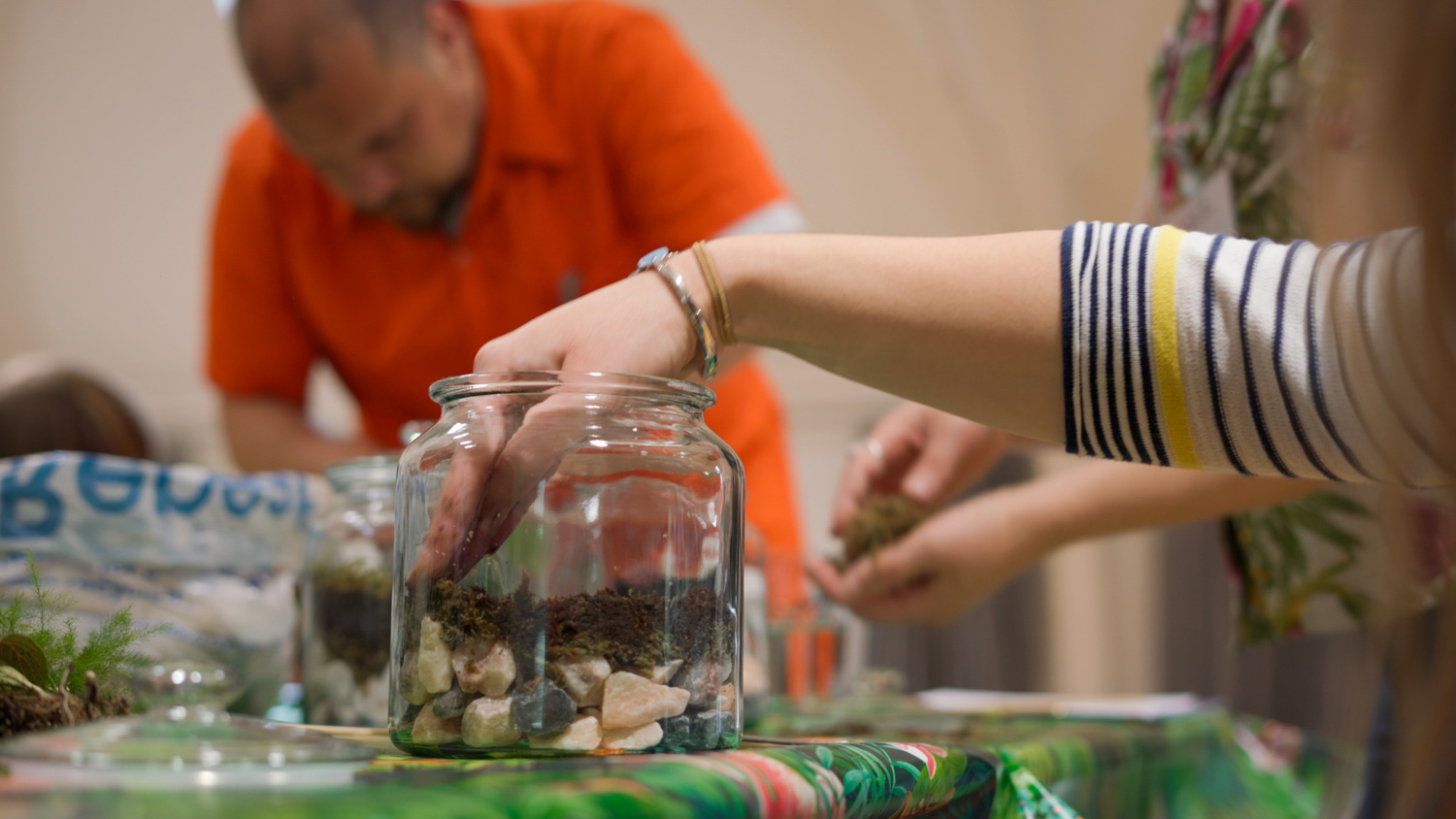 In these sessions we covered a lot of ground, exploring concerns, needs and knowledge in the community. Many reflected that the University is potentially an untapped resource for them. Not only in terms in research but in terms of the infrastructure that exists for staff and students.
Could we be a support some of these issues facing the communities on their doorstep like costs of living, mental health and climate crises. As we move forwards with our thinking, we want to explore what the value of the University is within society beyond our research. What resources and infrastructure could be available to those in our geographical community?
Building capacity and skills for future participatory research
Finally, we understand that many of our academic community will have never engaged with or even heard of participatory research. We want to ensure that we are providing training and support to academics across the University to increase understanding of these methods.
In collaboration with the Young Foundation we're providing a series of online training opportunities for researchers and community groups to develop their skills and understanding in participatory research. Aimed at an introductory level, it will cover the various things to consider when putting together funding bids, general project management, how to create inclusive environments, the basic of co-design and overcoming different power dynamics.
More details on how to register for this will be advertised shortly.
If you've got any further questions about the project or want to get involved, please do not hesitate to get in touch by dropping us an email (public-engagement@bath.ac.uk).
Will Hunter is ParticipatoryResearch@Bath Project Manager 
Image credit: Matt James