Data is back from the latest Higher Expectations Survey 2015 and there's an encouraging sign when it comes to how our students rate the University's reputation for research excellence.
When asked the question - 'Thinking back to when you were choosing universities, do you agree or disagree that your university had good research reputation?' – more of our first year undergraduates than ever before tended to 'strongly agree'.
Highest ever jump
In fact, for this latest reporting period, we recorded our highest ever jump, by around 10%, which is an important shift in perceptions after nearly 10 years of flat-lining on this figure.
Of course there are caveats with data like this, and of course there is clearly much more we can still do, but it's a positive sign that things appear to be moving in the right direction and it's useful insight as we look towards the next academic year.
Come September when the next cohort of undergraduates arrive, we'll use these results as a springboard to further improve the connections we make between our research and our efforts in student recruitment and delivering all-round student experience.
Finding innovative ways to link them all together presents a powerful message about the kind of unique offering here at Bath.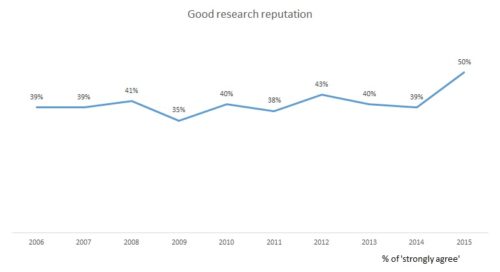 Getting the message out
Over the past few years our media team, with colleagues around the University, has done lots to increase the profile of our research externally, but it's important this is reflected back here on campus too.
New research displays, aligned to the 50th Anniversary, and finding more opportunities to get our research reported through student media are just two of the projects I'm currently working on to strengthen this.
There's a clear opportunity to involve our own students more directly in getting messages out about Bath research too, be that through Impact or URB or even by writing commissioned articles for sector press, arranged through the press office.
Not only does this kind of activity help us share our success stories, but it gives our students a chance to become more involved in projects and use their knowledge to translate messages about our research to different audiences. All useful CV-beating tips.
If you have other thoughts or ideas about involving our students more in research marketing and communications please drop me a line.