Promoting our research and expertise using social media is not a new thing, but over this past year we've done much more to think about the ways in which we're using our main social channels to grow our audiences and better engage people with our stories.  
For the University's Twitter and Facebook, we've seen a significant jump in numbers for our followers and much more engagement (retweets / likes) to boot. More than 50,000 people now follow @uniofbath on Twitter and our Facebook page (/uniofbath) has over 55,000 likes.
That's a huge audience of students past and present, parents, important stakeholders from different sectors, international partners, media contacts; not to mention staff and members of the local community, each getting updates on our activities on a daily basis.
With better planning of more engaging content (videos, photos, GIFs) we've grown our audience and we're getting more interaction (leading to increased web traffic on our site) as a result.
Going live
For the last two months we've also trialled Facebook Live events. This format grew in prominence in 2016 having been adopted by certain media organisations and high profile individuals.
Facebook Live is a free service enabling Facebook users to film content on their iPhones or tablets to broadcast to their followers. As it goes out, followers pose questions, comment on discussions, and others can watch again after the event if they missed it live the first time.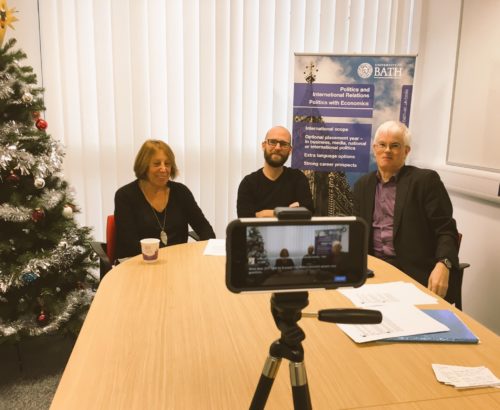 We've used this twice, both times with the Department of Politics, Languages & International Studies, drawing on the expertise of their researchers to comment on the big issues of the day: Trump and Brexit in November (with Professor Charlie Lees) and Europe at a crossroads in December (with Professor Anna Bull and Dr Aurelien Mondon - see our videos below).
These are broadcasts of between 20-30 minutes, filmed in 1W on an iPhone, and timed to coincide with people's lunch breaks (they went out at 12.30PM). With just two examples they've shown the potential in using this format to tell other research stories from right across the University in 2017. Upcoming events could include demonstrating research live, going into labs and conducting interviews out and about on campus; we're working on plans.
Our November Live event drew a crowd of nearly 2,000 and our December Live event, filmed on Wednesday 21 December, has already significantly surpassed that (and will continue to grow in reach). Both elicited interesting questions and discussion points from far and wide.
Watch again
Europe at a crossroads in 2017
John Evans is joined by Aurelien Mondon and Anna Bull - 21 December 2016
From Trump to Brexit
Andy Dunne and Charlie Lees discuss a tumultuous year in UK politics and the election of President Trump in the US - 10 November
My thanks to Sophie in our marketing team who has been leading much of this work and was on hand to film both. From January onwards we'll be running more of these, so stay tuned and Merry Christmas / Happy New Year in the meantime!