Not really!
I was at home for Christmas (yay!) when writing this post.
Semester one was unforgettable but I was so ready for the Christmas break. Home cooked dinners, someone to do your washing and oh wait… revision! When I started University I didn't really think I'd be back to revising so soon. However, we fortunate psychology students only have one timetabled exam in January and in comparison to the previous years of January A-level mocks I can cope with that, at least I think I can. We also have an open book, multiple choice exam due in January but I made sure I completed this before coming home to make sure I had maximum time to enjoy the festive season with family and friends.
As well as these exams there are various pieces of coursework due in for January, and so I made sure to start these as soon as possible. The less coursework you have to do in exam week the better! Personally, I'd also like to have a complete break after my exam and not have to worry about more deadlines.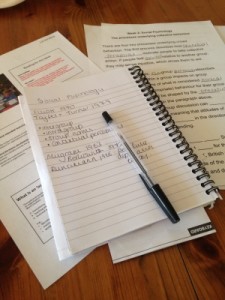 So revision…. It's going ok, I've made a good start although motivation was in slightly short supply once I was back home. My Christmas part time job meant that I had even less time, although sometimes I think I work better when my time is more pressured.  I've mainly been using Moodle for revision which is the University's e-learning platform and has pretty much everything you could ever need for revising and so far it's been a life saver. I've particularly found the lecture recordings useful for going back to remind myself of certain points I'd forgotten (we all daydream sometimes!) The PowerPoints and practice exam questions are also very useful.
The University has been so helpful in preparing us for exams so far. Prior to finishing semester one we had a revision session with exam tips and a chance to ask any questions. In addition to this, there was an opportunity to hand in some practice essays to be marked with detailed feedback on how to improve. I didn't complete these which I regret after seeing the amount of feedback and guidance other course mates received so will definitely be making the most of that kind of opportunity next time! As undergraduate students we also get assigned peer mentors who are second year students doing the same degree as us, it is great to be able to chat to them about the course and get some guidance on answering exam questions.
After Christmas we have a week known as 'revision week' which is just that, many students will head back to campus to do some focused, last minute revision but I also know some of my flatmates are planning on staying at home for the extra week because they feel that's where they work best , it is completely an individual's decision. I personally have decided to go back to Bath, I think I'll be less distracted there. Also I feel that any burning questions are more likely to be answered at university, by peers and lecturers, than at home – not sure my parents even understand what psychology is!
All this exam talk is making me daydream about how blissful inter semester break will be – complete freedom! This week is a chance to relax after the exam period before semester 2 begins and we do it all over again! I know many students chose to stay at university this week, others head away for a week with friends and some will head home. I'm planning on doing some uni-hopping to visit friends.
When you next hear from me it'll all be over- see you on the other side!