The Gold Scholarship Programme provides many opportunities for doing something new that you wouldn't expect to be doing in the first year of university. The networking event in November was one of those. Last week, we were able to experience something similar. Along with all other students with scholarships at the university, we were invited to a Scholarship Ceremony. It was easy to feel anxious about this, as over 130 scholars were attending, and it was held in the beautiful Bath Assembly Rooms. But, I didn't need to feel nervous at all. As soon as we arrived, we were welcomed and made to feel relaxed. There were free drinks and canapes throughout the evening, and plenty of faces, both familiar and unknown. Again, this gave us an opportunity to learn about their experiences and gain the most from the scholarship, and university as a whole.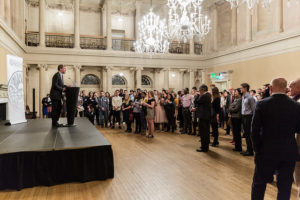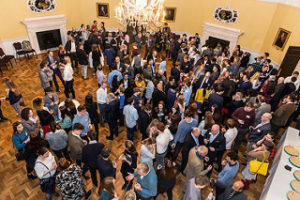 The speeches were also really inspiring, and definitely made me feel proud to be on the Gold Scholarship Programme. A scholarship is something that I never thought I'd get or be eligible for. Now that I am lucky enough to have the scholarship, I'm making the most of the opportunities available to me.
Another thing I didn't expect to do at University is join the gym. I'm not someone who has ever shown an interest in going to the gym, but this semester, I've tried to change that! The money from the scholarship has allowed me to buy a gym membership and enjoy the facilities here at Bath. Hopefully, by the end of semester, I'll be that person who actually enjoys doing exercise!
More photos from the Scholarship Reception can be found at the look further Bath website.