As part of the Gold Scholarship Programme, we have to attend 4 training sessions each year. I say we have to attend, but I look forward to them! Each session will have a couple of speakers, and they teach us important life and career skills. So far we've had 3 this year, so I thought I'd talk a bit about what we covered in each one.
The first session of the year was on networking... great. But actually, this session was super helpful in explaining why people network and how we can do it effectively. Straight after this session, we were thrown straight into a evening networking with Bath alumni - you can read more about this here!
Next up, the session was split between budgeting and self-awareness (interesting combination?). For most students, university is the first time you're 100% in control of your money - rent, food, social life... and this can be quite scary! But this session taught me how to keep on top of it all and make sure I'm getting the most out of my scholarship money.
The self-awareness side of this session was all about exploring our values and knowing what our strengths and weaknesses are. Turns out, this is really important to employers, and now I'm much more confident in what I would say about myself during an interview or job application. We also did a personality test...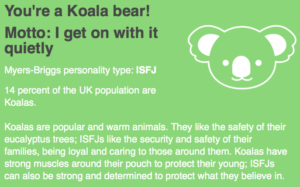 Finally, the most recent one was split between studying abroad and effective communication. I have the opportunity to spend a semester abroad in my fourth year, so although it's a bit early (I'm only in my first year!) it was interesting to hear about where you can go and the financial help available.
For the second half of the session, we did various activities talking to each other to learn the importance of good communication skills, and how to communicate well. It was all very entertaining but really drove home the message of how important it is.
Oh, and did I mention we get free dominos at each session?