Project
Work at CECASEM is going really well and I´m loving it! Me and the two other volunteers have spent the past few weeks working on our project proposal for a grant. We have planned a girls empowerment weekend camp for girls in rural areas, including a whole host of workshops from sexual health education to boosting self-esteem. It was finally submitted last week (with 3 minutes to spare), but it will be another few weeks before we hear if we have been successful, fingers crossed!
Dia Internacional de la Mujer - International Women´s Day!
After a wonderful morning of fruit salad, sharing inspirational stories, and chatting about how awesome women are, all the workers from CECASEM headed to a march to raise awareness of gender inequality and protest against violence against women in Bolivia. I love a good march. Equipped with banners and chants galore, people gathered in the thousands for the march through the city, which ended in the Plaza with a big party, such fun!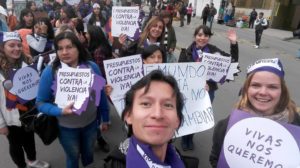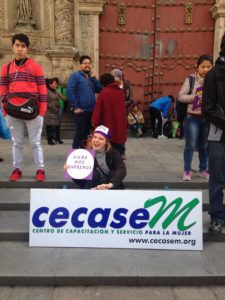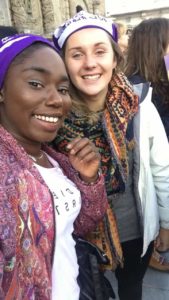 We also worked with a local filmmaker on producing his short video for the day - If this isn´t true fame I don't know what is. Here is the link!
I´m officially a Bolivian resident!
After enduring the most tedious, time consuming visa process in the world - I have finally got my visa. Along with an obligatory hideous photo on my ID card.
When I was collecting the identity card, the lady at immigration handed me a sheet and asked me to check that all the information was correct. To which for some bizarre reason I replied, "no sorry my birthday is on the 30th not the 31st". Then as she was printing the new sheet, I realised that I just had a giant brain fart, then had to explain - in very clumsy spanish - that my birthday was in fact the 31st and the first sheet was right.
Home
I have been super busy the past few weeks so I feel like I haven´t spent much time at home! My family and I had a really nice time celebrating host granddad´s birthday last weekend. A friend of Patrick's is a chef, so a big group of us went to our summer house in the countryside and he cooked a big dinner for us all!
P.S. The summer house is unreal.
A tad premature I know, but I bought some chocolate eggs this week and did a wee Easter egg hunt for Hans, Mum, and Luis (host cousin) in the house. Hans didn't really get the whole concept, nor did he pay attention to my warmer and colder clues, so it took him an age to find his eggs. Mum got so excited by the whole thing she was speeding around the house with her arms up in the air; her little face when she found it was so adorable!
English Class
Last weekend I went to El Alto with my Spanish teacher Maria to help her out with her English class. This meant we got to take the teleférico - the cable car - which was so awesomeeee! When you get to the top of the city you look back and can see the whole city in the mountain bowl, it's amazing. You can also see the remains of a car accident where a car is completely vertical, wedged into a gap in the mountains. Pretty sad but also pretty groovy. Anyway, we got to El Alto and there was about 40 students packed into this tiny classroom, and I was ordered to sit on a desk in the middle. The students then did presentations on places to visit in Bolivia, so got some exciting travel ideas! We then had some food, chatted , and of course had a photo-shoot. It was a really fun day and made some nice friends! One boy Jorge took a particular liking to me; when I was still in the room he started sending me pictures of me stood at the other side of the room, along with messages saying "This is Jorge. Your friend. Nice to meet you beautiful lady".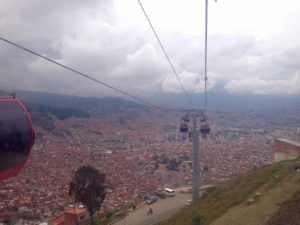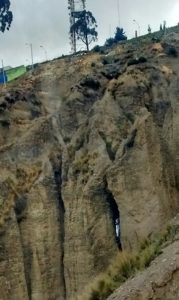 - You can just about see the car here!
Monthiversary
A few weeks ago marked a month of us being here! We celebrated by going out for dinner and drinks at a Jazz bar. Ella and I had a lovely dinner, Fats unfortunately, did not. Her food had been forgotten and we had to leave before it ever came, she wasn´t best impressed! Then we headed to a friend's house for a house party, where we stole the show with karaoke. Ella performed a cracking rendition of Come On Eileen, and I being a little merry, thought I could nail Louis Armstrong´s What a Wonderful World, low croaky voice and all. Safe to say I did not, but it was entertaining none the less.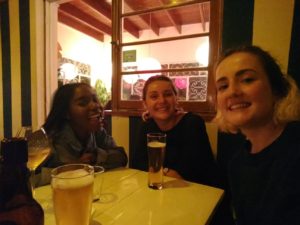 We have filled our other spare time with live music, trips to the cinema, delicious food, sightseeing, and a fun pool day at Fats´ house - I don´t know why it took her over a month to let us in on that beauty.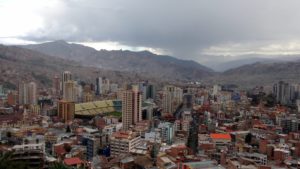 - View from Mirador Killi Killi - a viewpoint in La Paz
Gracias!