Currently in absolute denial that we have sat down to write all about our trials and tribulations of MARCH!!!!! How on earth did this happen?!! Only two more posts after this one… so best get on with it!
OK so March, albeit a bit hectic, has been considerably calmer than February! Being organised has certainly paid off and made the double sprint trials of our study seem to go at least a little bit smoother!
However, I still can't say I am used to the even earlier wake up call to complete trials before work … There's no answer to 'do you want a coffee?' other than "LEKKER" (i.e yes please and thank you very much that would be wonderful thank you kind human for saving me).
The fun part of analysing our data, running stats tests and hopefully presenting our results is all to come so we will keep you posted!!
Pub Quiz
Embracing culture and joining an international pub quiz!!! International consisting of all Dutch teams and us Brits abroad. Not that it matters but we did indeed place … last (shocker), but Liv did get the 5 point bonus question right, and was the only one in the room who did!! IMPRESSIVE and don't we (and most of Rotterdam) know about it ...

With a whole month spent within the confounds of the Netherlands and an extremely busy few weeks we decided it would be silly to not take the opportunity to go exploring in another city!! With so many to choose from this time there was only one winner!  Who could resist a weekend of parading around beautiful buildings, incredible shopping, chic fashion and of course the wonderful bread and pastries. The city of love!  
Oui Oui Paris!!
What started with another early wake-up call (no surprises there anymore) we were off to Paris on just a short 2 and half hour train journey practically from our doorstep at Rotterdam Centraal.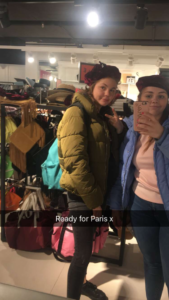 After the early get up, we arrived in Paris just in time for brunch, which consisted of pastries, pastries and more pastries with some chocolate thrown in for good measure.
First stop on the tour was the Sacre Coeur and with the sun shining the view from the top was unrivalled. Liv won the battle this time and we got the funicular up to the top, although we definitely spent more time queuing than actually moving!!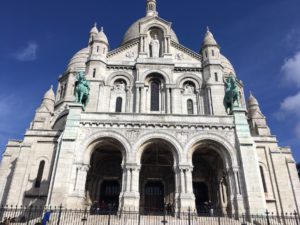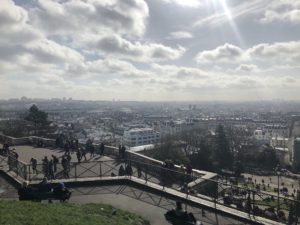 From here we headed across Paris to the Arc de Triomphe and Champs Elysees, following the crowds of tourists heading from designer shop to designer shop, Laduree, Louis Vuitton and Gucci to name but a few. Needless to say Liv was in charge of this part of the day and I was about as much use as a chocolate teapot.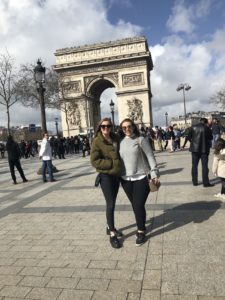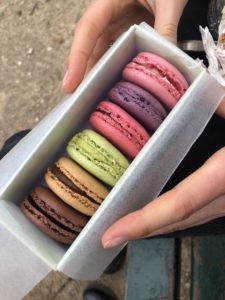 To finish of a day of tourist activities, we took a sunny WALK up the Eiffel Tower! This battle I won, and we made the short (although Liv might say different) 669 step ascent to the top. We were so lucky again with the weather and got our money's worth in instas!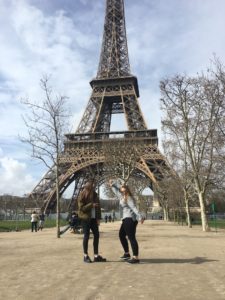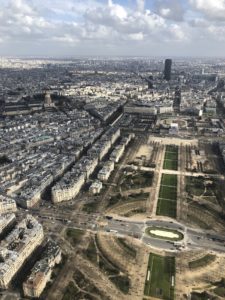 As we were staying just beside the Montmartre district we headed here for the evening, a classic French dinner of margherita pizza and overpriced Mexican beer (other beers are available) finished off the day perfectly.
Sadly the sun didn't make much of an appearance on Saturday and so the day consisted mainly of indoor activities. Following another one, two, ok maybe three breakfast pastries we spent the morning in the Notre Dame and Latin Quarter. Beautifully ornate and atmospheric, we took our time wandering around the cathedral, taking in as much of the impressive architecture and history as we could.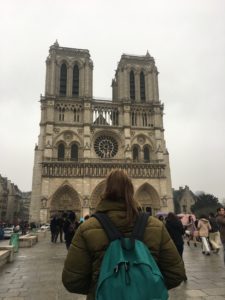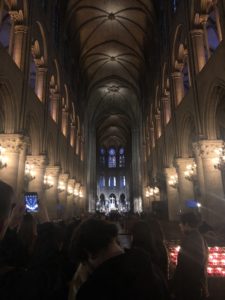 As the weather worsened we continued the indoor theme and headed across the river to the Louvre. In what can only be described as an oversized maze, it is easy to lose yourself, both metaphorically and literally here. An impressive collection of paintings, statues and sculptures adorn every corridor, with everything from Egyptian to Greek and Roman on display it is almost impossible to take it all in. Of course in true Brits Abroad style, we joined the hordes of tourists crowding to snap a long range shot of one of the most valuable paintings in the world.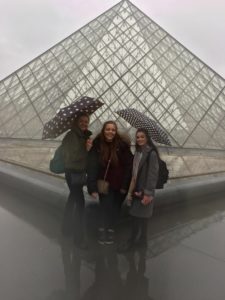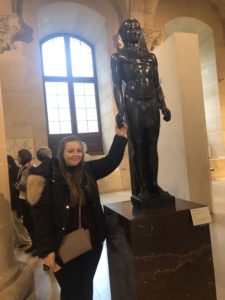 Until now Liv had got off relatively lightly, other than the walk up the Eiffel Tower, my money saving schemes had been few and far between. But I saved the best until last. Why get a two hour train when you can get a seven hour bus instead? I mean I'm sure Liv can give you a couple of reasons… But even she will admit armed with more snacks than we knew what to do with it wasn't actually that bad!
As I said, I cannot quite believe that there are only 2 months for us left at BeLife…
It breaks my heart to think about leaving but let's just be excited for what the next 2 months holds for us including possibly more nice weather, hopefully more day trips and definitely many more weird and wonderful experiences.