I remember collecting my library card during Freshers' Week 2014 and glancing at the expiry date. July 2018 seemed like a lifetime away, with four gruelling years lined up ahead of me. I could not have been more wrong. It is now July 2018, and I still think I'm a Fresher!
I graduated a few days ago, and on such an occasion you're encouraged to think back over your time at university. What could I have done better? Do I regret having not done something? Did I make some good choices? One thing is for sure: I wouldn't have wanted to be anywhere else but in Bath - a sentiment validated over the course of my time here.
Each year of university to me was characterised by different emotions and experiences. First year was novel and daring – there was always something going on and you'd still get hit with pride whenever you cooked a decent meal. Second year was the hardest year of uni, and the most 'full steam ahead'. The workload was unbelievable, and I somehow managed to run a society and complete a half marathon in between. Third year was the epitome of being out of my comfort zone. I went on placement abroad and whilst I absolutely loved it, I had no choice but to adopt some confidence and get the job done. Fourth year was stressful with research projects and exams coming out my ears. It was also tinged with sadness, having to deal with the eventuality that my time at uni was coming to an end. These four stages of my degree were the jigsaw pieces to my university experience, an experience completely unique to me.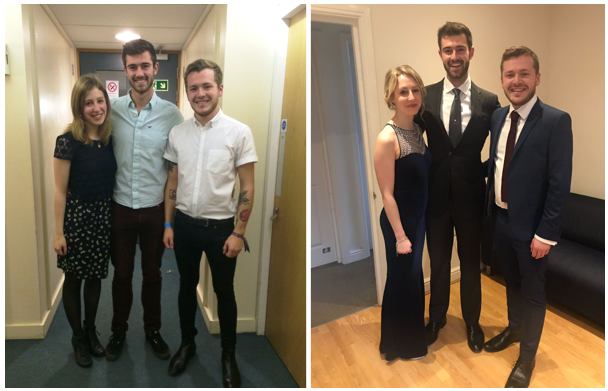 When thinking about the most valuable thing I got from being at university, I'm comfortably spoiled for choice. It could be the established autonomy that I gained, the ability to survive on my own and sort my life out by myself. It could be the academic knowledge acquired over four years of higher education, which helped me to gain a first class honours degree. It could be my personal development, and how I know myself so much better now than I did before. Whilst all of these are important, and certainly constitute building blocks of my degree, the best thing I got out of university was a solid network of close and compassionate friends. You don't spend £9000 a year just to get some friends, but the bonds you make at university will probably stick with you forever because you go through such bizarre, unique, and even mundane things together. First trips to the supermarket, first house viewings, first (and last!) exam results day, first day in the lab, first late-night debrief on the kitchen floor…

I owe a lot of my academic development to my friends. From the first ever set of January exams in year one to the last ever set of May exams in final year, I revised with two of my course mates. We would meet every day during revision period at the same time (we called it 'Combine @ 9') and we would work through until dinner, taking an hour for lunch to watch Friends. We called ourselves 'Tribe', which we then shorted to 'TRBE', on the basis that there's no 'I' in TRBE (I know, we're super cool people)! These guys carried me through. If one of us didn't know the answer, it's likely that at least one of us would. We all came out happy with our degrees, but I will always be grateful for the role they played in my success.
Whilst the positive memories will remain with me the strongest, it's also worth mentioning that university life is accompanied by highs and lows. One weekend in fourth year is a bold example of such a 'low'. The Beast from the East came at a bad time: we had our beloved annual ChemBall planned for that weekend (a fancy soirée at the Roman Baths, something we didn't want to miss during final year), the Bath Half Marathon, and we had our January exam results. On the Thursday, the snow came down hard. We had all been sent home from uni, and we got the news that ChemBall had been cancelled. I was living with two other chemists, and we solemnly gathered to sulk together at the bad news. Campus was shut the next day too, but I woke up to exam results. They were not the exam results I was hoping for, and I felt incredibly down with my performance. I know a lot of people were in the same boat as me, so we went to play in the snow to lift our spirits. Finally, the Bath Half was cancelled (with reason!) due to the snow. I had raised £800 for a charity that I value very much, and I was super disappointed after months of training that this had to happen.  Bad things come in threes right?
We picked ourselves up! We were living on top of a hill, and there were many cars getting stuck on it. We distracted ourselves by pushing cars up the hill for a good 90 minutes, until we couldn't feel our feet anymore. Two days later, the snow was mostly melted. My friend and I decided to run the Bath Half route anyway, to honour the sponsors we'd got and the charity I was running for. We even beat our previous record! Also, our ChemBall was rescheduled for April. You are bound to hit bad patches at uni, but they rarely go unbalanced.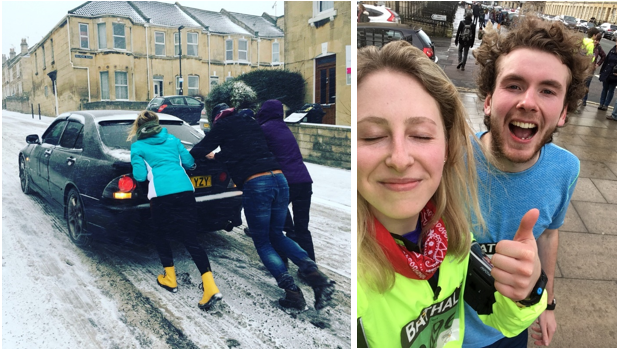 What is certain is that choosing to study Chemistry at the University of Bath was the right decision for me for the past four years. It wasn't always plain-sailing, I had to work super super hard and sometimes fall back on my friends, but it was worth it. I don't know what will come next, but I do know that a little bit of Bath will stay with me forever. If you choose to study in Bath, I wish you the best of times.