My first year of university has gone so quick. Moving out day came much quicker than I had ever expected it to.
I loved my accommodation for first year in Solsbury Court and it is something that I will definitely miss for the next few years of my university experience. Living away from home wasn't as scary as I first thought and having my own space was something that I loved. Living in halls made making friends so much easier and we had the best movie nights at our flat! Next year I'll be living with two of my closest friends at Uni in Oldfield Park, which is the main student area in Bath. I'm looking forward to this too, living in a completely different setting but I will miss being just a 2 minute walk away from lectures! I found that living on campus was the best way for me to settle into university life. Everything that I needed was on campus, with Fresh just a 5 minute walk away, and plenty of places to eat, socialise and study. The campus at Bath also has a community feeling about it which made the transition from living at home to living alone so much easier.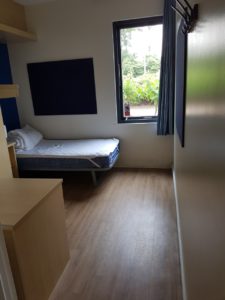 Studying Sociology this year has been really enjoyable. Personally, I was glad that I had assignments throughout the year rather than just exams at the end of each semester. Over the year, I had just one exam in May, with all other units assessed through essays. My quantitative research unit in Semester 2 was also assessed through a group presentation. This is something that I didn't have experience with before coming to university, but it was something that wasn't as daunting as I had expected it to be. After receiving my marks from this assessment, it has given me more confidence to believe that I can do presentations and discuss topics in front of other people. My favourite units have been the research topics, as it has given me the opportunity to go into more depth of topics and factors of society that I am interested in. In Semester 1 I was able to focus on the changing rates of teenage pregnancy, whilst Semester 2 I looked at how educational attainment differs between social groups within the UK. Next year, I am looking forward to the units focused on family, childhood and education.
The scholarship was a definitely a highlight of my first year. It provided me with financial stability and led to more opportunities than I could have expected. The money received enabled me to do things that I would have otherwise not done because of the fear of not being able to afford it. For me, this included continuing Ballroom and Latin Dance lessons in university and getting a gym pass at the University of Bath Sports Training Village.
Volunteering was also a significant part of the scholarship. This year, I focused my volunteering mainly on a local play-scheme at home and volunteering to teach at my dance school. I've really enjoyed volunteering at these places and has made me want to continue volunteering and working within a leadership role. This year I've also volunteered at a Food Cycle at Bath. This was one of the most rewarding volunteering roles I've been involved in. The Food Cycle serves food for the homeless and vulnerable living within the Bath area. Volunteering here made me realise how much our help can impact peoples lives. Next year, I'm hoping to continue volunteering at the Food Cycle. More information on the work that the Food Cycle do can be found here. Another one-off volunteering opportunity that I got involved with was the Bath Taps into Science Festival held at the University. Although I'm not doing a science degree, being involved in this made me understand how events at the university can be organised. Writing these blog posts throughout the year has also helped towards meeting my volunteering hours, which has allowed me to reflect on everything the scholarship has to offer.
The Gold Scholarship also involves participating in multiple training days throughout the year. Personally, the most beneficial one was the networking event as it provided me with confidence in speaking to others. Hopefully I'll be able to use these skills in the future for career opportunities.
Overall, I've loved my first year of University and being a part of the Gold Scholarship Programme. More information about the Gold Scholarship can be found here. If you're eligible for the scholarship then make sure you apply by 31st August to receive all the amazing support and opportunities.