I'm Laura, and I am finishing my third week at my placement in an NHS psychiatric hospital. I was a first year blogger back in 2016, and will now be blogging about my experience on an unpaid placement this year, hopefully helping you to avoid any mistakes which I will inevitably make...
No one likes a first day. Not quite sure where you're going, what you should be doing, what the name of that person you've just met is, trying to think of one more bit of small talk to end the awkward silence… We've all been there. Within a few weeks you look back at your first day and want to laugh at how nervous you were. And while it's possible you might spill your cereal down your carefully planned outfit or get stuck at EVERY red light on your drive to work, there are a few things which you can do to minimise the horror of a first day. I'm not promising that it's going to be easy, as I'm pretty sure everyone feels a little nervous about starting a new job, and that's normal! But here is a compilation of some tips to help ease yourself in and get your placement off to the best possible start
1. Have your outfit planned and laid out ready
Before you start your placement, check the dress code. Email your manager ahead of starting, search online in case they have a standard policy published, and then, with plenty of time to spare before starting, get some clothes together. This might mean a big shopping trip, so account for this in your summer budgeting. Look online at the kind of shops you'll need to go to for the clothes your job requires, especially if you've never had to fit a dress code like this before.
When the shopping's done, plan an outfit for the first day. If possible, go to the company ahead of starting and see what other employees are wearing so that you can get an idea. This might be at your interview, so if you're not too stressed, check out what other people are wearing and make a note. Personally, I think that it's better to start off too formal than too casual. You don't want to arrive in your trackies and t shirt to find an office full of people in suits. You can always tone it down on the subsequent days, but if you go in looking smart, chances are you'll be fine. Make sure that what you've picked is cleaned and ironed, and preferably with layers, as you don't know what your first day will involve. If possible have some sort of back up ready too, just in case some of your breakfast does end up down you. I'm open to a lot of fashion trends, but I'm not sure that's ever a good look.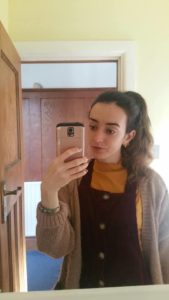 'After a lot of stressing over my outfit I like to think I nailed smart casual'
2. Allow plenty of time. And then a little bit extra
I am queen of being late to things, and while I'm sure my friends can handle it, it is not the way you want to start your placement. Use Google maps to get an estimate of the journey length, adjusting your arrival time to about 10 minutes ahead of when you need to be there. This should give you an indication of the level of traffic at the time of day which you're going at, which chances are might be rush hour, so on top of this allow some extra time just in case. You never know when their might be a road closure, a late bus, an accident, or you might just get stuck beyond someone who seems to give way to everyone and has no desire to actually go anywhere. If you're using public transport allow an excessive amount of time between changes for buses, trains, tubes etc. Within a few days you'll have the commute down to an art, but you don't want to arrive on your first day sprinting to the door drenched in sweat because you missed your bus.
It may sound silly, but practising the route is a great way to feel prepared. If you're not a very confident driver (my reason for doing this), or perhaps you're not that familiar with the public transport system in the town where you are, it's a good idea to do a practise run, preferably at the same time of day as you'll be going in, to see roughly how long it takes, and just get a feel for your route. It's much better to get the bus on the wrong side of the road, or miss your exit on the dual carriageway a few days before your placement than the day you start, and it can also be a great opportunity to see the area around where you'll be working. Reward yourself with a coffee or a snack from a local shop for surviving the journey, too. Fortunately for me my placement is in a really beautiful location, right on the beach, so driving here definitely doesn't seem like much of a chore, and I even dragged my boyfriend along to make it a little less lonely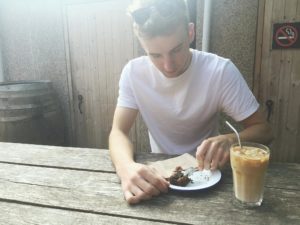 'It would be rude not to have coffee and cake as a reward for that drive'
3. Fake it 'til you make it
People always talk about how important first impressions are, but it can be so hard to remember that when you're new somewhere and bombarded with new faces and names. However; try your hardest to put on a front. Even if you're feeling shy, SMILE. At everyone. The receptionist, the cleaners, clients… Chances are they'll smile back, which will probably help you to feel a bit more relaxed, but also you want people to think you're friendly. It will work in your favour if you ever need anything if people think you're friendly and approachable. If you start off quiet it is so hard to break past this first impression as your placement continues.
If you find yourself talking to someone without a lot to say, just take a deep breath and then go through some of these classic questions: what does your job involve, how long have you worked here, do you live locally, did you get up to much at the weekend…? People love to talk about themselves and you'll feel much more comfortable in your new work environment if you've had a chat with at least one other member of staff. Don't be afraid to ask people for directions, either. Just think that in another situation, like if you were at uni and someone asked you the way to a room or the toilet, you'd be more than happy to show them, so instead of wandering aimlessly looking lost, just bite the bullet and ask someone. You may even end up becoming friends because of it!
4. Prepare a list of questions
Inevitably, unless your placement supervisor is superhuman and has prepared everything in advance of you starting, there are probably a few things which you are uncertain of regarding your placement. Booking holidays, how to claim back expenses, where to buy lunch… you'll undoubtedly have a few concerns which it is best to ask as soon as possible. Your supervisor is likely not to think to mention a few things which you're wondering about simply because it's all second nature to them, so they're not going to mind at all if you bring them up around the time that you start. If any of your questions are pressing concerns that you ideally need an answer to before you arrive on your first day, just compile them into an email. It will show a lot of initiative if you're thinking ahead.
Alternatively, why not contact the company directly? For example, if you're unsure about where you're allowed to park or if there is parking nearby, you could call the company's reception, explain the situation and see what they say. Although it might seem tempting just to contact your supervisor as you are more familiar with them than the rest of the company, they are likely to be very busy themselves, and so you'll often get a much faster reply if you contact the reception desk. As daunting as the phone call might seem, they are they to help and direct people! When you do start, make sure you have any remaining questions for your supervisor written down somewhere, like as a note on your phone, so that you can make sure you have an answer for them within your first few weeks. You don't want to discover a week before your flight that holiday has to be booked off 2 months in advance!
5. Take every opportunity you can
This is such a common piece of advice which you'll have undoubtedly been reminded of countless times in the months before starting your placement, but it's so true. You're likely to have certain expectations and goals for your placement, but don't let these limit you. If you're offered an opportunity in another area of the company, for example shadowing someone in a sector you have no experience in or not much knowledge of, go for it! You never know; you might end up discovering the job of your dreams, or meet someone who goes on to be one of your closest friends. Regardless, even if it doesn't end up like that, it can be beneficial to learn which areas of work you are not interested in, or which aspects of jobs you find particularly challenging. During my second week I was able to shadow the hospital's gym instructor and dietitian. These are two areas of the company I had never even considered prior to starting, but as I have a keen interest in exercise and food, both of these experiences were really interesting, and seeing the realities of their roles first hand was a great experience.
Furthermore; through working with other members of the team I was able to have more contact with patients than I usually would if working alone. This is a particular goal for me whilst on placement to interact first-hand with patients, and so this was a great opportunity for me to fulfill this. The two staff members which I worked with were both really nice, and making connections throughout the company can be highly advantageous, both whilst on placement but also potentially later when applying for jobs. Showing your flexibility and willingness to learn can set you apart from other candidates, so it's great to show that you're willing to try new things. At times your supervisor may be especially busy and need you to fit around their schedule, and so being able to adapt and experience different areas of the company can be a massive help to both you and them.
Your placement is such a great opportunity to experience a workplace in an area that you are interested in, and put the skills you've obtained over the first two years of your degree into practice. It is inevitable that at times, especially at the start, you might not have much to do, or feel uncertain about a task, but the key to avoiding this is just by asking. Speak to your supervisor if your workload is too light or too heavy, show that you're keen to learn and try as much as possible, but also don't be afraid to say that you're finding it a bit too much if that is the case. You will get out as much as you put in to your placement, and if your goals and hopes aren't being met, you just need to communicate to change that. Go in with an open mind and you will be setting yourself up in the best possible way to start your placement. Good luck!
Laura x