One of the first things I was told when I enquired about a placement year at the Bath open day back in 2014 was that my placement would probably be unpaid. I didn't pay too much attention to this, or to anything really for that matter, only remembering I'd signed up to the four year course when I opened UCAS on results day. Classic. It wasn't until the start of second year when my flatmates told stories of their friends on their courses applying for placements with £40,000 salaries that it really hit me that I would be working for a year… for free. Suddenly my full time voluntary role looked a little less appealing. Part of me didn't mind much at all; I've always been nosey and the thought of working inside a hospital or prison is easily something I'd pay to do, so doing it for free was still pretty cool, but, then again, I did like money. Feeding, clothing and housing myself were 3 expenses it would be hard to avoid. Especially with final year after my placement, and Bath's ever rising student housing prices. Unfortunately, none of the few paid psychology placements offered on the database were in areas which I was interested in, and so I quickly accepted a year reliant on my student loan. This also ruled out the placements abroad for me; I love to travel, but the psychology placements abroad are often in places with living costs higher than in the UK like Boston, and with pretty limited expenses I decided it wouldn't be economically feasible for me to go for one of these. And so, I focused my placement searching onto being something I was really interested in, that I would actually still really enjoy.
In early December of second year I had managed to secure myself 2 interviews. One of these was for an outpatient service in London, and the other was with the clinical psychologist for a psychiatric hospital in my hometown of Bournemouth. I had sorted this second one independently of the university, as working in a psychiatric hospital is my eventual aim so it seemed perfect, and as most psychology placements are based in London or Bristol, finding one in my hometown had the added advantage that I could live at home. The interview in my hometown was first; I had it with my (now) supervisor and it went well; the day before my other interview was due I was offered the position. Whilst I'm sure I would have really enjoyed the other placement, and living in London, I knew really that my bank balance wouldn't, and it was really lucky that I was able to get a placement at home. I sometimes wonder now how I'd have managed to get my loan to stretch to the extortionate London rents; it would have been a struggle. So my first money saving tip was mainly down to luck; I am fortunate enough to be able to live rent and bill free with my parents, which obviously saves me SO much money. Obviously; this option is not available to everyone, and so takes a big chunk of the stress off for me. However; if your parents are able to house you for a fee, this might still be a lot cheaper than conventional renting- unless your parents are charging extortionate admin fees… There are also bursaries available to placement students to help you out. If you email your course's placement advisor they should be able to direct you to the form, but we were also sent it during second year, and it just helps anyone who will struggle financially during placement year. This includes paid placements- you might still not be getting paid much, and so don't feel like you can't apply because you do get a small wage or expenses covered. The bursaries are a great resource and if you know that you will struggle you might as well apply! Whilst on placement you do still get a loan, though it is very likely to be reduced. This is something to look into before starting your placement, as it can massively affect your finances on placement year.
However; another significant benefit of doing my placement at home is being able to work at my part time job alongside my placement. I decided pretty quickly that I wanted to work alongside my placement, simply because I needed the money. My minimal student loan on placement year would just about cover car insurance for the year and maybe a bit of petrol, but to fund a gym membership, regular trips to Bath to visit my boyfriend, and a deposit on a house for final year as well as a couple of month's rent over summer, work was a necessity. Fortunately for me, everyone has been really flexible and this has worked really well. Although we are expected to work 35-40 hour weeks on placement, I do about 32 in the office per week, and my agreement with my supervisor is that I do 6 hours a day plus a lunch break. I then work around 2 weekday evenings per week and alternate weekends; so an additional 10-30 hours per week waitressing at my part time job, meaning that I work between around 42 and 62 hours per week. Thank god that living at home means I have a limited social life, because I would definitely not cope with all the nights out at uni alongside this. I am pretty much ready for a nap 24/7. However; I love my job (weird, I know!), I get on really well with my colleagues and they mean that I actually have some friends in Bournemouth (alongside a few friends who live here anyway, and a uni friend who happens to be on placement here, too!), and the hours don't seem so bad on pay day! Also, I have never worked whilst at uni, opting to spend my holidays practically living there instead, because I don't like the stress of working alongside lots of deadlines. On placement, however; aside from a few deadlines across the year I actually have spare time! And so working isn't interrupting any studying- it just means my hours watching Netflix are reduced a bit. I could have found a job in a new city if I had moved, but I knew that my boss at home would let me be flexible about my start and finish times, and my job is really close to my house, so it was pretty perfect. If you are moving somewhere new, though, one of my friends has found that working as a waitress/bartender for an agency was another really flexible way of finding work. She can choose which shifts to sign up to and fit them around her placement. It's worth asking, too, if there are any paid opportunities at the organisation which you are on placement with- you never know unless you ask!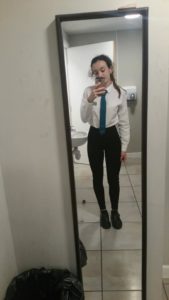 Another way which I save money (and the planet!) is by cycling to work a couple of times a week. Again; this isn't feasible to everyone, and a bike itself is a big expense. Fortunately I had an old (a little broken) bike in the garage at home, which I wheel out a couple of times a week. When I do drive, fortunately the onsite parking where I work is free, but as my travel expenses are not covered a majority of my wages goes on essentially funding my drive to and from placement each day. It takes me about 30-40 minutes to drive in, which isn't awful, but it only takes about 50 to cycle. It's a really beautiful 7 mile ride along the seafront, and honestly, I should do it more. But after an evening shift the night before my warm car seems more appealing, and because my placement is far away I tend to tie a trip to the gym which is also pretty far from my house in with the drive, too. Cycling, walking or taking the bus are definitely things to consider, though. By the time I've paid for car insurance, breakdown cover and petrol it would definitely have been cheaper for me to get the bus. Unfortunately this would have meant two buses from my house and the time this would have taken made paying the extra worth it, but if you are on a budget, definitely look into transport options other than driving, because you can save so much.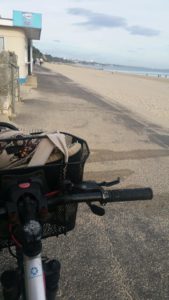 I always try to be economical with buying food out; I think I'm probably the only second year ever who only bought lunch twice on campus last year. Whilst at home I buy a lot of my own food; I'm the only vegan in an omnivore household and I like to try all kinds of stuff, and so I fund that myself. The vegan options in the staff canteen are alright, but it just makes sense to me to bring my own lunch rather than settling for something I'm not that keen on, when I can make whatever I want at home. This saves me loads of money, too. Although the food at work is actually really cheap, it's not cheaper than bringing my own, and so in between evening shifts I make sure I've got some food prepped to take to work. This means that my freezer is constantly full, but it's so convenient being able to just grab something to take with me and pop in the microwave on my lunch break. This also ensures I eat something balanced and filling, and I always take in cereal bars and fruit to have, too. It's all too tempting knowing I can pop to the canteen for crisps and a fizzy drink whenever I want, and although I do still sometimes get stuff, on the whole I just bring my own, and saving this way really does add up.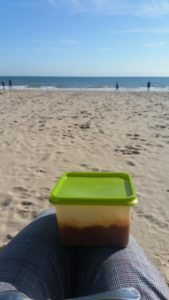 Finally; another tip for saving money is to start looking for your final year house early on in your placement. According to estate agents I've spoken to, Bath student rent goes up by 3-5% per year. In first year we secured our house in December, and by that point we were going to viewings where other groups were queuing in front of us and securing the house before we'd even got a chance to go inside. If you can, secure a deal with your old estate agent to have your second year house again, but if not, I'd advise getting in quickly. Whilst there is a bit of a housing shortage, people find houses as late in the year as July, so there's not actually a massive rush, but you'll have a lot more choice and there'll be more cheaper options available the sooner you sort it. Email and call estate agents early to arrange viewings and find a time when you and your future housemates are free to go and see some. It's obviously important to make an informed decision, and you don't want to rush into committing to a house, but it can be really tough to find time to house search whilst on placement, especially if none of you are living in Bath. So this is something to think about early. You'll probably need to have the deposit ready to pay pretty soon after, too, so this is something to consider when budgeting over the summer- you might need to tone down your holiday plans in favour of earning some more money, or trying to put some aside from your student loan. If you can't afford it early on, you will be able to find a house later in the year, so it's nothing to panic over!
Hopefully this guide will help anyone else on/considering an unpaid placement to see what the reality is! As a general rule; plan ahead, and things should hopefully be okay!
Laura x