Hi all,
For this blog post I thought I would answer the most commonly asked question I get when I tell people I'm on a placement year.
"So what do you actually do?"
Ah – the question that all placement students are so used to hearing. After someone asking what your placement role is or your where your placement is, this is inevitably the question that follows. I, like many other placement students, have a job title which gives little away. I thought I would write a blog post answering exactly this question.
My role at Microsoft is a Technical Account Manager, which is abbreviated here as simply a 'TAM'. I won't go into any detail about this role, but to describe it briefly, a Technical Account Manager is the number one point of contact for a customer (note: not an everyday customer like you and me, I mean the big boys who are spending a lot of money with Microsoft). It's basically like really advanced customer service. Generally TAMs spend a lot of their time on the phone with customers, or at their customers offices. All making sense so far?
Well, because I'm brand new at this they can't let me loose with really important customers. So, I get involved with all sorts of stuff whilst I'm learning how to undertake the role properly. I currently spend one day a week learning how to be a TAM. Typically, this involves going with an experienced TAM to a customer and watching and participating in their customer meetings, and also undertaking practical aspects of their role. I've been to some awesome customers- Slaughter and May's very swanky offices in London were a particular highlight.
Another day of my week is spent taking part in what Microsoft call '101 Teams'. 101 Teams are basically like the extra-curricular activities you did at school- side projects that people do outside of their role. The 101 Team that I am involved with is called 'DigiGirlz', which seeks to empower more girls to pursue STEM subjects. This year DigiGirlz is hosting six events at Microsoft offices around the country where school girls are invited to hear from our senior leaders and take part in coding workshops. I am the team lead for DigiGirlz this year, so I manage a team of six other volunteers to plan and deliver these events. This aspect of my role is stressful but so rewarding, and I feel incredibly lucky to have the responsibility for this as an intern.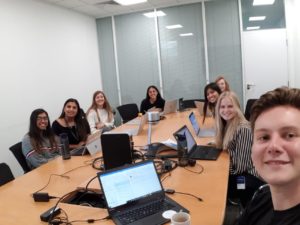 Another 0.5 days of my week is spent on personal development. This can mean doing online training, meeting with mentors or studying for Microsoft exams.
The other 2.5 days a week is spent on what I can only describe as stuff and changes from one week to the next. I realise this is a very unhelpful explanation! So far, this stuff has included organising a training day for 170 of my colleagues at a posh hotel, where I was almost entirely responsible for the venue, food and orchestration of the day. It has also included organising what Microsoft calls 'Career Advisory Boards' where employees present their career so far to a panel of senior employees to receive Career Advice, which has allowed me to get a great insight to the careers of some really successful people.
In summary, this is what I spend my weeks on placement on. I have real responsibility, doing exciting things for a company that values interns hugely. So next time someone tells you what their role on placement is, especially with a big organisation, and you think "huh?" then I urge you not to be put off or intimidated by a confusing sounding role because it is never as complicated as it seems and you will end up getting involved with all sorts of things on placement!
Katie