So far in the GSP calendar, we've had the Welcome Event, we've done the Peer Group Challenge, and now it's time for the first Gold Scholarship networking event.
Last year, we spent quite a bit of time learning how to network effectively and get the most out of the experience - there's a blog about it here. As second years, we're well and truly experienced at networking now so we didn't need an introduction! We spent the time before the event at a training session on how to best use LinkedIn. I've learnt that it's super important to have an up-to-date and professional LinkedIn profile for three main reasons...
Quite often, employers will look you up online before giving you an interview/placement/job. Obviously you want to present yourself in the best way possible!
It's a really useful way to connect with people that could be professionally beneficial to you. People often say; "it's not what you know, it's who you know".
During networking events, like we attend for the Gold Scholarship, it's the easiest way to stay in contact with the interesting people that you meet.
Although I already had a LinkedIn profile, it was great to get some advice from knowledgeable people in the Careers Service on how to improve it. We also had a professional photographer take a photo that we could use on our profile... that wasn't awkward at all! 
I have to say, I enjoyed the networking this year a lot more than I did last year. Maybe it's because I'm more experienced, maybe it's because the canapés were tastier, who knows! I spoke to loads of really interesting and lovely people, but there was one gentleman who really stood out for me. He came over and looked at my name badge (which states my name, course and graduation year), and said "ah, you study pharmacy... I've been meaning to talk to you!". I could see that he studied economics here at Bath in the 70s so I wasn't entirely sure what we would have to talk about. Turns out he's worked in the pharmaceutical industry for most of his life, so he had a great understanding of pharmacy and turned out to be a really fascinating person to chat to. I feel like this just shows how easy it is to only speak to people who are obviously relevant during events like this, when actually you never really know what someone has to offer you until you get talking.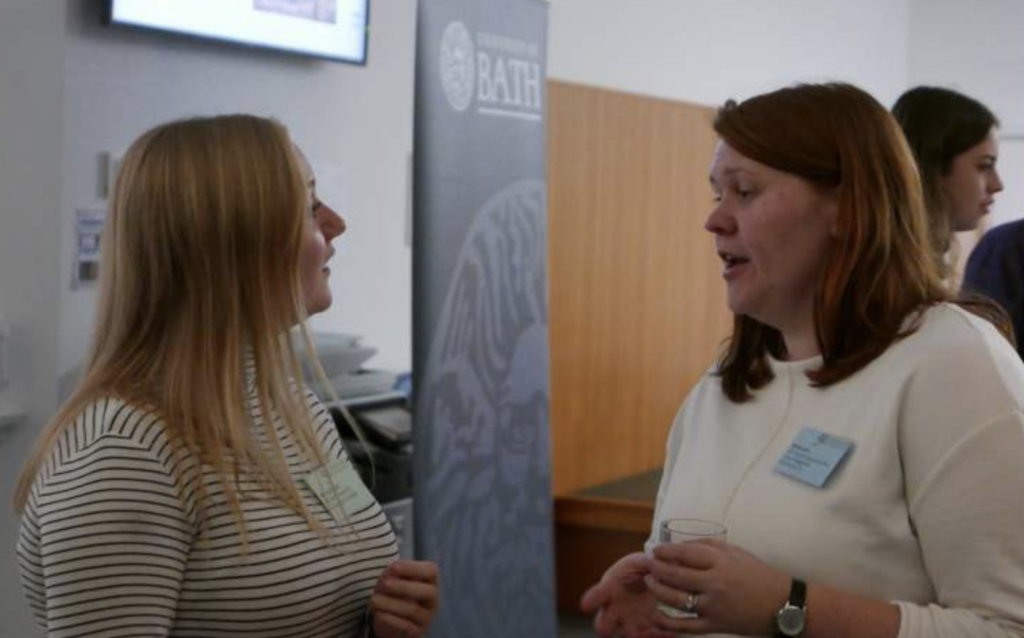 All in all, I had a really great night, and networking doesn't seem as scary as it did a year ago.
Don't get me wrong, it's still pretty scary... but it's definitely getting easier, and I can 100% see its benefits.
Take a look at more photos from the event here!