Going to university has a massive effect on your day-to-day routine, and placement even more so. The days of a packed school day are long gone, and during my first two years of uni I found managing my time very difficult.
In my first year I rarely emerged from my room before midday, was often found in the kitchen chatting gone 2am, and could handle up to 4 nights out a week. Second year brought a lot more responsibilities and a higher workload, but with a new found love of the gym I was usually up and out earlyish… 9am felt like it may as well have been 4am. I once made it to the library for 8am and was almost expecting someone to emerge just giving me a First there and then.
Nights out became fewer and further between as the work actually counted this year, and I'd started doing a lot of volunteering which meant I was often out until 7 or 8 at night when I'd just about have time to cook some dinner before wanting to watch Netflix in bed. Despite that, I was still often in my housemate's rooms, at my boyfriends' or in clubs until the early hours of the morning.
Now? Well, I might as well retire, given how far away I am from the student lifestyle. As well as a great way of gaining experience in a career I am interested in, this year has given me experience just in working in that 9-5 world. So I thought I'd give an overview of my average day:
7.15am
Alarm goes off. Yep. I remember thinking that waking at 8.45 for a 9.15 in first year wasn't far off torture. Ah, how wrong I was. Winter always hits me hard, and waking up in darkness is pretty much the worst thing ever. But hey, living at home means waking up to the heating on, making it slightly more bearable. Time for some breakfast and to get ready for the day.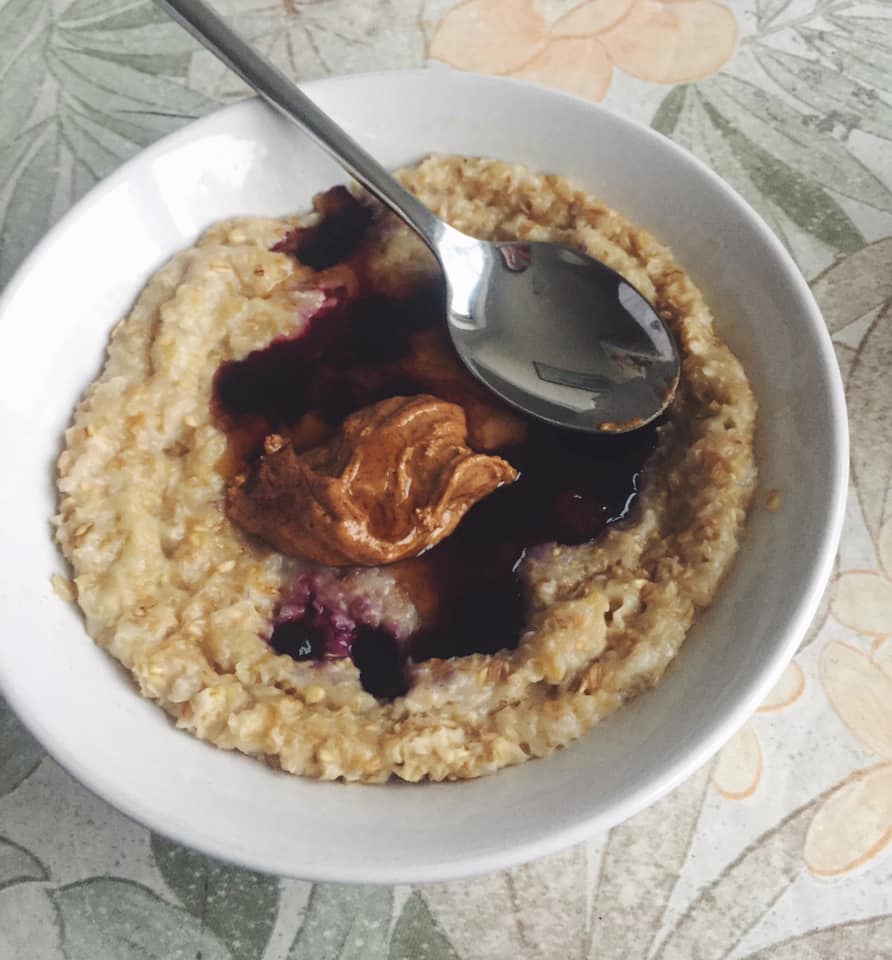 8am
Off to placement I go. De-icing my car is not my favourite part of the day at all, but instead of a freezing trek to board the U1 I can get straight into my car which is nice. I had been cycling in once or twice a week but it's so cold at the moment that that feels like a distant memory. I tried it last week and pretty much needed defrosting by the time I arrived at placement. Anyway, ice off the windscreen and I'm on my way. It takes me between 35-45 minutes to get to placement depending on traffic, and sometimes I'm lucky enough to watch the sunrise en route.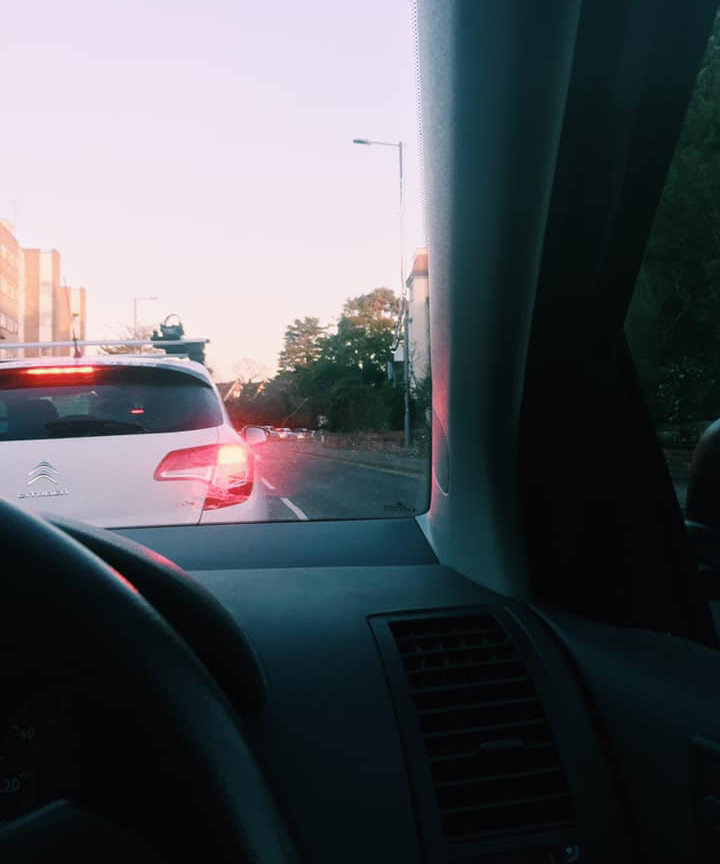 8.40am
Parked up and ready to go in. The hospital grounds are really beautiful as the hospital I'm on placement at is right by the beach, which definitely helps make the early start more bearable.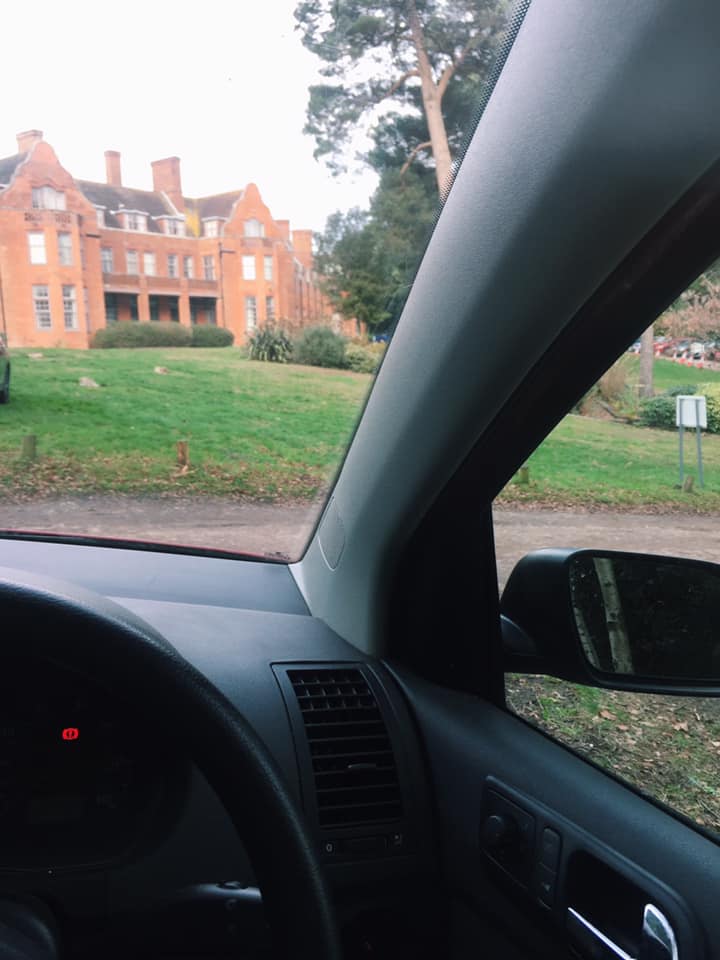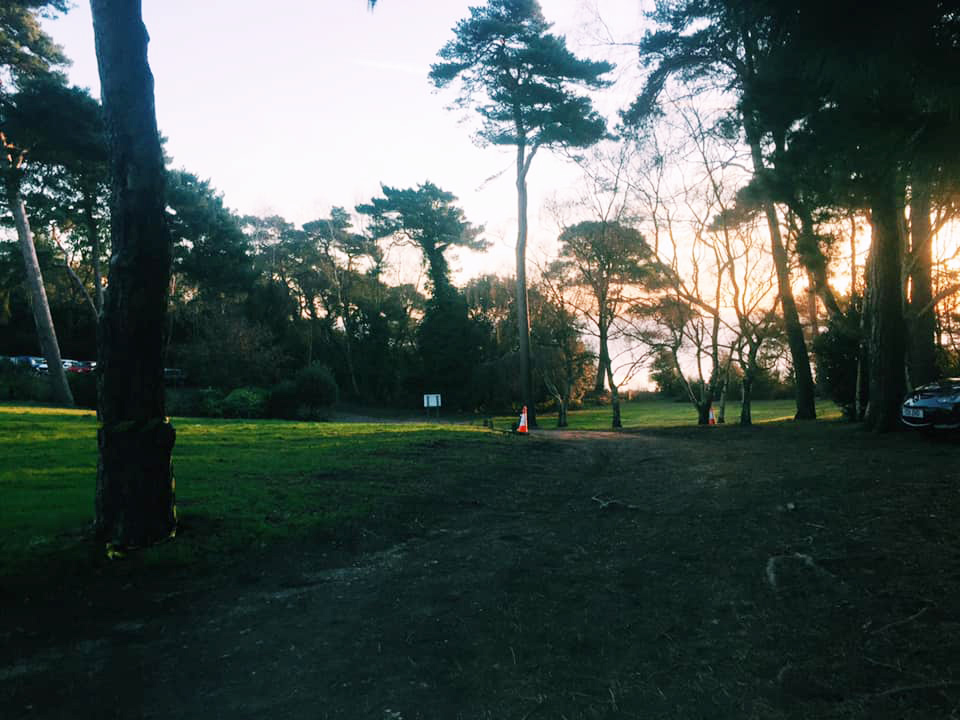 8.45am
As the hospital is secure, by the time I reach my office having put my lunch in the fridge I've already used my keys 3 times to access various doors. Once in I log into my computer, check my emails and do any outstanding tasks.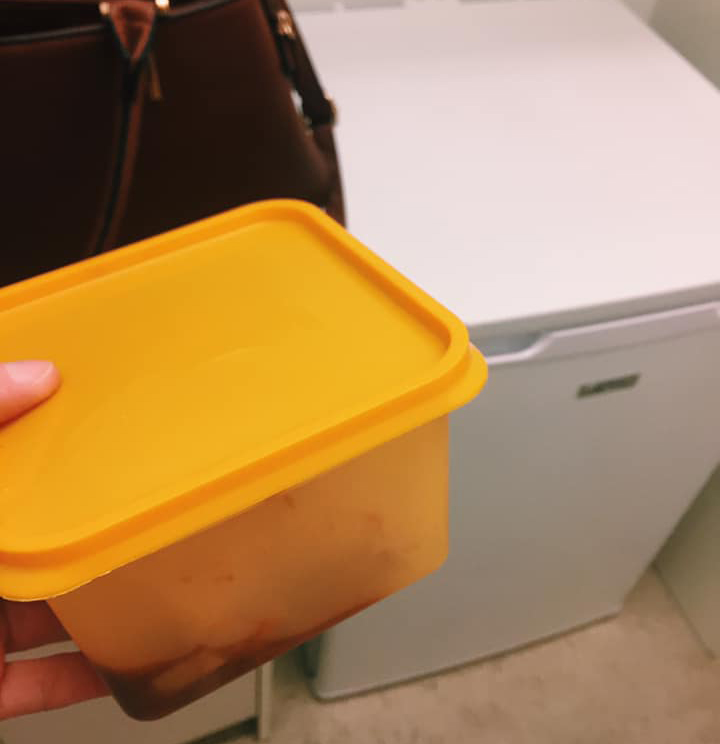 9am
Most days I'll go to a ward round meeting, which are supposed to start at 9am or 9.15am. They often run late, but I don't mind as it's a good opportunity to wake up a bit.
10.30am
These meetings can last anywhere from one to two and a half hours, so by the time it's over and I'm back in my office I need a snack and a drink. They've just opened a patient- run café at the hospital, so I took the liberty of getting myself a soya latte. All in a day's work, right?? I'll then reply to any emails or continue with tasks I'm doing. Currently I'm in the process of applying for ethics approval for my dissertation project, so that's taking most of my time.
11am
Today I'm off to a peer specialist group on one of the wards. These are one of my favourite things to attend on placement. A peer specialist with lived experience of mental health comes in to deliver a one-hour workshop to patients alongside a member of nursing/support staff, to help patients with topics such as warning signs or emotional management. It's a great way for me to get to know patients, see how the staff and patients interact, and take part in whatever they're doing. There's also usually tea and biscuits, too, which is always a bonus.
12pm
Back to the office I go. Most weeks I'll have an hour of supervision with my supervisor and his new placement student. This is a great chance to catch up and discuss work I'm doing at the moment, anything I need help with or have questions about, or to ask for additional tasks if my supervisor has any.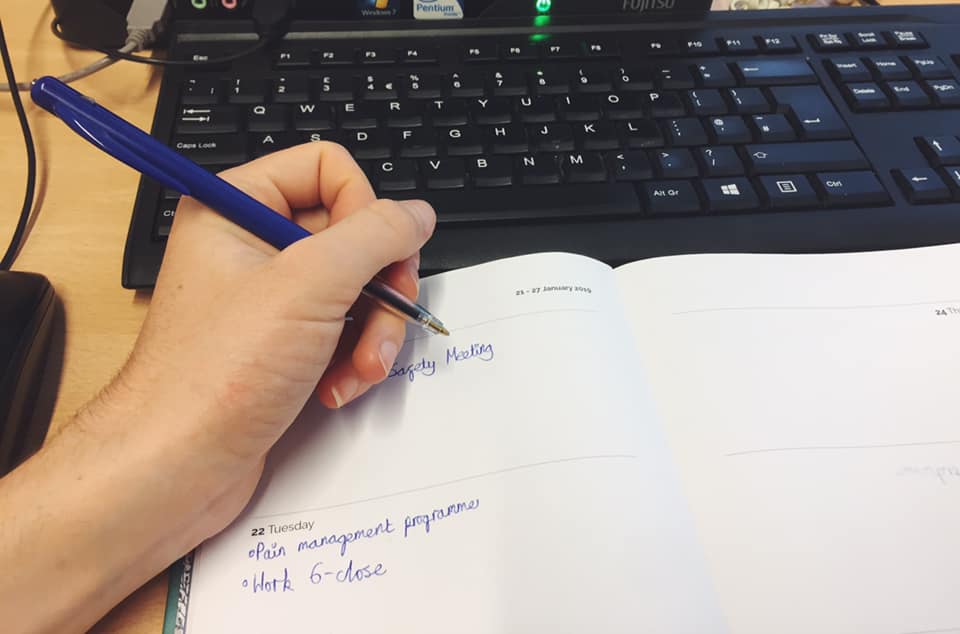 1pm
Time for lunch. The time we eat varies depending on what's going on, and some days I will just eat at my desk instead of taking a break and then leave a bit earlier. But now that there's another student with me we'll often head to the canteen together, sometimes with our supervisor, to have a chat and some food.
1.30pm
Again, I'm back at my desk, this time doing some background reading about the topic I've chosen for my dissertation. I'm trying to get it all done as early as possible, and with only a couple of months of placement left this means doing it now. I'm trying hard to be organised to make life easier for my future self in final year, which means lots of reading.
2.40pm
Today I was heading off site to meet a psychologist on another site in the Trust to discuss an audit I'm working on for him. Parking isn't good here which is always a challenge for my questionable driving skills but hey, I made it.
3.30pm
The meeting is over and we've arranged another date to meet. There's an empty office which I can use to do some work on which is great as if I just head home to "work from home" I'll probably just put Netflix on and go to bed.
4.45pm
And I'm done! Another day complete. Tonight I don't have work at my waitressing job so I'm heading off to the gym. I get to choose my placement hours and I find that finishing before 5 means beating the rush hour traffic.
7.10pm
I'm finished at the gym, showered and I'm popping to the shops to do some food shopping before I head home.
8pm
And I'm finally home after 12 hours out of the house! I don't do food shopping every day so I'm often home earlier than this, but when I get in it's time to cook dinner, and then often I'm ready to watch some TV, read, get my stuff ready for tomorrow and head to bed before long. I try to meal prep my lunches for the week at the weekend, as otherwise I'm up cooking for way too long!
So yeah! My days on placement are pretty packed, especially if I'm working in the evenings when I'll usually be in from 6pm-10.45pm ish. As it's January and quiet my shifts keep getting cancelled, but honestly I'm just loving the extra time sleeping… I used to regularly go out mid-week, but this is something which I don't even try anymore. I sometimes meet my work friends at the pub or see someone for dinner but I'll leave by 10.30 or I cannot function the next day! How I'm ever going to settle back into student life is a mystery… But hey, maybe it will make me really productive in final year?!
Laura x