When I cast my mind back to the end of Year 12 as I was writing my Personal Statement for universities, all I can recall is the blood, sweat and tears that was put into it (a tad dramatic, but not far off). To save you the pain of going through what I did, here are my top tips for a top-notch Personal Statement that universities will find irresistible!
Start ASAP
The earlier you start, the more time you have to redraft your Personal Statement over and over again, making sure you land on your perfect one by the time you submit your applications in early Year 13.
I suggest starting by writing down the bare bones of the structure (more on that later on in this post) and listing everything you might want to include.
Take your time
Relating to the last point, giving yourself plenty of time means that you're not writing a page of random ideas thrown together at the last minute. More importantly, you won't be stressed when it comes to application deadlines.
Be simple and concise
Because of the 4000 character limit (approx. 500 words), you can only write so much – you will have to be brutal with yourself. At first, it will seem restricting but when you're done with it, it'll be the most perfectly-crafted piece of writing you've done 😉
Also, don't use too much flowery language. Technical and subject-specific terms are great as it shows your knowledge but avoid overusing the synonym function in Microsoft Word (I'm guilty of this still) as the Admissions Tutors will be able to tell that it's not coming from you.
Remember that they're the experts, not you!
Have a clear structure
I cannot stress enough how important this is! Concentrate on your introduction and conclusion to make a good first impression and a lasting impact.
Your personal statement should be easy to read. Here is the structure that I used when writing my statement which I think helped it flow for the reader:
Para 1 / Intro – why you want to study your course
Para 2 – an aspect of your course you're particularly interested in backed-up with your further reading
Para 3 – work experience (or any experience that will help your understanding of your degree). If you haven't done work experience yet, say what you expect to learn from it.
Para 4 – extra-curricular (e.g. D of E, sports, instruments) again relate the qualities you developed and how these relate to your course.
Para 5 / Conclusion – make it WOW the Admissions Tutor, round off everything you've said but do not repeat yourself.
Get feedback
It's important to get fresh eyes to look at your Personal Statement but be careful not to let too many people critique it or you may end up getting confused over conflicting advice. In the end, it's about you and your future so go with your gut!
Tell them about YOU
As crucial as it is to show off your knowledge a bit, it's easy to turn your Personal Statement into an essay on your subject but they want to know why they should accept you and not your knowledge! Don't be informal but still let your writing style come through.
Research the course requirements specific to your course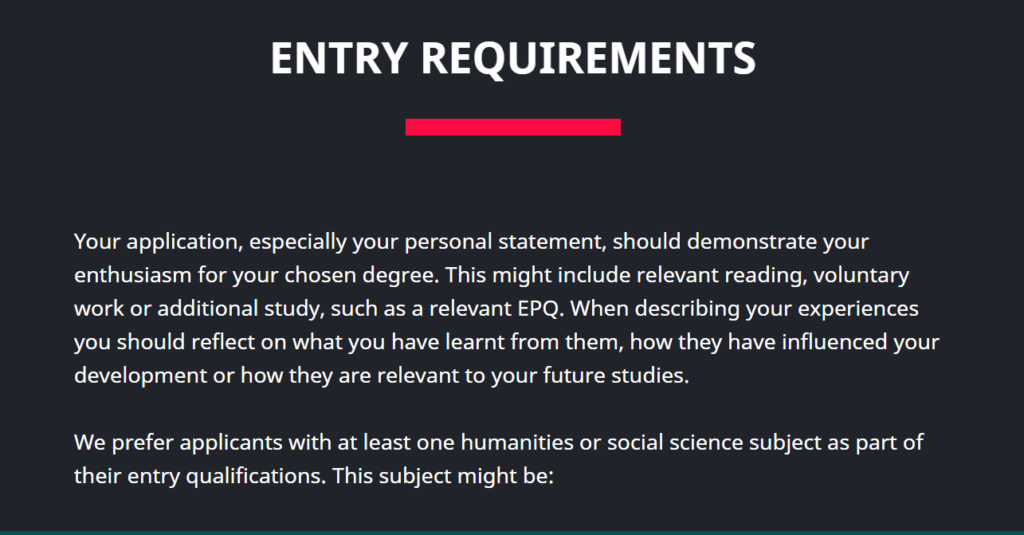 Brownie points for researching and including what courses are looking for specifically. For the above example, it says"Your application, especially your personal statement, should demonstrate your enthusiasm for your chosen degree".
This might include relevant reading, voluntary work or additional study, such as a relevant EPQ. When describing your experiences you should reflect on what you have learnt from them, how they have influenced your development or how they are relevant to your future studies."
Relate everything to how it will help you on your course / at university / your future career
If it doesn't relate to the above, it just might not be worth including – I know this is hard but, it will keep everything concise and hold the reader's attention throughout.
–
Remember there is no one perfect Personal Statement, and when you arrive at one that represents you the best, you're all set to go 😊
Of course, take what I'm saying with a pinch of salt, adapt my suggestions into your style of writing and most importantly make sure your personality shines through!