Hi, I'm Lily, currently studying Accounting and Finance here at Bath. I come from Liao Ning Province in China and I am writing to help you with some common concerns you might have about joining the University.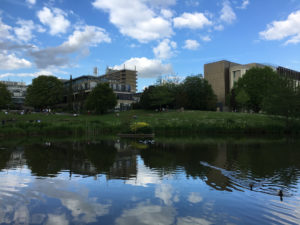 A photo of the lake in the centre of campus.
When you first come to the UK and to Bath you might feel confused about how to get to places. I have found travelling by train in the UK to be a bit more complicated than at home- I once got off at the wrong station and had to wait for 20 minutes for another train to take me back to Bath! As for going around town, back in China I always take a taxi, but taxis are a bit expensive here and it's not always easy to get an Uber. In this blog, I'll be listing some apps or ways to find public transport easier at the time of writing. (All apps mentioned in this blog are available in the UK app store for Apple users since I personally use an iPhone. Also, having a Google Map on your phone is truly vital.)
Rail travel
For travelling from one town to another rail is the fastest way. Bath has two train stations : Bath Spa and Oldfield Park, with trains to London Paddington at intervals from both stations. You can buy tickets at the station or simply download an app called Trainline and buy all your train tickets online. The tickets you buy can be collected at the stations or you can just use an eTicket which is just a code in your app which you have to scan when you enter the platform.
There is a special railcard for students aged 16-25 (also known as the Student Railcard, or Young Persons Railcard) which can help you save a lot of money if you travel by train a lot. You can get it at the stations after filling in a form with some of your details and giving them a passport-size photo and your ID (so don't forget to bring a pen!). You can also buy a Digital Railcard online and if you are a mature student you can apply for a discounted railcard.
You might find the Great Western Railway official web site helpful too.
Screenshots of the Trainline app on my phone. The app icon, the home page, and the payment page. You can enlarge the pictures to see them more clearly.
Coach travel
The coach is also a good way to get to other cities- although it takes a lot longer than the train, at least it's cheaper. The coach station is in the centre of Bath right next to Bath Spa railway station. The main coach company, National Express, also has an app. You can also get coach tickets at the ticket office on the right hand side on the second floor of the Students' Union.
Local bus travel
Travelling around the city is easy. U1, U2 and 20 buses can all get you to university with the U1 travelling to university straight from Bath Spa station. Most buses in Bath are run by First Bus, so the easiest way to get bus tickets is by downloading the First Bus app.
For newcomers, you're lucky as First Bus just merged the First Bus app (which allows you to check when the bus arrives) and the Mticket app (which allows you to buy electronic tickets). Now you can buy tickets and check bus timetables on the same app. This is quite useful especially when you get to your second year and live off-campus. By this time having a year ticket on your phone allows you to take any bus run by First Bus (which is most of the buses here) as many times as you like every day and saves a lot of money and effort.
Here's the University's web page about travelling by bus to the University.
What the First bus app now looks like. The app icon, bus timetable for U1 and the search page.
Taxis
Normally when searching for a taxi in the App Store, the most popular results you'll get are Uber and Gett, but there is only Uber in Bath and a number of local taxi companies. Since taxis are hard to get anywhere except at the train stations, you'll need to always have an app for taxis on your phone or a number for a taxi company in your contact list.
Thanks to the well-developed public transport system in the UK, you don't need to know how to drive to get around town or travel to other places quickly. I hope you find this useful since Bath has many wonderful places to explore despite being a small city. Make sure you check the relevant websites for the most up-to-date information and if you have any questions please email me.