When I first came to the University two years ago, I didn't know anything about Arrivals Weekend or Freshers' Week. As a result, my first few days at uni was sort of a mess so I am listing everything that you need TO DO so you don't make the same mistakes as me!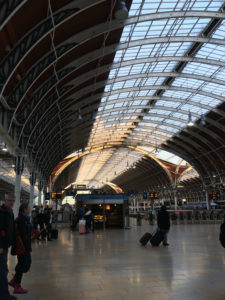 A photo of the platforms of London Paddington station during the daytime.
1. Before you come to the University.
I suggest you plan your journey to arrive at the University on September 21 or 22, that might save you a lot of trouble.  Also, make sure you read all the emails you receive and please complete ALL the Student Welcome decks as these will give you all the information you need to prepare for university life.
The University will email you your university user name and you can use this to access some important parts of the Univesity's website including Moodle (website for your studies), SAMIS (website for important things such as your online registration) and your student mailbox (the University will send everything you need there including your timetable for Freshers' Week). Make sure you have prepared all the paperwork and made all the necessary applications before you come to uni.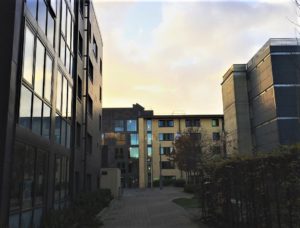 The Quads D shot from Quads E (where I lived)
2. Arrivals Weekend.
For those who arrive at Heathrow airport on September 21 (Saturday) or 22 (Sunday), you are lucky (though I wasn't) because the University offers coach collection services to campus. You can simply book it here.  The application deadline is midnight, September 9 (Monday) so you'd better hurry!
After arriving on campus, you can collect your room keys and library card at the collection points, though you need to confirm your arrival time. You can find more detailed information here.
A photo of my friend after a dance performed by the ChinaRen society.
3. Freshers' Week
Now, coming to the big event itself. Freshers' Week is designed to give you a general understanding of how the University works and help you fit in better (so try to be there for the whole week and take part in as many activities as you can). There will be registration (documents' check), then a talk from the Director of Studies about the course, a meeting with your Personal Tutor (a member of staff who will help you throughout your uni life), a campus tour (if you choose to sign up) and a help session about how to set up your timetable.
There will also be quiz, pizza & board games and film nights, and on Thursday, September 26 all the Students' Union societies will have tables on campus. The academic activities can be found in the timetable they send to your university mailbox and the entertainments can be found on the SU website here.  This year the SU are also running social events in the 4 West Café every evening Mon – Fri from 7.30 pm – 9.30 pm for students who are interested in meeting other students in a relaxed atmosphere.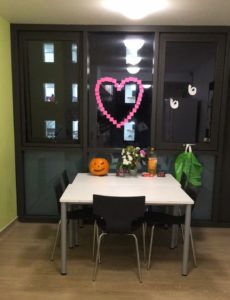 The kitchen of our flat during Halloween
4. Some personal experiences.
One word of advice about registration, whatever document you do not have, just tell them that you're missing a document and will submit it later (including your BRP), then carry on with the process. Unfortunately for me, I missed my key collection time when I reached the campus on Sunday (I lived in the Quads E and they stopped giving out keys at 6pm) and on Monday, I got really confused when they told me to go to different levels of the library but at each level I seemed to be missing some documents (actually, it's simple, just go to the 4th floor at the beginning and start going down). (Also, just calm down and you can solve things quicker!)
But everything else was quite nice. I got to know my flatmates during the week and they were all really friendly people. One of my flatmates was also Chinese and we happened to be taking the same course (Accounting and Finance) so we quickly became friends (she is still my friend now).  I also joined the ChinaRen society, one of the two Chinese societies on campus, since they helped me with my registration and their ice-breaking event was interesting (they also had other interesting activities).
5. Suggestions and my best wishes to you.
Some of you may feel homesick because you have never been away from home for this long. It may help if you have brought something you are familiar with from home: some photos, your bedsheets and maybe some soft toys (a few of my flatmates brought toys, including me!). Get your parents on video chat so you can show them your new room and they can show you what's going on back home. Make friends as well, in times like this, hearing your native language is comforting and having friends means you are not alone. Having people who care about you will make you feel a lot better in a totally different environment.
University is an important part of your life, so try to make the most of these few years. Freshers' Week is the time to try new things, make new friends and prepare for the university year. If you find any problems you can't solve, don't hesitate to ask the University for help. There will always be people willing to help you. And lastly, have a great uni life!
Websites that might be useful:
Students' page (including Moodle, mailbox, SAMIS and other websites):  https://www.bath.ac.uk/students 
Booking coach collection service from Heathrow to Bath: https://www.bath.ac.uk/services/reserve-a-place-on-our-heathrow-airport-coach-collection-service/
Some welcome events for international students: https://www.bath.ac.uk/corporate-information/living-in-a-new-culture-linc-orientation-2019-programme/
Registration guide: https://www.bath.ac.uk/services/register-as-a-student-of-the-university-and-update-your-details/
https://www.bath.ac.uk/guides/registering-with-the-university/