If you're worried about making the transition from A levels to university, you're definitely not alone.
It's completely normal to have some degree of anxiety since a university is a completely different environment. When I was starting my first year, I had no idea what to expect in terms of the workload and life in general.
When Freshers' Week finished, (click here to read my previous post on how to survive it), we were chucked into the deep end of essay and academics...
So after experiencing all of this myself, here are the key differences between school and university that will help you feel a bit more prepared for university!
Fewer contact hours
If you're used to going in every day for a full day of lessons in school, you might be in for a shock. Contact hours are much less than in school. For Sociology, I had around 12 hours per week in my first year and now 10 hours per week in the second year (I'll be explaining more about my course in detail in my next post so look out for that!).
Fewer hours in lectures or seminars also means more time for yourself… which means having the freedom to use your time however you want. Of course, this is within reason and one of the biggest things will be learning how to structure your time.
Independent learning
Tagging off the last point, something that you should definitely be doing during your non-contact hours is independent learning. This is the main difference between school and university.
You don't have teachers breathing down your back, chasing up essays anymore. You are now completely responsible for your learning.
This might sound super daunting but if you need help with organisation, read my blog post on how to stay organised at university!
Teaching styles
Another main difference is that instead of the usual school lessons, you'll have lectures and seminars.
Lectures are where you'll be sat in a big room with usually around 200 people (depending on the size of your course), whereas seminars are more of your traditional lessons. However, seminars are much more informal, and are used to facilitate discussions and deeper learning on the unit it's in.
There may even be people from other courses in your lectures and seminars if they chose the unit as an optional. This definitely makes it more interesting with different points of views.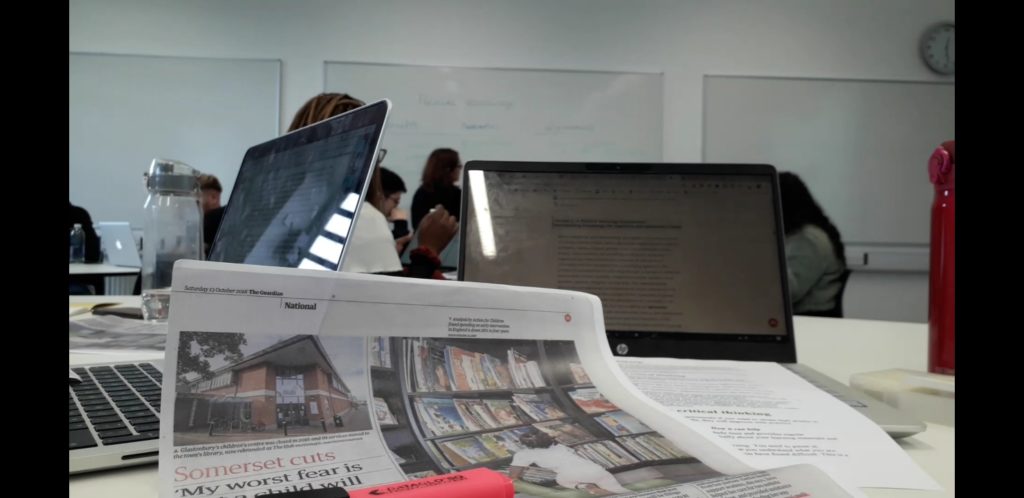 Teaching leaders
At university, the teaching is broken down into lecturers, tutors, peer mentors. It's very different to just the teachers that you might be used to in school.
Although it might seem confusing, this actually means that you have more people to go to if you need help! Definitely make use of your personal tutor if you're assigned one.
Asking for help
On the topic of asking for help, don't be afraid to reach out for help! They say 'a burden shared is a burden halved' and it's true. Especially when the workload gets heavy or the going gets tough, talk to a friend or call a family member.
However, if the issue is something a bit deeper, a trip to Student Services never hurts.
Stress levels
Admittedly, the workload at university can get a bit heavy at times so it's really important to stay calm at all times. Watch the video below for more tips on how to manage the stress that comes with starting university!