In June, Gold Scholars Molly, James and Emily were given a fantastic opportunity to join students from across the country at an event organised by Santander Universities. Molly tells the story of their day:
"I was surprised and elated when Tottenham Hotspur made it to the Champion's League final; so when I was given the news that I would have the opportunity to watch a live screening of the final from the brand-new White Hart Lane stadium, it's fair to say I could not believe my luck!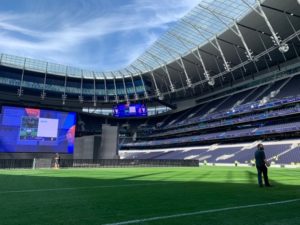 Growing up with an avid Spurs-supporting father, I have started to become quite the Spurs fan myself. When I saw this opportunity arise with Santander Universities, I latched onto it with both hands and was extremely reluctant to let it go! When I was told I would be able to go to the new stadium on the 1 June 2019 to spend the day taking part in various exciting activities, and then to watch the game live in a stadium full of fans, I was straight on the phone to my dad to tell him the news. He was so envious that he even travelled up to the stadium with me on the day to try and soak up as much of the atmosphere as possible!
My first sight of the new stadium is a memory that will stay with me for a very long time. Magnificent in both size and design, it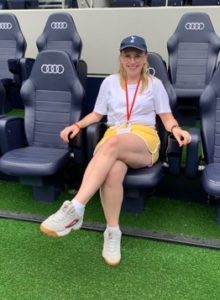 only added to my excitement for the day ahead. After having a very long browse around the Spurs gift shop, it was time to say goodbye to my Dad and head into the stadium.
Once I got through the security checks and headed up a few flights of stairs, I ended up in an elegant room full of tables and chairs and a digital seating plan. I found my name on the list and sat down at a table with some other students. The room was filled with over one hundred and fifty students from eighty-seven universities across the country. Whilst chatting away, I was rummaging through my bag of free goodies from Santander Universities which included a match programme, a notepad, pen and a new hat (though I wasn't going to be taking off my Spurs one any time soon!). It wasn't long before I was joined by James and Emily, two more students from the Gold Scholarship Programme at the University who would be watching the match with me. The day soon got underway. James told me he thought the Stadium looked more like something out of Star Wars than a football ground!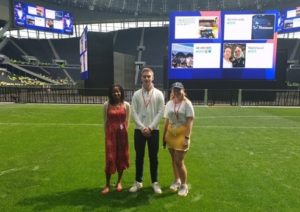 The day passed in an overwhelming and magnificent blur. After initial introductions, we were given a quick tour of the Stadium. Walking out onto the pitch totally took my breath away and is another memory I will keep with me for a very long time. The Stadium is so beautiful and definitely deserves recognition for being one of the best in the world! I felt so lucky, and still do, to have had such an unforgettable experience for which people usually pay a lot of money. Once I was back in my seat and trying to absorb all of the sights I had just seen, we were given a leadership masterclass by Jeremy Snape MSc, an ex-England international cricketer. I found the whole session very enriching and inspiring, and I took away some great tips on how to focus on what I want to achieve in my career but also personally, and ways to imcrease the confidence in my own abilities. This was followed by a Q&A session with Dennis Wise, followed by a dinner break and then a Q&A with Jimmy Floyd Hasselbaink and Tanya Oxtoby, the head coach of Bristol City women.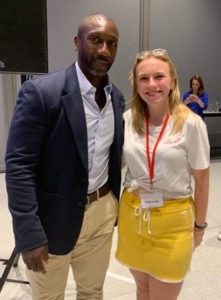 As he's a Cardiff fan, James was particularly excited to see Jimmy especially as he got to ask him some questions about his time at this club. Emily was inspired as the speakers talked about how they had all turned failures into success stories. This had a massive impact on her because she has always been afraid of failing and consequently stays in her comfort zone, afraid to try new things and take risks. She felt that all of the speakers' stories had helped her to appreciate that failure can be an opportunity for growth instead of an end.
There was even time for some quick photo opportunities!
Following this, a raffle was held, where students' names were randomly pulled from a hat. They could then pick from a variety of wonderful prizes ranging from match tickets to signed jerseys. As if my day couldn't get any better, my name got pulled out of the hat, and I won a football signed by Gareth Southgate!
Then it was time for the ga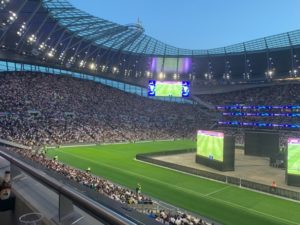 me. The third memory I gained from the day which I believe will stay with me forever is the moment I walked out into the Stadium to find my seat. I had expected a big show of fans, but I had not expected the whole stadium to be full, for a game which was actually being played in Madrid! About 60,000 Spurs fans were roaring as if the game was being played right in front of them. The atmosphere was rocking before kick-off and for the first 24 seconds of the match and although the result didn't go Tottenham's way, everybody stayed until the end. It was such a phenomenal experience. I think Emily (an Arsenal fan) was probably the only person in the ground with a smile on her face at full time!
On the coach to the hotel, I reflected back on my day. Although my heart was still heavy from the blow of the loss for my team, I felt very grateful for the magnificent day that I had, packed with so many unforgettable and invaluable experiences. This day at the new White Hart Lane Stadium was definitely one of the best days that I've ever had.
We cannot thank the Gold Scholarship Programme and Santander Universities for giving us this opportunity and Tottenham Hotspur for putting on such an amazing event and for giving students like us this once-in-a-lifetime opportunity."
Molly, James & Emily