Earlier this year I was given a Gold Scholarship Opportunities Award* to help fund two summer projects. Thanks to the fund I was able to attend two rhythmic gymnastics training camps here in Bath.
I have been training with Team Bath Rhythmic gymnastics for under a year with the senior development squad and have already competed at national competitions including the English Championships in June 2019. Next year I'd love to qualify for the British Championships, the highest level you can compete in this country.
These training camps were a fantastic opportunity for me to develop my skills and train with some of the best coaches in the country including the 2012 Olympic games coach, Sarah Moon and twice Commonwealth Games gymnast, Mimi-Isabella Cesar.
The first camp enabled me to develop my skills as an individual gymnast, as rhythmic gymnastics has both individual competitions and group competitions. We focused on apparatus handling (throwing, catching and using the apparatus in creative ways) as this is key for gaining difficulty points in routines.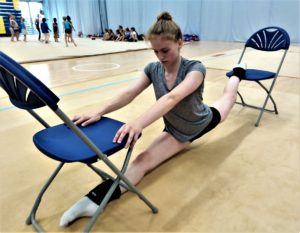 I spent a lot of time doing ballet to improve my strength and flexibility, which are the core skills needed for the sport. We also got to learn a character dance and a contemporary dance choreographed by Mimi, which I really enjoyed as this is not normally part of our training.
We trained from 9am to 4pm for 5 days a week which was both physically and mentally hard. The sport demands perfection in every movement and can be frustrating when things go wrong.
The first few days were especially tough as I was living completely on my own for the first time and missing home, so I didn't have the right mentality. One of the coaches, Mimi, noticed I was struggling and gave me some great advice. She told me all about her journey to the Commonwealth games and her plans for the future. She inspired me to aim as high I can, but to enjoy and appreciate what I've already achieved.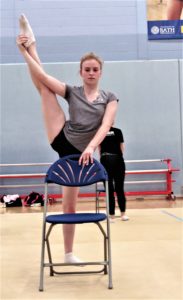 During the second camp, two weeks later, we were mainly training in our groups ready for national league competitions in two months. I was able to use everything I had learnt in the first camp in this group training, which felt amazing. I could really see the improvements I'd made in such a short space of time.
We got to make use of the brilliant facilities at the Team Bath Sports Training Village. We could see the physio if we needed to and got to use the hydrotherapy pool, including the ice bath.
Alongside the second training camp, a summer fun camp was being run for children aged between about 4 to 8 years old. Lots of them had seen our junior group on TV on CBBC Gym Stars. It was really heart-warming to see how the little ones looked up to the older girls. It made me realise that we are role models to the younger girls, and have to work hard to make the most of all the opportunities we're being given.
I am extremely grateful to The Gold Scholarship and the coaching team at Team Bath Rhythmic Gymnastics for providing me with this brilliant opportunity.
You can read all about my chemistry lab project in my next blog post.
*The GSP Opportunity Fund provides Gold Scholars with an opportunity to apply for funds to support their participation in personal development activities. The Fund has been made possible due to a generous gift from a GSP mentor/donor. If you are interested in contributing to the fund, please contact Molly Southwood, Deputy Director and Head of Alumni Engagement: mp366@bath.ac.uk