Background
My name is Sofya and I'm originally from Russia where I graduated from a school in Moscow. I am currently working as a Marketing intern at Kantar during my third year on placement which is a part of my course in Management with Marketing.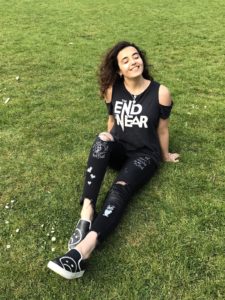 How I found out about the University of Bath's International Foundation Year (IFY)
During my final year at school in Moscow, I decided that I wanted to continue my education abroad so I contacted a Russian agency which helps students to progress with their studies in other countries. I then visited a number of universities that offered foundation year courses for international students.
Why I chose Bath
1. Location:
Not in London. "Too many temptations" - my parents said. I have never regretted this decision. 

Bath is not too far from London- 80 minutes on the train, so during the IFY my friends and I visited London several times.

Cardiff and Bristol are also close- only 40 and 15 minutes away by train, respectively.

Since Bath is located in the South-West, the weather is more favourable than in many other cities - it is sunny most of the year and it does not rain as often as I expected.
2. Safety: The city is home to lots of students from the University of Bath, Bath Spa University, and Bath College, and the crime rate is really low.
3. Rankings: School of Management courses, as well as the University of Bath, have great rankings. The University of Bath also had really high student satisfaction rates compared to other universities I considered, which is an extremely important factor.
4. Heritage: Bath fell into my heart from the first look: the architecture, the buildings made of Bath stone, the Roman Baths, the Jane Austin Museum, Royal Crescent, Victoria Park and the fact that the city is protected by UNESCO (who can miss a chance to study in such place???).
5. The campus: 
Well-designed: it is not huge like some other universities (where you might need to take a bus to reach different lecture rooms!), but it is also not too small with plenty of great facilities. 

There are several old buildings, as well as plenty of newer ones (such as a new Management building which will be opening in 2020/2021 year)
Bath has a great sports centre with facilities for so many activities, which is even used by Olympic competitors
There is a lake in the centre of campus with a spacious hill to sit around (a perfect place for lunch). There are also a lot of parks and fields around the campus

The library is open 24/7
      6. Bath was the only university that offered a private tour as I was unable to attend the Welcoming event. I was introduced to students from the School of Management and everyone I talked to was enjoying their time in Bath. Almost everyone said the courses were challenging, but very fascinating at the same time. And this was the exact combination I was searching for.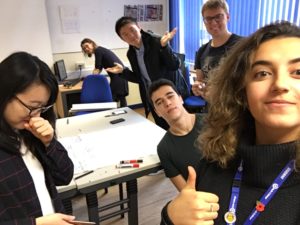 Was it different studying the IFY in comparison to my studies in Russia?
Yes, it was! As an alternative to A levels, during the IFY I have undertaken 3 subjects: Business Studies, Social Sciences and English for Academic purposes, prior to passing an IELTS test (if you are applying for Management degrees you can choose Economics instead of Social Sciences). The educational system differed considerably from my school in Russia. It was more interactive, with the application of real-life case studies with a lot more independent work.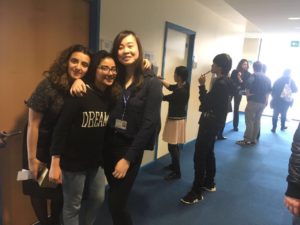 Being a student on the IFY
I believe that learning in a smaller class might have been the key to my success, especially at the initial stage. As a student who has never studied full-time abroad before, fewer students in the class allowed me and some of the other students to get used to this new education system quicker and understand the material better. We were able to ask as many questions as we wanted and the teachers could slightly adjust the lectures according to our learning needs.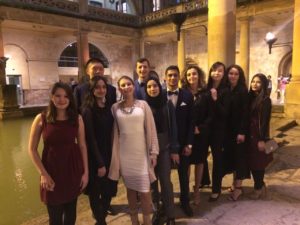 What was it like starting at the University – did the International Foundation Year (IFY) help and prepare me? 
I am so grateful I did a foundation year course before starting my degree course. During the Bath IFY, we were taught in the way the lectures and materials are presented at Uni. From an academic perspective, we have learned how to analyse complex pieces of text and more importantly, we've been taught how to write essays. This skill was lacking among some of the other students, as the University requires a very strict structure we were provided with some guidance during the IFY. In addition, we received a lot of personal support that helped our transition to Uni later. They explained how the University system works; we also connected to previous IFY students who provided us with insight into the courses we had applied for and told us about the different accommodation. We went on a campus tour, so we could get to know more about life at university from the inside.
In short, the IFY gave me my first taste of university life empowering me with the necessary skills and knowledge to succeed.
My advice to future IFY students
Listen to the lecturers' advice and do not be afraid to ask as many questions as possible. They are there to help you and no one will judge you

Seek support whenever needed. You'll have a Personal Tutor, lecturers and a Director of Studies who can all give you very useful advice

Apply for an Academic Rep position. It will help you become more organised, develop your public-speaking, time-management and communication skills

Ask current university students about the specifics of the course you are applying for, sometimes there is an option for you to change your course to an alternative one during the foundation year and first year if desired. Understand which course suits your needs the most

Find an activity that works best for you. For example, I have taken yoga classes 6 days a week

Enjoy and explore Bath. This is a perfect year to learn more about the city and become more familiar before your undergraduate degree starts

And finally, don't forget to follow different University Freshers' groups on Facebook prior to starting the first year and don't miss the sale of tickets for Freshers' Week. It's gonna be fun!
So would I recommend the International Foundation Year?
I would definitely recommend the Bath IFY to any students as the course is perfectly designed to provide real insight into student life and support is available when you need it.