Hi, my name is Christina and I am a third-year Politics and International Relations student currently on placement in Brussels, Belgium! I am going to be blogging about my experiences and the things I have learnt from the placement application process, preparing for a placement and living and working abroad. I hope that this will provide you with some insight into a placement year and top tips on how to get there, whether that's in the UK or abroad!
Sometimes, a rejection from a placement application can feel like the end of the world, especially when deadlines are creeping up on you or you are midway through exam season in January. To put things back into perspective, I want to give you some of my top tips that I learnt whilst going through the process of applying for a placement:
1. Make time for applications
If, like me, you started second year and found the prospect of applying to placements alongside your studies all a bit too overwhelming, then why not create weekly time slots dedicated to searching for and writing placement applications. This will help you stay organised and will ensure that you are dedicating sufficient time to the placement process as well as your assignments.
2. Seek advice and help - there's plenty of it at Bath
Whilst applying for placements, I know that one of the things that I really valued was the support offered at Bath. I sought help from the Careers Service at the Virgil building in town. They can help with creating a CV, preparing cover letters and providing direction on potential career paths, among many other things. I also used the student services drop-in centres on campus. You can pop in for a chat, whether that is to do with financial concerns for your placement or to just talk to someone about your worries, they are there for you and are extremely helpful!
3. Be patient
A rejection does not simply mean that you are not good enough! Employers reject applications for many different reasons – what is important is that you remember that a rejection does not mean you won't be doing a placement year. It just means that you haven't found the right one for you yet!
4. Try not to compare yourself to others
It's very easy to see other people securing a placement and to feel anxious or frustrated that you still haven't secured one. This is completely normal and something that most people who have been through second year can relate to. Try not to worry and remember that your time will come so long as you are proactive and persistent in your search for a placement.
5. Remember to enjoy second year!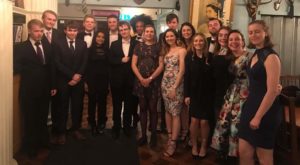 Between placement applications and essay deadlines, do remember to enjoy yourself! Go to happy hour on a Friday afternoon or sign up to a new a sportsteam or society – why not try something new in second year? Giving yourself time to relax will help you to destress and will hopefully make the placement process that much more manageable.
I hope that this advice will help you in your search for a placement, make you feel reassured that you are not the only going through such stresses, and has given you some top tips for how to approach the application process! To speak to student services, follow this link or go to one of their drop-in sessions.
Stay tuned for future blog posts about my placement experience so far at the American Chamber of Commerce (AmCham EU) and of Brussels, including trips to Amsterdam, Paris and Cologne!