I know, thinking about exams is the last thing you want to do during the summer holidays. However, taking a few moments when you're not stressed, to think about how you react when you are stressed can be really beneficial. I've done my fair share of exams over the years, and I've gradually learnt some methods along the way that help me to cope with the pressures of exam season.
Of course, there are the typical ones;
Take breaks
Make a schedule
Stay hydrated
Get enough sleep
But I figured that sometimes these things just don't cut it and you need to think outside the box that little bit more! I want to share with you 5 methods that may not have necessarily sprung to mind straight away; the things your teachers might not have suggested.
1. Make a Spotify playlist
Spotify playlists were a very helpful tool for me in exam season! By making a playlist dedicated to studying, and a separate one dedicated to relaxing, your mind will be trained into when to focus and when not to. Some people can focus with music playing, and others can't. I found that if I play songs with lyrics then it is too distracting, but playing instrumental music makes me focus much more. After doing this for a while, I associated certain music with time to focus and think about my work, and other music with the chance to let all of that go and relax.
2. Meditate
This one is a bit like Marmite; you love it... or you hate it!  Towards the end of my university year, I joined the meditation society and I found the guided meditation really helped me to find a sense of calm. It meant I could let the tension go before I approached my work again the next day. When I signed up for Spotify Premium, I got the student deal where you can get a Headspace subscription with it. Headspace is an amazing app with so many different types of guided meditation based on;
your mood
how much time you have available
what is going on in your life
This means there are meditations specifically designed for exam stress! Sometimes when you are revising and feel overwhelmed, it can be very helpful to take 5-10 minutes out and listen to one of these, before re-approaching your work with a clearer mind.
3. Make lists
My biggest source of panic when approaching exams is when I begin to feel suddenly overwhelmed. Thoughts of everything you need to get done and by which deadlines dance together in your head and can become really, really noisy. I find that the best way to regain control when this happens is to get it all out of my head and onto paper. By writing a list of everything that needs to be done, I can immediately sleep more easily without stressing about whether I will forget to do certain things or miss anything out.
4. Take time for yourself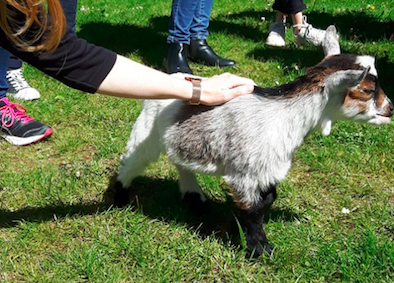 This is so important! Schedule time out of every day to have a mixture of short and long breaks where you let your mind rest for a while. Talk to friends, go on a walk, or find activities to do. The University's Students' Union bought a petting zoo to campus this year so that students could break away from revision for 30 minutes or so to get out of the house and stroke some animals. Although this sounds random, it's surprising how calming it is to get away from the walls of revision for a while. Often, you don't realise how much you need it until you actually do it.
5. Make plans
The looming dread of upcoming exams can easily get you down in the dumps. By making plans with friends for after exams, or after each exam has finished, you can have something to look forward to in order to make revision that little bit more bearable. Instead of thinking of revision as being slow hours passing before your exam, you can think of it as 'only this long until I get to do [insert plan here].' Plus, when you actually get around to doing the plans, you feel like you've really earned it.
Whilst these strategies may seem obvious and simple, they are the sorts of things that are easy to forget when caught in the whirlwind of revision and exams. By writing down a list of what works for you in times of stress, you can look back at these things when you need reminding. It's easy to get stressed during exams (and rightfully so!), but we are likely to perform better when in a calmer mindset. Learning coping mechanisms for exam stress is definitely worth investing time and energy into. Why? Because until you understand what works for you, the stress will continue to build. I still get stressed during exams, and I think a certain amount of stress is normal, but I now know more ways of coping with this and keeping it at a manageable and healthy level.